Yearender 2020: Sporting highlights of a year in conundrum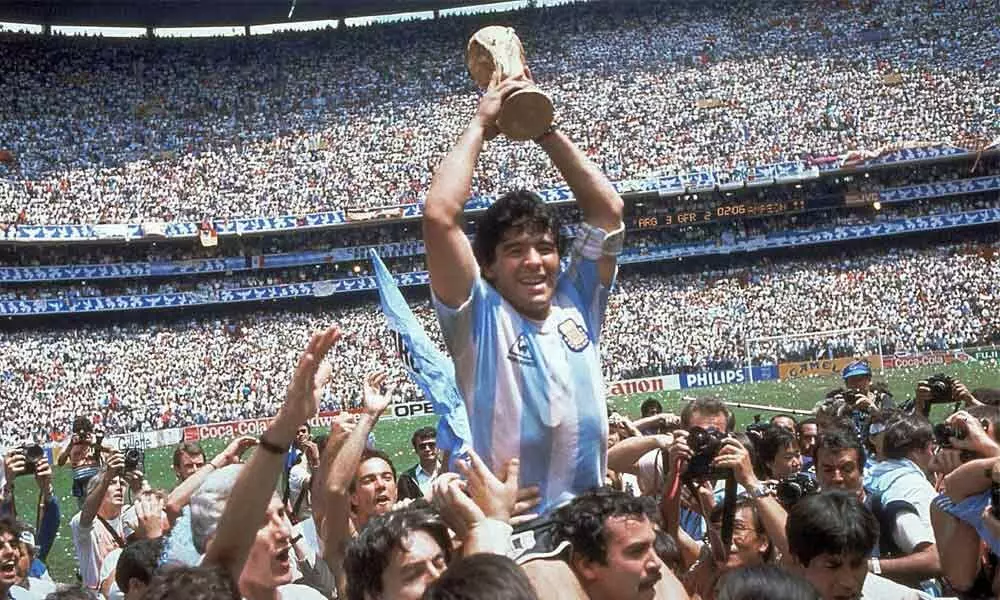 Highlights
Yearender 2020: Sporting highlights of a year
Jan 17
Carlos Sainz wins third Dakar Rally, aged 58
FEB 2
Kansas City Chiefs end 50-year wait to win Super Bowl
FEB 2
Novak Djokovic wins record eighth Australian Open title
FEB 22
Tyson Fury pummels Deontay Wilder in the rematch to win WBC heavyweight boxing title
Mar 8
Australia cruise to victory against India in Women's T20 World Cup Final.
Jun 25
Liverpool end 30-year-wait to reclaim English Premier League trophy.
Aug 14
Uganda's Joshua Cheptegei sets new 5000m world record — later smashes 10,000m mark.
Aug 23
Bayern conquer Europe, overcoming PSG to claim sixth Champions League crown
Aug 23
Japanese driver Takuma Sato conquers gruelling Indy500
Sep 12
Naomi Osaka triumphs at US Open -- new face mask for each match highlights victims of racism and police brutality
Sep 20
Tadej Pogacar is youngest winner of Tour de France since 1909
Sep 20
American Bryson DeChambeau charges to first major title with 6-shot win at US Open
Oct 10
Iga Swiatek, 19, ranked 54th, becomes lowest-ranked woman to take title at Roland Garros
Oct 11
Los Angeles Lakers beat Miami Heat to equal Boston Celtics for most NBA titles – 17
Oct 11
Rafael Nadal equals Roger Federer's record of 20 Grand Slam titles with 13th victory in Paris
Oct 25
British driver Lewis Hamilton wins 92nd F1 race — passing record of Michael Schumacher — and goes on to win 7th Championship
Oct 28
LA Dodgers win first baseball World Series since 1988
Nov 10
Mumbai Indians bt Delhi Capitals in IPL final
Nov 15
World No.1 Dustin Johnson claims Green Jacket at US Masters with record score of 20 under par.
Nov 15
Joan Mir bags maiden MotoGP title, racing for Suzuki.
Nov 26
Argentine soccer icon Diego Maradona, who lifted 1986 World Cup after Argentina's 3-2 victory over West Germany at Atzeca Stadium, Mexico City, dies aged 60.
Call it quits
Aug 15: MS Dhoni
Former Indian cricket team captain MS Dhoni shocked the entire world by announcing his retirement on Instagram. He did it on Independence Day evening. .
Aug 15: Suresh Raina
The Indian cricket fans were recovering from MS Dhoni's retirement shock that Suresh Raina decided to join him on his journey. The 2011 Cricket World Cup-winning player even missed IPL 2020.
Jan. Irfan Pathan
Irfan Pathan was the first Indian cricketer to retire in 2020. The southpaw announced his decision to quit international cricket on January 4.
Mar 7: Wasim Jaffer
Former Indian opener Wasim Jaffer is now the batting coach of Kings XI Punjab. He has become quite popular on social media with his humorous posts. Jaffer was active in domestic cricket for Vidarbha.
Nov 17: Sudeep Tyagi
Former Indian fast bowler Sudeep Tyagi did not play much international cricket. However, he was quite popular in the cricketing circles because of his stint with the Chennai Super Kings.
Feb 21: Pragyan Ojha
Left-arm spinner Pragyan Ojha was the first spin bowler to win the IPL Purple Cap. The southpaw played for the Mumbai Indians and the Deccan Chargers in the league. Ojha played his last Test match back in 2013.
Jul 29: Rajat Bhatia
Uncapped medium pace-bowling all-rounder Rajat Bhatia starred for the Kolkata Knight Riders in the IPL. He played his last season for the Rising Pune Supergiant team.
Dec 9: Parthiv Patel
Former Chennai Super Kings wicket-keeper batsman Parthiv Patel made his international debut back in 2002. The southpaw did not play much intl. cricket, but he was a regular fixture in the IPL.
Sep 5: Ian Bell
One of England's modern-day stalwarts, Ian Bell announced his retirement from professional cricket in September 2020, having last played for the country in 2015.
Jul 7: Praveen Tambe
In case you did not know, Praveen Tambe received a bid from the Kolkata Knight Riders to play in the IPL. However, BCCI did not allow him to participate because he had played in the T10 League.
Oct 24: Tanmay Srivastava
It is shocking to see that Virat Kohli is the Indian cricket team captain right now, while his U-19 teammate Tanmay Srivastava retired in October. Srivastava played a vital role in the Indian team's U-19 World Cup win. Unfortunately, the 30-year-old could not make it big at the senior level.
Dec 17:Mohammad Amir
Pakistan left-arm pacer Mohammad Amir announced his retirement from international cricket in December at the age of 28. Amir alleged he was mentally tortured into retirement by some PCB members.
Nov 3:Marlon Samuels
For someone who enjoyed the limelight, very much a West Indian trait, Marlon Samuels' cricketing career ended in relative oblivion. In November, he announced his retirement from all forms of the game, having last played for West Indies in December 2018.
Nov 2: Shane Watson
Having announced his retirement from international cricket in 2016, prolific Australian all-rounder Shane Watson decided to hang his boots as a professional cricketer in November after a poor IPL stint with Chennai Super Kings.
July 17: Andre Schurrle
The man who provided the assist for Mario Gotze's winning goal in the finals of World Cup 2014, Andre Schurrle announced his retirement this year. The 29-year old cited loneliness as a prime factor for his retirement.
Jan 26: Lucio
Regarded as one of the best centre-backs during his prime, Lucio was a strong defender well-known for his aerial prowess.
Jul 26:Leighton Baines
An underrated defender for much of his Premier League career, Leighton Baines is a Wigan Athletic product who made more than 150 appearances for the club, the England international moved to Everton in 2007 for £5 million.
Jan 6: Daniele De Rossi
Roma's very own, 37-year-old Daniele De Rossi spent the majority of his playing career with boyhood club Roma. With Italy, he won the World Cup in 2006.
Jan 2: David Villa
Considered to be one of the best strikers of his generation, David Villa is arguably the best no.9 Spain has ever produced. For Spain, he won the World Cup, where he was his country's top goalscorer, as well as the Euros.
Aug 17: Vincent Kompany
Belgian international defender Kompany announced his retirement at the age of 34 to become manager of Anderlecht on a four-year contract.
Aug 4: Iker Casillas
One of the best goalkeepers of all-time, Iker Casillas is synonymous with the art of shot-stopping.
many legends depart
Jan 26: Kobe Bryant, 41
Former NBA star Kobe Bryant was killed in January alongside his 13-year-old daughter in a helicopter crash outside Los Angeles that also took the lives of seven other people.
Dec 10: Paolo Rossi, 64
Rossi is a national hero in Italy for firing the 'Azzurri' to World Cup triumph in 1982.He finished the tournament as top scorer after scoring six goals, including a hat-trick in a 3-2 win over flamboyant Brazil, both goals against Poland in the semis and the opener in the final win over West Germany.
May 25: Balbir Singh Senior, 95
Triple-Olympic champion and World Cup winning manager Balbir Singh Sr. arguably led the limitless pantheon of country's hockey stalwarts and his passing leaves a mighty hole in Indian hockey firmament.
Aug 17: Angela Buxton, 85
Former British tennis player, two-time Grand Slam doubles champion and equal rights pioneer.
Oct 30: Nobby Stiles, 78
Stiles was described as the "heart and soul" of England's 1966 World Cup-winning team. Stiles was a tough-tackling midfielder and an integral part of the Manchester United side who in 1968 became the first English club to win the European Cup.
Apr 12: Stirling Moss, 90
Moss was widely regarded as the greatest driver never to win the Formula One drivers' world championship. A fearless driver, Moss began competing in F1 in 1951 and was forced to retire after a huge crash in a race at Goodwood in April 1962 which left him in a coma for a month and partially paralysed for six.
Oct 9: Whitey Ford, 91
Ford was the New York Yankees' all-time wins leader, a six-time World Series champion and Hall of Fame pitcher. New Yorker Ford died in October reportedly surrounded by his family watching his beloved Yankees, a team he had supported since he was five.
Apr 1: Tony Lewis, 78
Lewis was one of the men behind the Duckworth-Lewis-Stern method used in weather-affected limited-overs cricket matches. He devised the method alongside fellow mathematician Frank Duckworth.
Dec 14: Gerard Houllier, 73
Former Liverpool and Aston Villa manager Gerard Houllier passed away, aged 73.The Frenchman put Liverpool back on track to domestic and European glory as manager from 1998 to 2004, winning a treble of trophies in 2001 and paving the way for the long-term recovery of
a club he cherished.