Vemulawada: KCR threw his hands up in saving State says MP Bandi Sanjay Kumar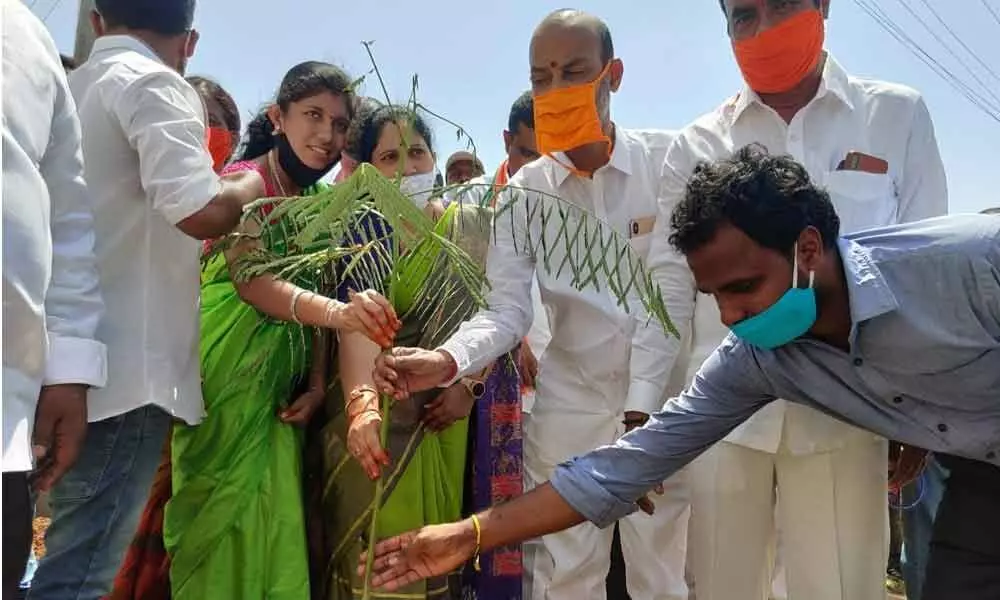 Highlights
There is a lot of difference between the bulletins released by district-level officers and State-level officers regarding the testing of corona patients, alleged BJP State president and Karimnagar MP Bandi Sanjay Kumar
Vemulawada: There is a lot of difference between the bulletins released by district-level officers and State-level officers regarding the testing of corona patients, alleged BJP State president and Karimnagar MP Bandi Sanjay Kumar.
He laid foundation stone for the construction of CC road and drainage in 16 and 26 wards and planted sapling on sixth phase of Haritha Haram programme in Vemulawada on Thursday.
Speaking on the occasion, MP Sanjay Kumar came heavily on the TRS government and its Ministers. He alleged that Telangana Ministers are like puppets in the hands of Chief Minister K Chandrashekar Rao, who speaks only when the CM tells them to talk.
"Transport Minister cannot sanction roads, Finance Minister cannot sanction any funds, while Home Minister cannot transfer even a home guard. That is the situation of the Ministers in Telangana State," he pointed out.
The MP said when the BJP leaders ask questions, instead of giving answers, the TRS Ministers and MLAs will attack BJP leaders with silly explanations. In the States, where BJP government is in power, lakhs of corona tests are being conducted.
In Uttar Pradesh and Karnataka, around five lakh corona tests were conducted so far, in Gujarat and Maharashtra, around three lakh corona tests were conducted. Why the Telangana government was unable to conduct corona tests like other States, he questioned.
When the Central government released a package of Rs 20 lakh crore, Chief Minister K Chandrashekar Rao is criticising as the money is directly reaching the real beneficiaries without diversion. The CM is unable to save Telangana State and he already lifted his hands, he added.
MP Sanjay Kumar demanded the State government to increase corona tests to save the lives of people by including the corona disease under Aarogyasree scheme.