Police foil Kanna's public meeting at Gurazala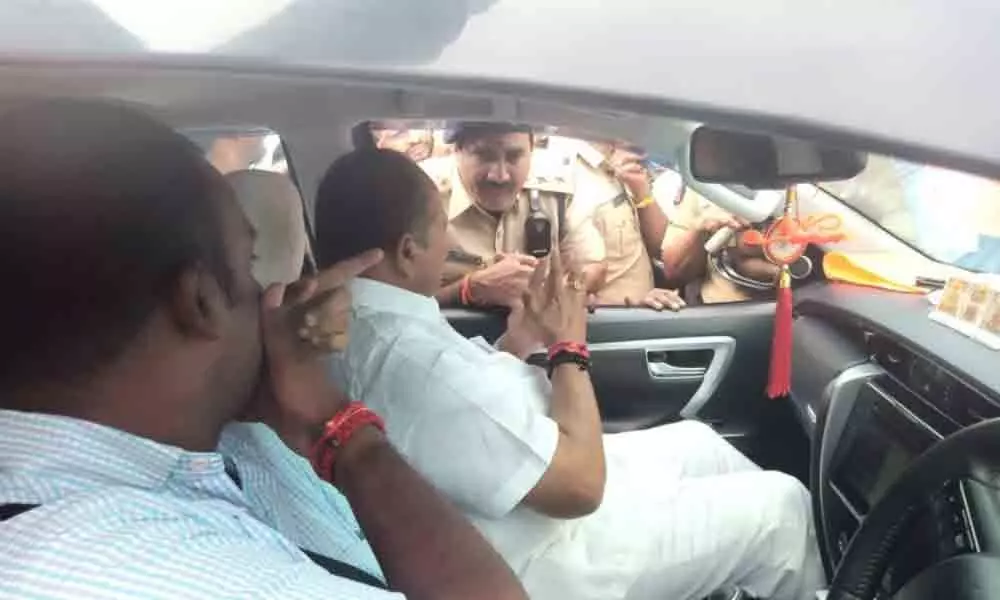 Highlights
1. Stop him while he is proceeding to Gurazala and shift him to ZP Guest House in Guntur.
2. Later, release him at 2 pm.
3. The BJP State president lambasts YSRCP govt for its failure to maintain law and order in the State.
4. Opposes govt's proposal to distribute lands pertaining to Endowments dept as house sites to the poor.
Guntur: Police stopped BJP State president Kanna Lakshminarayana's car at Nandigam Cross Road near Sattenapalli town on Monday and shifted him to the NSP Guest house while he was proceeding to Gurazala to address a public meeting on YSRCP government failures in 100 days.

The BJP convened the meeting to protest against the growing attacks on party activists after the YSRCP came to power in the State.
When the police stopped Kanna's vehicle, the BJP activists raised slogans against them and registered their protest.
It may be mentioned that the police refused to give permission to Kanna Lakshminaryana to address the public meeting.
Addressing the media on the occasion, Kanna Lakshminarayana said that after the YSRCP government came to power in the State, attacks were on the rise on BJP activists.
He criticised the government for its failure to maintain law and order in the State and recalled that they had already met DGP Goutam Sawang and submitted a memorandum to him. He said it was not justified on the part of police to obstruct them and prevent them from addressing a public meeting.
He lambasted the YSRCP government for implementing anti-people's policies. He said the government was planning to distribute Endowments Department lands to the poor and strongly opposed the proposal. He came down heavily on the government for failing to solve sand problem. Sattenapalli DSP Vijaya Bhaskar Reddy shifted Kanna to NSP Guest House and later set him free at 2 pm.
Subscribed Failed...
Subscribed Successfully...