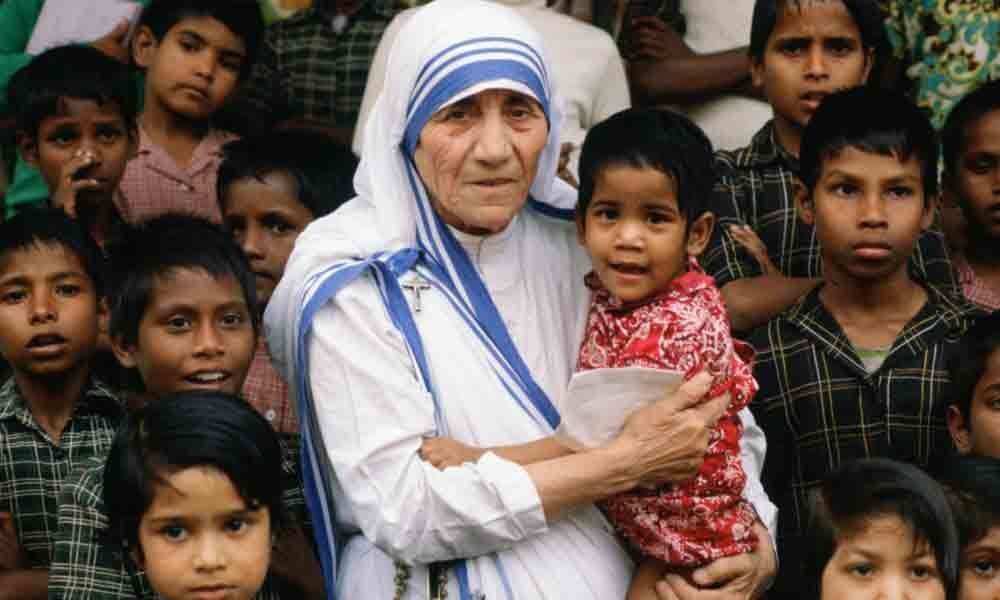 Highlights
August 26 is the birth anniversary of Mother Teresa. Mother Teresa's steely resolve and indefatigable zeal to uplift the underprivileged led to the...
Death is designated a great leveller but not life. Unlike death, life doesn't treat all in an equal manner, it has many varied hues and spectacles. Some are born with a proverbial silver spoon in their mouth and roll in luxury whereas others have to struggle hard to rustle up two square meals a day. This spectacle of poverty, starvation, and squalor shakes the sensitive souls and some of them make contributions to ameliorate the pitiable condition of the stepchildren of life and then return to their world of prosperity But Agnes, a child, had resolved to dedicate her entire life to serve the deprived and downtrodden strata of society. Instead of skidding back into the lap of her mundane life, she chose to live with poor people to realise their pains and suffering in a better manner and serve them with her phenomenal commitment. This passion for compassion made a little beautiful girl 'Mother Teresa' one day who is held in high esteem as a personification of kindness and charity. During her childhood, Agnes witnessed heart-rending massacres, social strife, and communal conflicts. The pageant of blood and gore left indelible imprints on her tender heart. Such was the enormity of this impact that she decided to forsake her own home and heart and devote her whole life to the unstinting service of mankind.

Agnes Gonxhe Bojaxhiu, born on August 26, 1910, in Skopje, Macedonia, was the youngest of three children of Albanian parents. When Agnes was setting her foot on the threshold of youth, she experienced the devastation of the Balkan Wars and the social ostracism her family received because they were the direct descendant of the Albanians residing in the hostile land. Her father, Nikola, a freedom fighter was murdered during a conference in Belgrade in 1919 at the age of forty-five. Agnes was barely eight when her father passed away and left the bereaved family members to fend for themselves.
It was a transitional phase in the life of Agnes who under the influence of her generous mother, Drana, imbibed the finest lessons of virtue and magnanimity. Here, the seeds of generosity and compassion were sown into the fertile soil of her heart that later fructified into many dense trees and under their comforting shades destitute and homeless were offered refuge. Agnes's mother exhorted her daughter, "When you do good, do it quietly as if you were throwing a stone into the sea". Acting upon her mother's nugget of advice, Agnes started lending helping hand to the individuals in distress with the best of her abilities and whatsoever meagre resources she had.
Having her unflinching faith in the church, she would frequently attend church services at a very young age. Initially, she was sent to a convent-run primary school but thereafter she sought admission in a state school. Private personal experience with God and her involvement with church activities encouraged Agnes to take up missionary work as a full-time vocation. By now she had formulated the opinion that a life lived for others is the only form of life worth living.
At the age of eighteen, Agnes renounced home to devote herself to 'Sisters of Loreto' at Loreto Abbey in Ireland. In 1929, she arrived in India. Darjeeling became the epicentre of her noble work and serving as a teacher in the St Teresa School, she gained proficiency in Bengali. Teresa took her first religious vow on 24 May 1931 and opted for the name Teresa after the Therese de Lisieux, the patron saint of missionaries. It was in the year 1946, Teresa received 'a call within a call' to help the poverty and disease afflicted people. She took it as the divine order and in 1948, draped in her symbolic white cotton sari with a blue border. Thereafter, the world of impoverished people experienced her Midas touch. On October 7, 1950, Teresa with the permission from the Vatican laid down the foundation stone of "Missionaries of Charities" with mere 13 members. However, her steely resolve and indefatigable zeal to uplift the underprivileged led to the vast expansion of the organisation which now comprises 4500 nuns who manage orphanages, AIDs hospices, and various charity centres.
Though the Indian Government conferred Mother Teresa with the highest civilian award of Bharat Ratna along with Padma Shri, she got embroiled in some controversies too. The Hindu right-wing activists cast aspersions on her for forced conversions. Abortion rights groups have also denounced Teresa's stance vehemently against abortion and contraception. Even deteriorating health could not deter her from continuing her work.
After Mother Teresa's death, the process of her beatification was initiated. Amidst various controversies, a miracle was to be documented for her Canonisation. The healing of Monica Bersa and a Brazilian man with multiple tumours were recognised as miracles associated with Teresa, the prerequisites to bedeck her with the highest honour of sainthood. Undeniably by birth, her religion was Christianity but as a quintessence of compassion, she was a humanist for all humans.
Subscribed Failed...
Subscribed Successfully...