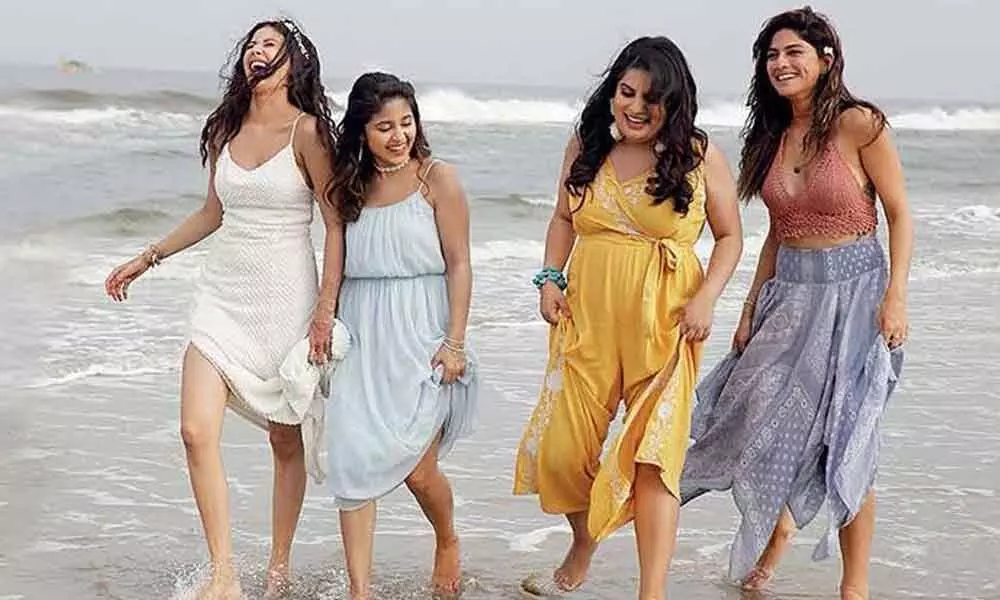 Highlights
New age brought with it, OTT, which led to an explosion of creative energy, and interestingly, women find themselves at the center of this revolution ...
New age brought with it, OTT, which led to an explosion of creative energy, and interestingly, women find themselves at the center of this revolution
Yes, its official guys. It's now an accepted, even if grudgingly so, for women to joke about husbands, and their married life. It is okay to acknowledge a good looking guy other than your husband and that will not be sacrilege or a kalank (read a black mark) on your Sati Savitri (a lady from the legends, an epitome of love and respect for her husband, who is supposed to be the benchmark for all married women to emulate) status. How often have we heard - God made women beautiful and has given us men eyes to appreciate - now it's your turn to say God has indeed given women too, similar efficient pair of eyes and now they openly appreciate a thing of beauty or two, which in no way affects the love they have for their life partner.

It may be surprising to the not so fairer sex, but women have stepped into the new gen effortlessly and seamlessly, leaving majority of men folk much behind. Now it's their turn to catch up.
New age brought with it, OTT, which led to an explosion of creative energy, and interestingly, women find themselves at the center of this revolution. Women oriented programming is no longer about saas bahu sagas that go on for eternity. We find empowered women, real women, who have had already crossed the oppressively discriminate threshold of patriarchy and are increasingly embracing their identity and newfound confidence in their sexuality. And it is these women who now find representation in the Indian web series and even television serials to an extent.
One such show 'Married Woman Diaries' is indeed a no-holds barred life story of a standup comedian and her husband. And, it is a bitter pill coated with a whole lot of comedy. Above all else, the story compels you to see yourself in the reality check mirror and all your conditioning and pre-ordained womanly roles hammered into your brain stare back at you and scream at regular intervals...BUT... STILL...HOW... And then, the pragmatic among you will say why not.
Here's is a young married woman, who is in no mood to have babies soon and is not ashamed of it. She likes to live life on her own terms and is not ready to entertain interference, even if it means her mother-in-law. Episode after episode she shocks the age-old virtues and values attributed only to women for it is she, who is the Devi that keeps the house together, takes care of in-laws, procreates as a duty she needs to fulfill as soon as she is married. Not that it is bad to want a baby; but it is a choice that she is free to make with her husband and she cannot be and should not be judged.
There was of course the 'Girl in the City' about a small-town girl making it big in the city of dreams, a story of every other working girl, who may come from a smaller city or a protected home, but that in no way gets in the way of her having an opinion, individuality, goal and she knows there are no short cuts to success.
What about girls with ambitions? For eternity now, girls are either supposed to marry for family or out of true love. There are either good girls or bad girls. The ambitious ones are always the bad ones; not to mention those that do not believe in commitment and indulge in casual relations – there is a word for the latter – immoral; and their lives as is shown in our films and every other book of the yore – are destined to be destroyed. However funny they were, the classic films made in India and their vamp versus heroine personification is ingrained in our culture. A girl who is ambitious, sensual, adventurous must always be shown with cigarette in hand and a glass of coloured liquid and she is mostly on the villain's side to be killed just before the climax, but not before she has learnt her lesson.
But, not anymore. Our lead ladies have become sassier, are extremely ambitious, drink, smoke, swear, go on a road trip with friends, have a casual fling, can decide to stay single forever, or meet over tinder, be in a live-in relationship – and yet they are successful. And shows like 'Made in Heaven', 'The Trip', "Four More Shots Please', 'Bang Baaja Baraat' in addition to well defined storylines, showcase complex human relationships in all their comic and poignant hues, and are religiously referring to the new found freedom of expression. And whatever may be a woman's choice - to be a stay at home mother, a career woman, married, unmarried, promiscuous or committed to one man or even a woman; most of the lead ladies are not afraid to stand up for what they believe in.
What happens when you strip the mask of a liberated male or a liberated family. Are we truly progressive? What does it mean to be modern – is it just the way you live, or does it mean you are liberated of the shackles of centuries of discriminative conditioning? It's interesting how these shows unveil the real faces behind the progressive masks.
One common aspect of all these shows on OTT platforms is that the stories are set in urban milieu, and mostly an upper-class storyline that belies the true nature of our society which is as diverse as can be. There are strong willed, confident women exercising their choice or atleast aspiring to do so within their limitations and most of the times fighting against odds. Inclusive content is surely the next step in the right direction.
And, it does help to reflect on the times, but entertainment with a futuristic view of the world we would like to live in – gives way to inspiration, hope and dreams for greater times. "Test Case' - story of Shikha Sharma, the only woman officer in the otherwise men-only Indian armed forces – the first woman to be inducted into combat-oriented role and hence a 'test case' – does indeed fall into the category.
As one hopes script writers dig deeper to tell the multitude of untold stories, it helps to look back into the 80s when visionary actors and directors came up with shows like 'Udaan', 'Aarohan', 'Alp Viraam', 'Astitv- Ek Prem Kahani', 'Ek Packet Umeed', exploring a variety of themes including extra marital affairs, women in forces, career aspirations and more, definitely futuristic and bold for the Doordarshan times.
Subscribed Failed...
Subscribed Successfully...