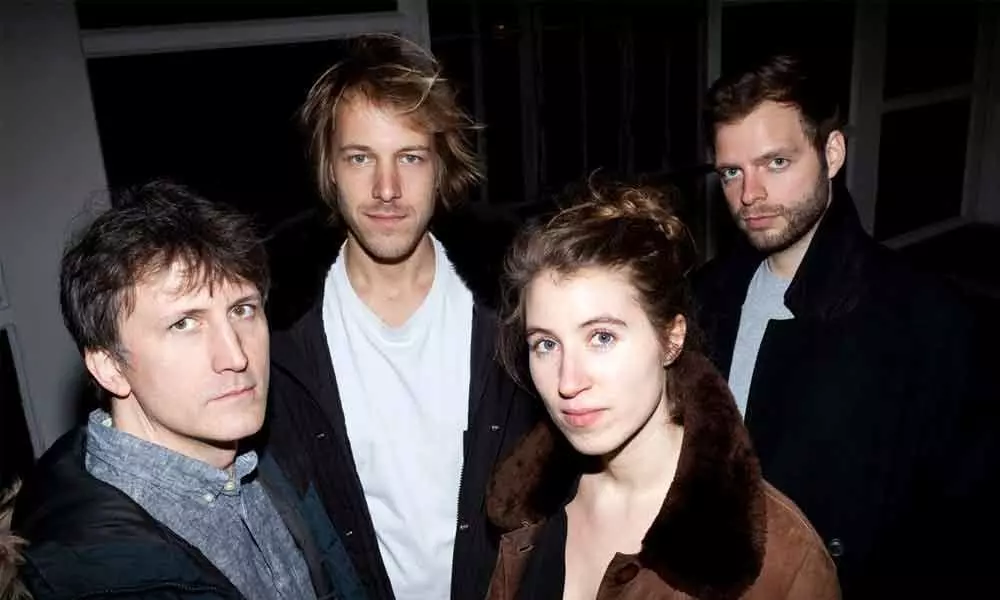 Highlights
German band 'Lisbeth Quartett' recently performed at the Hyderabad Jazz Festival. The band's saxophonist, Charlotte Greve, in a candid chat talks...
Charlotte Greve is a New York-based alto saxophonist and composer originally from Berlin. Charlotte and her band 'Lisbeth Quartett' from Germany recently performed for the first time in India at the third edition of 'Hyderabad Jazz Festival'.
The three-day fest commenced on November 22 and concluded on November 24. The other bands which performed at the fest are '4th Element' from Meghalaya; French Jazz band 'Thiefs'; Hyderabad's own 'Dennis Powell Collective'; 'The Great Harry Hillman' from Switzerland and 'The Vocal S Experience' from Mumbai.
With a unique concept of tone and composition, Charlotte Greve is making a mark on both the Brooklyn and German jazz scenes. Her band 'Lisbeth Quartett', has released four albums so far–'Grow' (Doublemoon Records, 2009), 'Constant Travellers' v(Traumton Records, 2011), 'Framed Frequencies' (Traumton Records, 2014), 'Lisbeth Live' (Traumton Records, 2016). The second of these was awarded the Echo Jazz Prize in 2012.
Excerpts from an interview:
When and why did you start playing?
I started playing the classical flute at the age of 8 and did that for almost 10 years. I also played a bit of jazz flute before picking up the alto saxophone at age 16. I wanted to play an instrument that was louder than the flute and I had always been curious about the saxophone, especially the alto saxophone.
Why did you choose Jazz as a genre?
This music allows me to improvise and find my own aesthetic of sound and composition. This freedom within the music was very appealing to me after many years of classical flute training.
What was the first tune(s) you learned?
One of the first Jazz tunes I played was 'Stolen Moments' by Oliver Nelson.
How often and for how long do you practice?
That always differs - sometimes every day, sometimes I don't practice for weeks because I'm mostly busy with playing, rehearsing, teaching and organising the next tour or composing. I don't have a set routine; it all goes in waves and phases.
Please explain your creative process.
I sing a lot - it helps me to connect to my instrument in terms of sound and it helps me to find melodies and rhythms for compositions.
I also go running and swimming because during that time it's easier for me to think clearly about everything that is connected to my profession as a musician, both on the creative and the organisational side.
What do you enjoy most about being a musician? What do you hate most?'
I love being on stage and sharing the music that I've been developing with different kinds of audiences and I love to collaborate with inspiring colleagues and to learn from them. Also, I love to travel and get to know different kinds of people - both in colleagues and audiences.
I both love and hate that my job as a freelance jazz musician oftentimes is really several jobs in one: musician, composer, booking agent, promoter, and road manager. It can be refreshing to do all these things next to each other but sometimes it would be great to be able to just focus on the music part of things.
What are three things you look for when you see an artist play live?
Not sure if there are always three things I'm looking for but the first thing that always interests and reaches me is the sound of an artist, even when he or she just plays one note.
If you didn't become a musician what would you be doing right now?
Probably be a farmer or work with languages in some capacity.
An instrument which you want to learn and why?
I want to become better at the piano and I'd like to play the drums.
Who are your musical inspirations?
Many! Different artists in the jazz world such as Wayne Shorter or Lee Konitz but also many of my colleagues as well as all kinds of different types of music such as classical music, hip hop, pop, indie rock, electronic music.
What is the future of Jazz?
It will keep becoming more and more diverse I think and hope.
Subscribed Failed...
Subscribed Successfully...