Congress' naivety will sure boomerang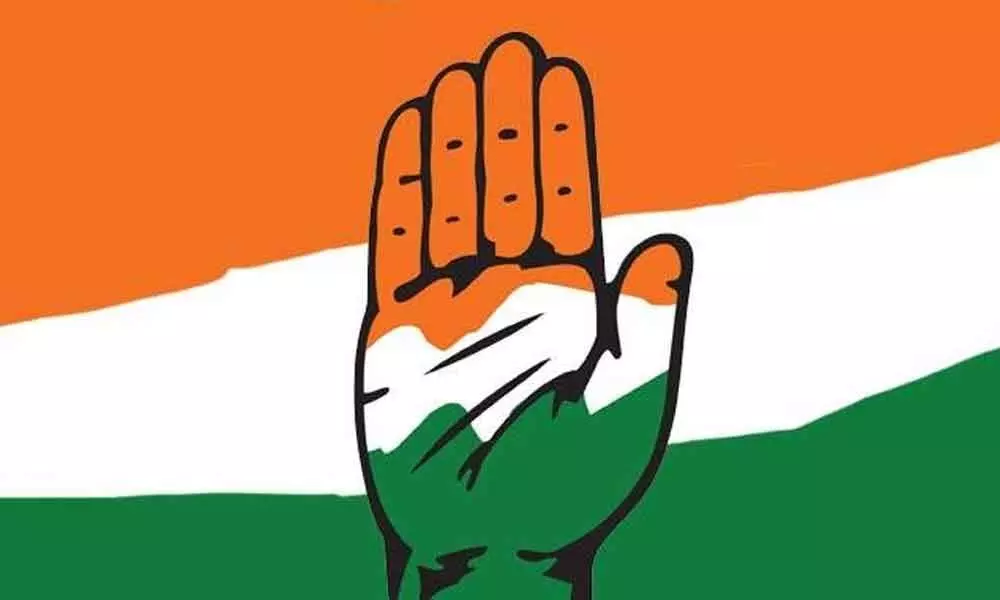 Highlights
Congress needs to change if it is to survive as a political party.
Congress needs to change if it is to survive as a political party. When the Congress led by Rahul Gandhi took on the Modi 0.1 government on Rafael deal, one thought that the party was on a comeback trial.
But the way it messed up the issue and failed to convince the people shows that the party has been committing mistake after mistake.
Soon after the defeat in the elections, AICC president Rahul Gandhi left the party and though it is almost five months now, they could not find an alternative and the party is practically rudderless.
All the noise that was made about Rafael is forgotten. Apparently, they have run out of all their ammunition. This was followed by another major faux pas on the issue of abrogation of Article 370 when the party members spoke in different voices.
And now comes the unnecessary controversy over performing puja to Rafael aircraft by the Union Defence Minister. The Congress it appears has put its foot in its mouth by making all kinds of comments on a non-issue and lost its credibility.
The kind of arguments it had come up with on television channels was ridiculous. The leaders who certainly were atheists said puja was against the Constitution.
I wonder if they had ever read the Constitution. After their blabber was over, I once again went through the pages of Indian Constitution which speak about secularism.
Article 25 says that all persons are equally entitled to freedom of conscience and the right to freely profess, practice and propagate religion.
Article 26 confers upon the religious groups the freedom to manage religious affairs and religious denomination. Article 27 ensures that no persons shall be compelled to pay any taxes for the promotion or maintenance of any particular religion.
Article 28 says that no religious instruction shall be provided in an educational institution wholly maintained out of State funds.
A little more search revealed that in January 2012, the Madras High Court in a case made it clear that conducting Ayudha Puja or Saraswathi Puja in government offices is not non secular and there was no need to ban it.
The court in its verdict said, "Showing respect to the place of work and the objects of work will in no way offend the feelings of others or affect secularism."
The court said, "Ayudha Puja is referable to prayer, reverence or respect given to objects through which an individual performs his profession or occupation.
Ayudha Puja in its real terms transcends all religion. All sorts of religious activities within the precincts of government offices. An individual showing respect to his occupational tools cannot be said to offend the secular nature of the state."
"Irrespective of religion, Ayudha Puja is a reverence shown by cobblers, weavers, farmers, autorickshaw drivers, rickshaw pullers, carpenters, shopkeepers, chartered accountants, advocates, doctors etc., to objects which they use to earn their livelihood," Justice Sudhakar, who wrote the judgment for the bench, observed.
"The form of worship or veneration to files and records at the close of the working day preceding the Ayudhua Puja or Saraswathi Puja holidays cannot be called as religious activity by the government, affecting the secular nature of the State."
The judges pointed out that Ayudha Puja and Saraswathi Puja fall on holidays and it could not be concluded that it was the State which performed these pujas at office.
It is unfortunate that the atheists in the Congress party blabbered even without bothering to understand either the Constitution or the judicial verdict.
These bigmouths need to answer if offering puja is against Constitution, why did the then AICC president Rahul Gandhi visit temples during his election campaign and offer pujas. If that was a secular act, how can this be non-secular act?
Every religion has its own customs. Everyone offers prayers as per their customs. The Opposition party should ask whether or not shastra puja is performed on Vijayadashami and ponder over what needs to be criticised and what not.
The Congress also criticised Defence Minister for placing lemons under the tyres of the Rafael aircraft saying that it had not yet landed in India. One does not know whether they were criticising for the sake of criticism or are ignorant about the customs.
When one buys a new car or a two-wheeler and takes delivery from the showroom, lemons are placed under the tyres to ward of evil eyes before it is taken out of showroom. Some religions tie some cloth to the rear view mirror.
It was Vijaya Dashmi Day and the first Rafael aircraft was being handed over to India. It is a different matter that it would take another six months to reach here.
But when it was being handed over on a day, when according to mythology, the Pandavas offered puja to their weapons after completing 14 years of hibernation, one fails to understand what was wrong in Defence Minister Rajnath Singh who is a Hindu performing puja.
Does Congress feel that offering prayers according to Hindu traditions is communal and offering prayers in all other forms is secular?
They should learn a lesson from what the Pakistan Army spokesperson Major General Asif Ghafoor commented on Twitter on shastra puja. Ghafoor said, "Nothing wrong in #RafalePuja as it goes by the religion and that must be respected.
Please, remember.... it's not the machine alone which matters but competence, passion & resolve of the men handling that machine."
It is unfortunate that the Congress had tried to divide even the armed forces based on religion. The Congress also charged the BJP of dramatising the event. Well, they need to answer which political party does not dramatise.
In India, all political parties survive more on dramatisation rather than reality. During elections, they show moon to the voters and dramatise their achievements. Their speeches are full of dramatisation and less on conviction.
The Congress leaders also seem to be suffering from some kind dementia. Don't we have regiments like Sikh Regiment with a war cry "Bole So Nihal Sat Sri Akaal (one will be blessed eternally who says that God is the ultimate).
It's time leaders thought twice before they spoke out. In all army cantonments one finds, temple, gurudwara, church and a mosque which is a true symbol of secularism.
Even senior leaders like Mallikarjun Kharge called it a tamasha. Can the Congress leaders win without the votes of Hindu voters? Why should they vote for them if they do not respect the customs of all religions including Hindus?
If performing puja for Rafael is drama, then what is holding Iftar party by political leaders? Is that not dramatisation? It would be better if these leaders keep out of religions and customs and mind their own business.
If the Congress leaders do not change, then perhaps, the party senior leader Salman Khurshid's prediction would come true. He had predicted a bleak future for the party.
They should know the Rafael weapons package outguns all other weapons systems in the region and will give India the ability to engage Pakistani jets from a distance without being tracked. Also, air to-ground SCALP missile will be able to take down virtually any target within Pakistani soil.
The jet carries precision long-range ground attack missile that can take out targets with extreme accuracy.
They have a range of much over 300 km, which means that for Balakot-type operation, Indian jets would not need to cross LoC and could carry out the strike from within Indian airspace. Is Congress listening?
Subscribed Failed...
Subscribed Successfully...