Best Christmas gifts for kids this 2019 from Most popular sellers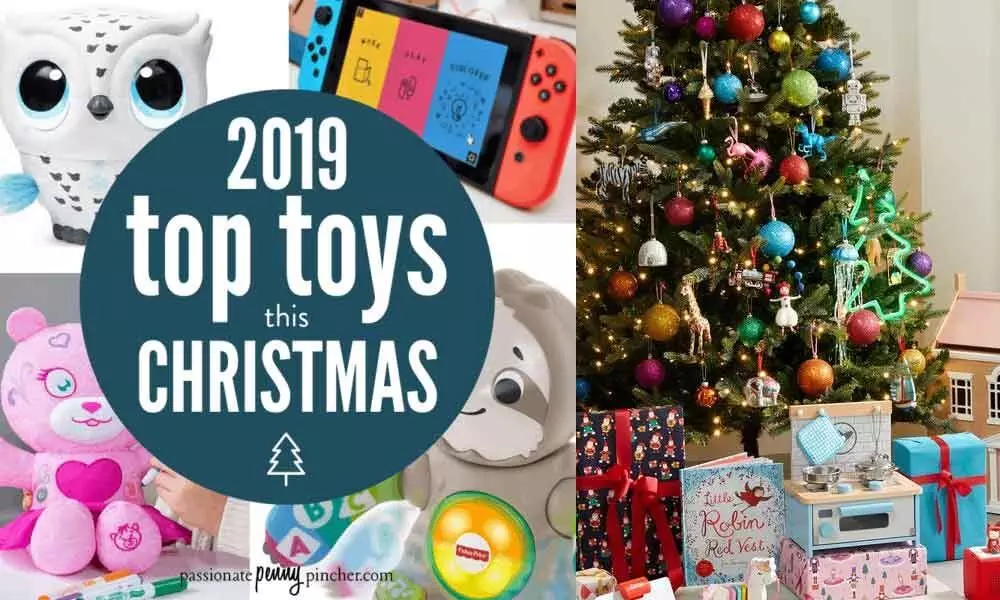 Highlights
Toys, toys everywhere — but which ones should you choose? Some have bright lights and music, others are colorful and super sensory, and the options go...
Toys, toys everywhere — but which ones should you choose? Some have bright lights and music, others are colorful and super sensory, and the options go on (and on).
If you take a trip down the toy aisles at your local big box store, you may be totally and understandably overwhelmed. While many packages detail ages and stages, you may still wonder what's truly best for the little ones in your life.
Well, you can breathe a sigh of relief. We've got you covered from toys that suit the youngest babies to ones that will grow with your child as they move and groove into their toddler years.
LOL Surprise Glamper, Cubby Bear, Walking Buzz Lightyear, Kindi Kids Toddler dolls, Owleez and the LEGO Harry Potter Knight Bus have all been tipped as some of the must-haves for Christmas by retailers such as Argos, John Lewis, Amazon, Hamleys, Disney, DreamToys and Smyths Toys. Our toy testers pick the best of the bunch…
Age: 2+
We reckon there's no parental middle ground on this one: you'll either love the idea of a twerking llama or resolve never, ever to allow it anywhere near your child's toybox. Boppi, the latest addition to the interactive Pet Alive range, tosses her head, shakes her booty and spins round in a circle to 3 different songs. Requires 4 x AA batteries (included).
Age: 4+
A cute interactive elephant who's so shy at first, she hides behind her ears. Once you start stroking and playing with her, she'll start to giggle and wave her trunk around. Eventually, she'll play games, make trumpet sounds with her trunk, dance, eat peanuts and blow you kisses. Comes with her pet mouse, a peanut accessory and an instruction booklet. Requires 4AA batteries (not included).
Age: 5+
These little dolls come hidden inside a flowerpot: you water the pot with a teeny-tiny watering can and your doll 'grows' out of the pot. You can then open to pot to reveal your doll and the 10 'surprises' such as sticker sheet or fashion shoes. Each Blume doll (there are several to collect) comes with a different outfit and glorious multicoloured hairstyle.
Age: 6+
Oh yes, it's an interactive owl, with his own nest, that you can teach to fly! You can feed it toy berries (great eating noises), pet it, rock it to sleep, and, if you hold it and move your arm back and forth, eventually (it takes a while for him to 'learn'), he'll take off into the air. And that really is quite something to see.
Age: 4+
This large (43cm high) interactive plush bear pricks up his ears when you talk to him, babbles back to you, does a little dance and makes the cutest eating sounds when you feed him. He also have a 'sleepy' mode, where he'll yawn and stretch his arms and then close his eyes as he plays 1 of 4 5-minute sequences of mellow music.
Age: 6+
Put on this cool wizard's cloak (139.7cm in length), and using the free Wow! Stuff app, you can film or take pictures of yourself disappearing! It works really well and is great fun. Comes with a tripod to keep your phone steady while you shoot your invisibility adventures.
Age: 3+
A big 91cm x 61cm toy camper van that converts to a playhouse which has 10 different play areas, including bunk beds, a bathroom with a pink and gold toilet, a water slide and light-up pool, and a DJ booth. Comes with over 50 surprise bundles and an exclusive L.O.L doll. The campervan has lights and sounds – and pulls apart to make a cute little cab-car.
Age: 3+
This huge 22.9cm x 1014.1cm x 76.2cm winter-themed dollhouse definitely has a wow factor with 3 floors, 6 different rooms and over 95 surprises to unbox. The wooden chalet comes with lots of interactive elements including a ski lift, a chimney that snows, ice skating rink and hot tub. Also comes with 4.5 metres of fairy lights to decorate the house.
Age: 9 months+
This cute fellow nods his head, claps his hands and dances when you press the button on his feet to make the music play. The other button plays phrases about numbers, colours and opposites. We really like his soft arms – and our baby testers responded very enthusiastically to the clapping.
Age: 7+
This NASA-design inspired 1,055-piece space set features a large multi-stage rocket, a rover payload module, a launch control room with rotating satellite dish and assembly crane, a rover lab with rotating arm tool, opening doors and raising platform, plus a large crawler with track wheels and a tilting launch pad. It's quite a build – but that's the joy! Comes with astronaut, ground crew, scientist, lab mechanic, and robot mini figures.
Age: 3+
This magical castle (22cm x 76cm x 76cm) is bound to impress little Frozen fans with its 4 floors and 7 rooms including a lookout tower. Comes with 14 accessories to fill the different rooms including a piano, banquet table and throne chair. Requires 3 x AAA batteries (not included) to set off the colourful lights included with the castle.
Subscribed Failed...
Subscribed Successfully...