Serve devotees with dedication: TTD chairman YV Subba Reddy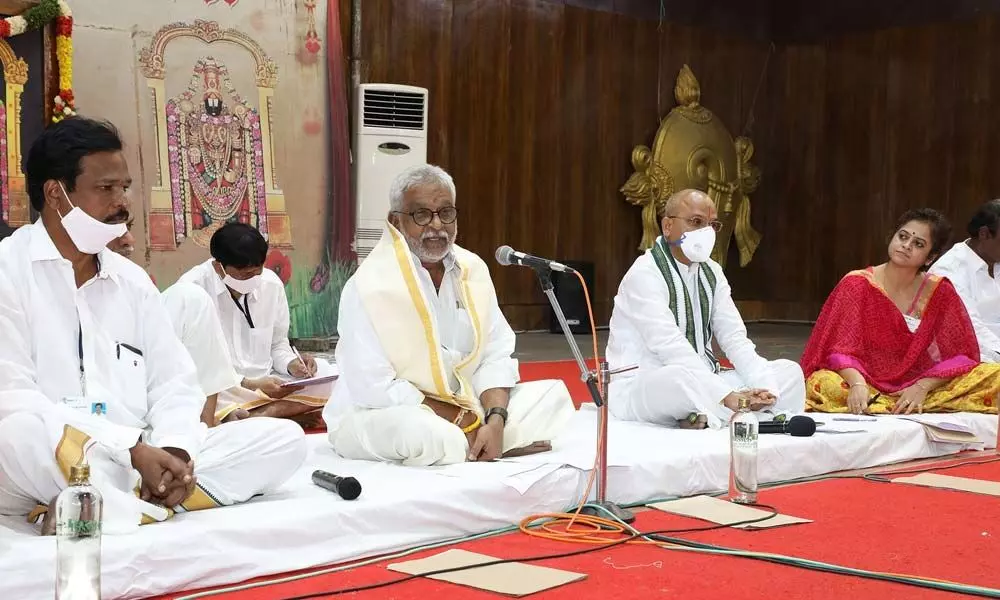 Highlights
Srivari Sevakulu, who have been rendering impeccable services to fellow pilgrims from the past two decades, should also play an active role in Hindu Sanatana Dharma activities taken up by TTD in different parts of the country, said TTD Chairman Y V Subba Reddy
Tirupati: Srivari Sevakulu, who have been rendering impeccable services to fellow pilgrims from the past two decades, should also play an active role in Hindu Sanatana Dharma activities taken up by TTD in different parts of the country, said TTD Chairman Y V Subba Reddy.
Addressing the 10-day training camp for volunteers on the occasion of Vaikunta Ekadasi festival at Asthana Mandapam on Thursday, TTD Chairman said the Srivari Sevakulu should render whole hearted services to the pilgrims, who will be visiting Tirumala for Vaikuntha Dwara Darshanam starting from December 25 till January 3. He said, for the first time, TTD has taken a historic decision to open the doors for Vaikuntha Dwara Darshanam for 10 days to provide darshan for large number of pilgrims across the country. "Among all festivities that are being observed in Tirumala, we have annual Brahmotsavams and Vaikuntha Dwara Darshanam which are the two most important festivals. Like annual Brahmotsavams, from this year onwards, Vaikuntha Dwara Darshanam will also be opened up for pilgrims for 10 days instead of earlier practice of two days," he added.
The Chairman also said under the instructions of Chief Minister Y S Jagan Mohan Reddy, TTD has taken up various Dharmic activities including Gudiko Gomata-by presenting a cow and calf to every temple, construction of 500 temples in SC, ST, BC, fishermen colonies and agency areas in two Telugu states and also contemplating on conducting free mass marriages to poor couple soon in the name of "Kalyanamastu" as part of TTD social service activities.
The orientation and Satsang programme by Sri Satya Sai Seva Organisation everyday will help to extract more qualitative services from volunteers, he observed.
TTD EO Dr K S Jawahar Reddy said with the noble concept, "Manava Seve Madhava Seva-Service to Humanity is Service to Divinity", TTD has commenced Srivari Seva in 2000 with just 200 volunteers and now Srivari Seva has emerged into an enormous seva organisation and lending support to TTD to cope with the every increasing multitude of pilgrims arriving daily to Tirumala.