Awareness workshop organised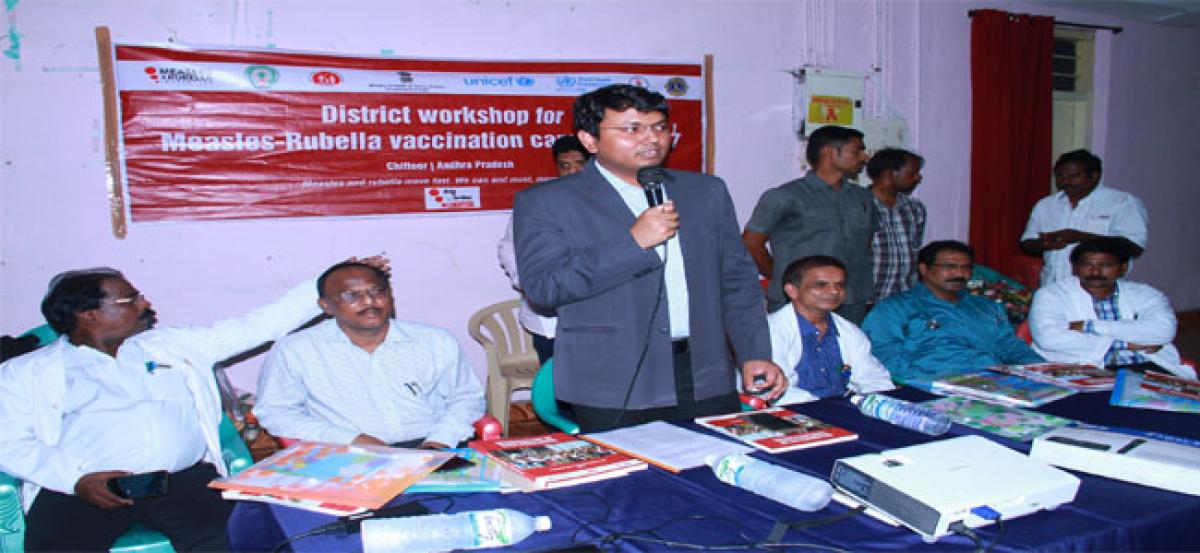 Highlights
A massive nationwide campaign being taken out in July and August to eliminate Measles-Rubella (MR) by administering the vaccination known as MR campaign. It targets a wide age group of children of above 9 months and below 15 years. During the introduction campaign, all children in the target age group will receive an additional dose of the vaccine, regardless of previous vaccination status or hist
Tirupati: A massive nationwide campaign being taken out in July and August to eliminate Measles-Rubella (MR) by administering the vaccination known as MR campaign. It targets a wide age group of children of above 9 months and below 15 years. During the introduction campaign, all children in the target age group will receive an additional dose of the vaccine, regardless of previous vaccination status or history of illness.
Highlights:
PHC doctors, ANMs and other medical staff attend the workshop
Massive campaign to be rolled out in July-August for administering vaccine in the age group of 9 months and 15 years
A workshop was organised at SVR Ruia Hospital here on Thursday to create awareness to all PHC doctors, ANMs and other medical staff on the MR campaign which was attended by the Sub-Collector Nishanth Kumar, DMHO Dr S Vijaya Gowri, Ruia Hospital Superintendent Dr Sidda Naik, RMO Dr U Sri Hari, World Health Organisation representative Dr Sudheer Naik, Pediatrician Dr AR Reddy and others.
Speaking on the occasion, the Sub-Collector has pulled up the Health department officials for failing in bringing the coordination between various departments which resulted in more number of dengue cases this season. He asked all the PHC doctors to keep his mobile number with them and inform him if anyone finds a case with symptoms of measles and other diseases.
He assured that he will coordinate with Revenue, Education, Health and other related departments for the success of MR campaign. DMHO Dr Vijaya Gowri said all the concerned staff will be trained before the campaign is implemented in August. All the dropouts, school going children even in remote villages will be covered and no children will be missed from the campaign especially girl children.
The target is to achieve 100 per cent results. Ruia Superintendent Dr Naik observed that ANM is required in Ruia Hospital as it gets 300 to 400 children every day for treatment. Refrigerators to store the vaccine are also necessary, he added. Dr AR Reddy said that the campaign aimed at covering 45 crore children in the country. Irrespective of previous schedule, he said that this dose should be administered to all children like a booster dose.