Officials fail to procure paddy in Srikakulam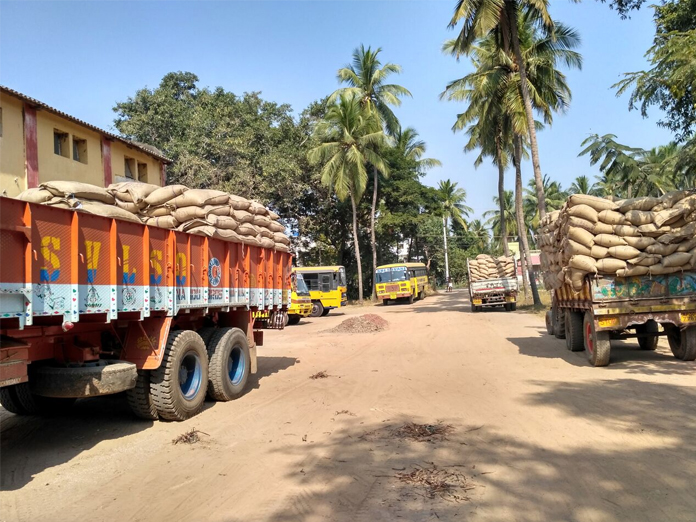 Highlights
The civil supply officials failed to procure kharif paddy produce from farmers in the district for the current year As a result, middlemen and traders are cashing the situation to exploit farmers
Srikakulam: The civil supply officials failed to procure kharif paddy produce from farmers in the district for the current year. As a result, middlemen and traders are cashing the situation to exploit farmers.
As per agricultural and civil supply officials, a total of seven lakh metric tonnes paddy is produced during kharif season across the district. Paddy is being cultivated in six lakh acres extent in the district.
Officials have planned to start 122 paddy purchasing centers (PPC) across the district under the supervision of various departments, district rural development agency (DRDA), agricultural market committee (AMC) and integrated tribal development authority (ITDA).
However, the PPCs are not yet started immediately after kharif crops harvesting. Normally PPCs are required to be started by middle of November every year but this time they were not started even last week of December approaching.
Taking advantage, brokers, traders and middlemen entered the fields and procured paddy from farmers by paying Rs 1,200 per 82 kgs bag which is Rs 263 less than government fixed MSP.
"The traders also shifting our paddy to adjacent Odisha State to earn more profit as demand is high for AP paddy in Odisha. The traders showing fake way bills created in the name of farmers.
They collected xerox copies of pattadar passbook, aadhar cards of farmers to avoid checkings on road on their way to Odisha," stated a farmer.
"Due to Titli cyclone operations, PPCs are not started on time in the district this year" said civil supplies DM V Mohan Babu.