Green crusader gets Padma Shri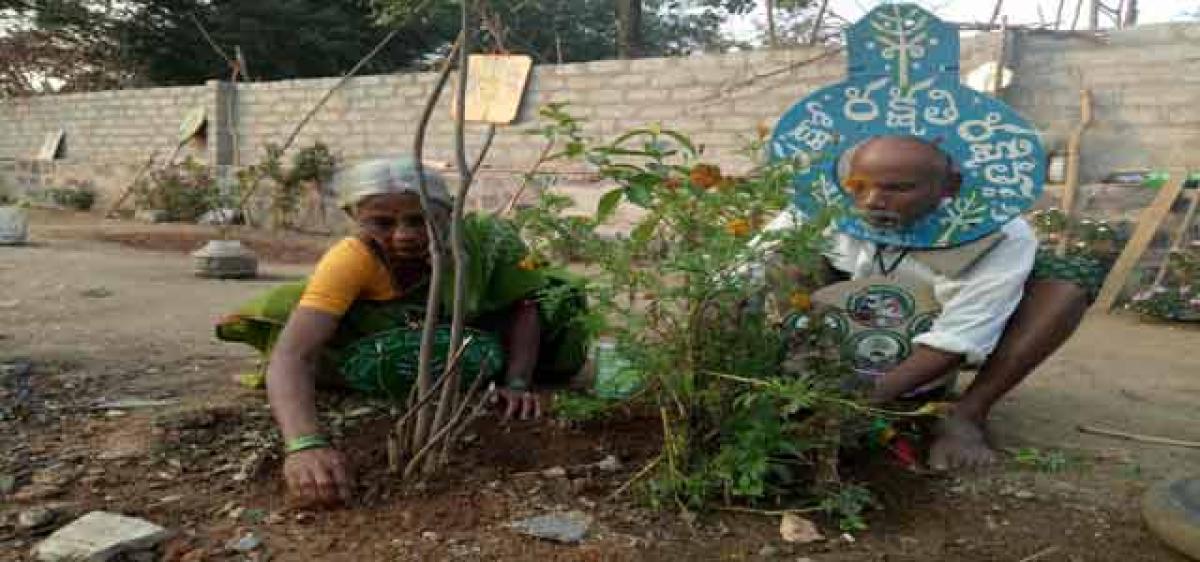 Highlights
It was yet another day for the lone crusader of green Daripalli Ramaiah, popularly known as Vanajeevi, when some youth of his village scurried to his two-room tin shed to greet him with the news that the Central government had announced Padma Shri, the fourth highest civilian award, to him for social work. Indeed, he was painting 'Vruksho Rakshati Rakshitaha', the only slogan the septuagenarian be
Khammam: It was yet another day for the lone crusader of green Daripalli Ramaiah, popularly known as Vanajeevi, when some youth of his village scurried to his two-room tin shed to greet him with the news that the Central government had announced Padma Shri, the fourth highest civilian award, to him for social work. Indeed, he was painting 'Vruksho Rakshati Rakshitaha', the only slogan the septuagenarian believed throughout his life till date, on plastic boards to be placed on plants, when the youth went to him.
Since the Padma awards were instituted in 1954, Ramaiah is the only person from Khammam to get this coveted award. Residents of Reddypalli village, little over 5 kms from Khammam city, who once called Ramaiah a 'mad man' for his obsession with trees, are an elated lot on Wednesday when the news spread that the Centre has bestowed on him the Padma Shri award.
'Trees give oxygen, shade and fruit' is what he had learnt in school and years later, he took plantation as a campaign when his daughter complained of headache due to lack of oxygen. Since then, he took plantation drive on a mission mode. Initially, he pedalled his way around Khammam district planting saplings and after age slowed him down, he started to use a moped to continue with his obsession.
Always clad in white dhoti and shirt, Ramaiah is estimated to have planted more than 1.30 crore saplings, predominantly neem and ganuga (pongamia). His better half Janamma, his three sons and the only daughter knew how their finances disappeared without a trace as his campaign moved ahead unabated.
He is certainly a character as every item in his house from utensils to walls all depicting Save Trees Save Environment. He gifts trees to newly wed couples even the wedding cards of his children were printed with a green message. Speaking to The Hans India, Ramaiah said, "Both the Centre and State governments need to focus more on green drive. The Centre should design currency notes printed with a message of spreading green drive." With the age is catching up with him, Ramaiah now has developed partial hearing loss besides other geriatric problems.
He got immense satisfaction, said Ramaiah, who had received several awards but no substantial financial assistance. Meanwhile, Minister for Roads and Buildings Tummala Nageswara Rao, in a statement said, "Ramaiah has not only made Khammam feel proud but also the State through his selfless contribution to the Planet Earth."
By Adepu Mahender