Large scale culling could result in extinction of animals: Environmentalists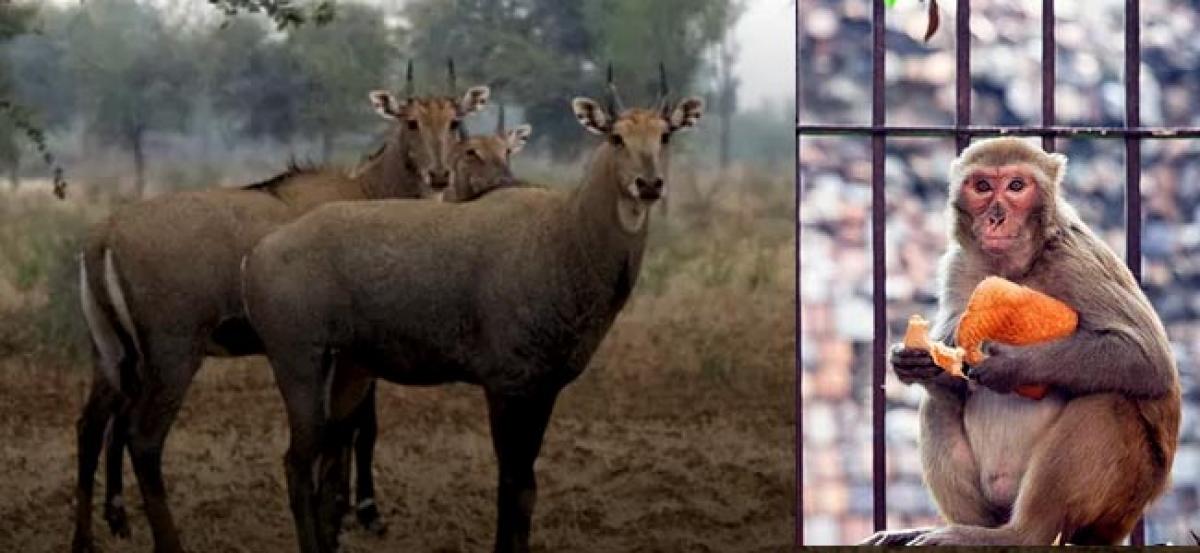 Highlights
As the argument on culling nilgai, wild boar and monkeys (rhesus macaque) has reached the Supreme Court, experts warn that large-scale culling could result in near extinction of the animals -- as has happened with the Nilgai in neighbouring Bangladesh, Nepal and Pakistan.
New Delhi: As the argument on culling nilgai, wild boar and monkeys (rhesus macaque) has reached the Supreme Court, experts warn that large-scale culling could result in near extinction of the animals -- as has happened with the Nilgai in neighbouring Bangladesh, Nepal and Pakistan.
Experts point out that culling these animals, after labelling them "vermin", would also shrink the prey population of predators and make the man-animal conflict more ugly.
Nilgai and wild boars are 'very valuable' prey of leopards, wolves, tigers, hyenas and even jackals and dholes. Monkeys too are the leopard's prey.
"Culling is wrong and will bring these animals on the verge of extinction. Once they are termed vermin and targeted for culling, people would soon start hunting them for sport, or poach for their skin and meat," V.P Singh, Zoologist and a senior research fellow at Dudhwa National Park, told IANS.
In Uttar Pradesh, a senior minister has also gone on record suggesting that Nilgai meat tastes good and the animals are already being hunted down or poached.
Following regressive hunting in the name of crop protection, the Nilgai has already become extinct in Bangladesh. The handsome animals are only sparsely found in Nepal and Pakistan.
"By hunting we are moving against conservation," Kartick Satyanarayan from Wildlife SOS, who is working on bear conservation methods in Alaska, USA, told IANS.
Hunter-turned-wildlife photographer Anant Zanjale explains the reason behind the large population of these animals.
"Presence of any animal in a region is for a reason. They multiplied because their predators were killed and their abodes were destroyed for farming," Zanjale told IANS.
Describing the plight of farmers as "equally genuine", the wildlife experts suggest methods like controlling population by sterilisation or vaccination -- but only in a scientific and flock-wise manner; change in cropping pattern and solar powered fencing.
"Killing 200 Nilgai or wild boar and monkeys for protecting crops would not change anything. Nature is so unique that any vacuum created is filled soon," says Satyanarayan, adding that there are cheaper and more effective methods of keeping animals at bay and protecting crops.
Ecologists also widely disagree that animals like Nilgai, wild boar or monkeys are vermin.
As per the Wildlife Protection Act, 1972, Nilgai or Blue Bull along with the wild boar are protected under schedule-3 and Rhesus Macaque under schedule-2. To declare them vermin, the species are shifted to schedule-5. Wild boar had already been declared vermin for a year in Uttarakhand, without clarity on the culling method.
"There is no scientific evidence that they are vermin. The wild boar and Nilgai were declared vermin without doing a predator census in Maharashtra, Gujarat, Uttar Pradesh, Bihar or Uttarakhand," says Satyanarayan.
Any species is declared vermin when they are over populated or are non-indigenous, causing irreparable damage to the local ecology, like in the case of imported exotic snakes in Florida, USA, or Indian parakeets in the UK.
Experts say there are very simple "alternative ways" of tackling the issues of farmers.
In a first such scientific method, the rhesus macaque in Agra are being sterilised through laparascopic surgery.
"The process takes 10 minutes per animal. They are freed within an hour. But it's done in a systematic manner. The same could be done with Nilgai," said Satyanarayan, whose organisation is working with the Agra administration.
Their move was inspired by a similar experiment in Hong Kong. It will soon start in Mathura.
A Bengaluru-based company offers a home-made acoustic device called 'Harmony Q Series', that works on the sound of predators to keep animals away from fields. The device costs Rs 9,000 for a four-acre plot.
"Elephant, Nilgai and wild boars dislike pungent smell of lemon grass, mint, tulsi. Growing them as hedges keeps the animals away," Nikunj Sharma, from PETA, told IANS.
Other local remedies include spraying a mixture of donkey's excreta with cow urine on the fields, which would keep Nilgai away, as it would smell like a rival Nilgai flock.
In Rajasthan, using audio cassette tapes as fencing helps keep Nilgai and wild boar away as the shine of the metallic tapes scares them. This practice is being successfully followed by the Tharu tribe in the Terai region, on the India-Nepal border.
Translocation of the animals is another method that has shown success. Around 5,000 Blackbucks were translocated in Andhra Pradesh and Madhya Pradesh in 2011 -- within the state -- after the animals started causing heavy damage to crops.
"Herds of elephant were shifted to the dense interiors of jungles from the fringes in Chhattisgarh successfully. We translocated about 172 Nilgai from Delhi airport," says Satyanarayan.
A Nilgai annually reproduces three times lesser than a Rhesus macaque. They can be kept away from farms through government subsidised solar fencing, said another expert.
A Rhesus Macaque gives birth to three offspring while Nilgai reproduces a single calf in a year. A male calf take four to five years to become sexually active. Wild Boars proliferate faster, with up to eight offspring, but the survival rate to adulthood is only 50 per cent and the predators keep the rest under control.
"We must remember that when it comes to nature, only the sustainable solutions work. Culling is certainly not one of them," said Satyanarayan.
(Kushagra Dixit can be contacted at kushagra.d@ians.in)