Whet your pan-Asian appetite at Nom Nom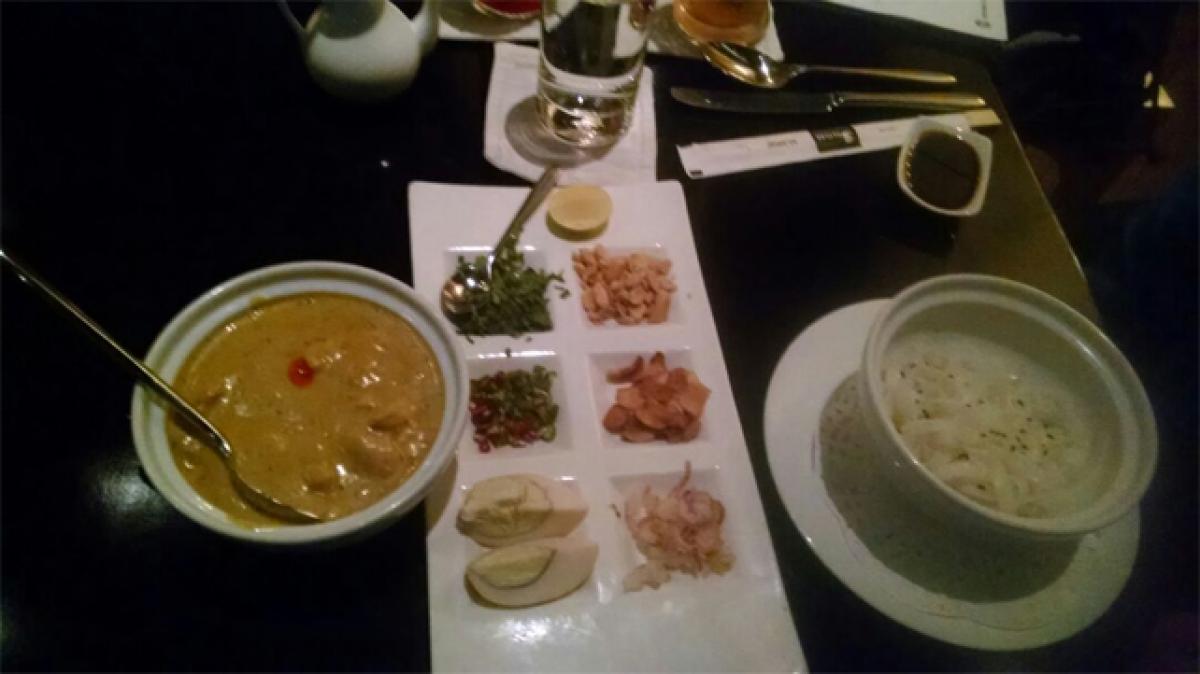 Highlights
Whet Your Pan Asian Appetite At Nom Nom. What-'s the word that comes to mind when you put something really tasty and scrumptious in your mouth? Nom...
New Delhi: What's the word that comes to mind when you put something really tasty and scrumptious in your mouth? Nom Nom. These are the two exact words that one would utter while dining at the uber chic and sophisticated Nom Nom pan-Asian eatery at The Ashok.
Nom Nom started in Mumbai in 2011 and opened its doors to Delhiites in September 2013. Serving dishes from China, Japan, Vietnam, Thailand and Myanmar, this 200-plus cover caters to people who have a penchant to experiment with new tastes.
The interior was done in three main colours - black, red and gold - very common to Oriental art. It has a separate lounge area, a bar, a live performance area, a 14-seater private dining area and al fresco seating. The lighting was kept dim which added to the overall effect.
However, the centre of attraction without an iota of doubt is the very unique 'serpent seating', which in layman terms is spiral steps leading to the three dining areas on each floor.
With a bold new approach to his food, headchef Rajen Pradhan, who has been in the business for 15 years, was of the opinion that Delhiites now experiment with their food and are open to trying things few had even heard of before. To fulfill this new adventurous side of Delhi is what Nom Nom strives to do.
"It's not about the main servings. You get dimsums, prawns, noodles and so on in every Chinese restaurant, but it's the sauces that make the difference. The sauces that we use are very unique to us since they are our own creation," chef Pradhan told IANS.
Asked how Nom Nom would compete with existing pan-Asian eateries in the city, manager Saurabh Joshi said the spending power of the working class had increased and people don't mind shelling out a few extra bucks to try new things.
To start this unique experience, we were first served two summer themed mocktails - the first was a blend of lime juice, ginger and mint called 'Leave it to Me' and the second was 'Kokum Cooler', a mix of Kokum syrup, lime and mint. Besides the refreshing quotient, the first mocktail was a reminder of a virgin mojito and the second tasted very similar to an 'aam panna'.
We were then served two starters - crispy lotus stem and bird chilli prawns. There were three accompanying sauces - toasted sesame (a little on the sweeter side), Java sauce (a mix of Thai herbs) and coriander sauce. According to chef Pradhan the sauces are the USP of this place, which was absolutely true as they were nothing like I tasted before.
The starters were followed by a platter of rainbow sushi, called so as the outer layer is not of seaweed but of coloured peppers. The sushi had salmon, tuna, crab and avocado. It was lip-smackingly good!
After this, we were given vegetarian and non-vegetarian dimsums with three different sauces - black bean, sesame chili and black pepper. The ones that stood out were the crystal prawn, chicken sui mai and the crystal mix-veg.
The next was an in-house special, something whose taste is very acquired: roast duck with pancakes. The paper-thin rice flour pancake was first smeared with hoisin and oyster sauce. The roast duck, leeks and American cucumber were added and the whole thing was finally rolled up.
It was like an explosion of flavours: the duck itself was very well cooked, crispy and glazed on the outside and succulent and juicy on the inside.
Next came gravy based pan-fried chicken noodles, chicken in Asian basil Guan Dong sauce and veg fried rice. One word for the three - delicious. Very well seasoned, mild spices, balanced flavours.
We were also served pork cha siu bao, a Cantonese pork-filled bun, another in-house specialty, according to chef Pradhan.
The bun was very fluffy and tasted quite sweet, as did the pork filling. The dish in its entirety just didn't hit the right note - one miss among many hits.
But a dish that got the attention of my senses was the Burmese khao suey. The coconut gravy was spot-on and kept you coming back for more. None of the flavours overpowered the other.
To finally end this epic food adventure, we were served two desserts - Chinese tiramisu (sans alcohol added) and molten chocolate coulis with ice cream. According to Manager Joshi, all desserts at Nom Nom are sugar free so that "even the health-conscious can finish their meals with something sweet".
Subscribed Failed...
Subscribed Successfully...