Restaurant Review: HollyBelly Delhi for mood comforting foods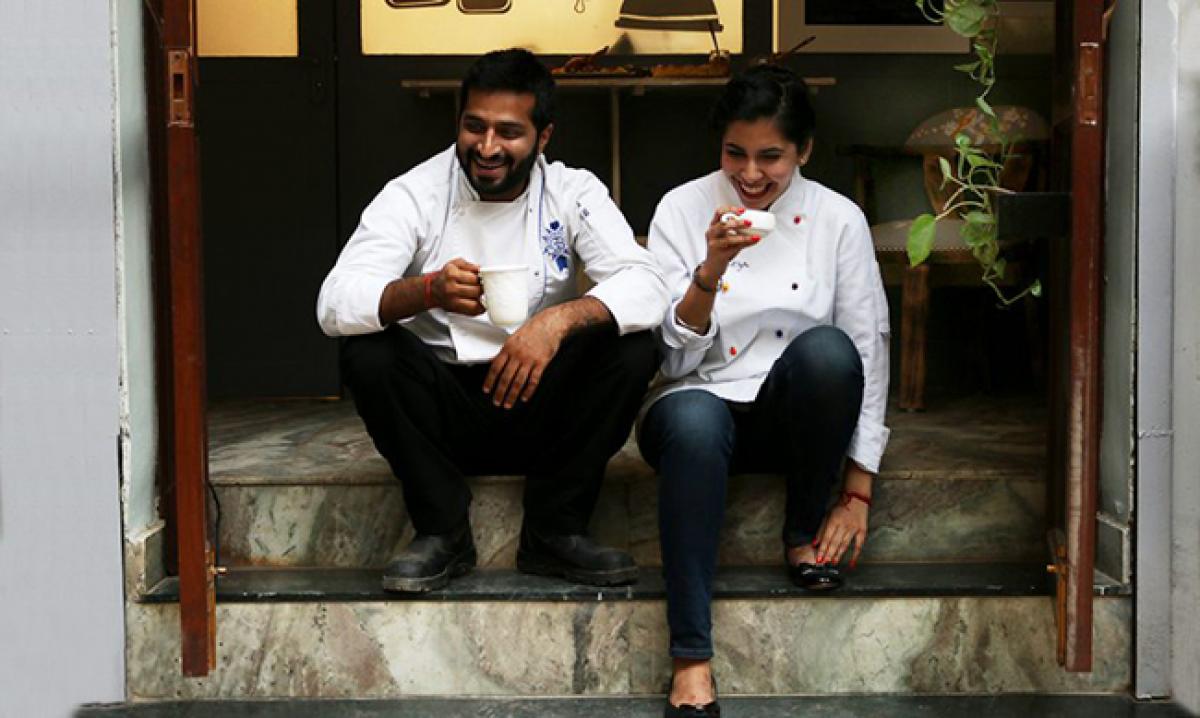 Highlights
The advent of European fine dining in the capital has enabled foodies relish exotic cuisines without having to visit five-star hotels, but now,...
​New Delhi: The advent of European fine dining in the capital has enabled foodies relish exotic cuisines without having to visit five-star hotels, but now, Holybelly, a unique "food boutique", aims to cater to customers' needs by providing bespoke menus, as per their "mood".
Started around a year ago by chefs Janeya Khanna and Rishi Bharadwaj in Shahpur Jat here, HolyBelly isn't your average diner or eatery. It provides gourmet catering services for events and does chef's table events.
The "food moods" include options like champagne and canapés, summer sangrias, wine and cheese and aphrodisiac foods.
The chefs laid out a tasting menu, which included exquisitely crafted dishes like mille-feuille of beets, goat's cheese and apple jelly, lobster a'la plancha, rainbow beetroot risotto, vegan cheesecake, etc.
As the names suggest, the menu, which was crafted by the chefs exclusively for the tasting session, highlighted HolyBelly's inclination towards healthy eating. Although European in style, the dishes were highly improvised by the chefs to create a unique taste.
Asked about what attracts their clientele and customers more, the chef duo informed that they get a lot of requests for big events, where they personalise the dishes for their patrons.
"We also do the table set up. We did a huge event for the India Art Fair. We did a 43-cover artist dinner. We are basically personalising each and every seating for everyone," Khanna told IANS.
"Some like champagne and canope, wine and cheese. We have done a lot of aphoridisiac based menus, which are a hit at the bachelor parties," Bhardwaj added.
"We cook with all aphrodisiac elements, at least one-two for every meal. Wine and cheese is another good one. That's usually with luxury brands, who have launch events," the duo said.
Asked about their future plans, Khanna said that they want to "stabilise" before embarking on expanding their brand.
"We have different sections of clients, we do house parties. That's one set of clientele. We work with luxury brands. We work with brands like H&M, Satya Pool, Jimmy Choo, etc," Khanna added.
About popular trends among their clients, the chef duo said that vegetarian parties are gaining ground.
"Vegetarian parties are getting popular. We are doing a new summer vegetarian menu. After a year, we were thinking what to do; so we are in the process of launching breakfast and lunch events. We are also doing breakfast tasting sessions now," Khanna said, while adding that they never do tasting sessions for house events, as they are done "mostly through word of mouth".
Khanna however clarified that since they have limited space, they need at least 24 hours to cook for their customers.
"We are still very tiny. I get calls from people who ask whether they can come today, but that's not possible. People have to give us at least 24 hours so that we can cook for them. People can book in advance," she said.
Subscribed Failed...
Subscribed Successfully...