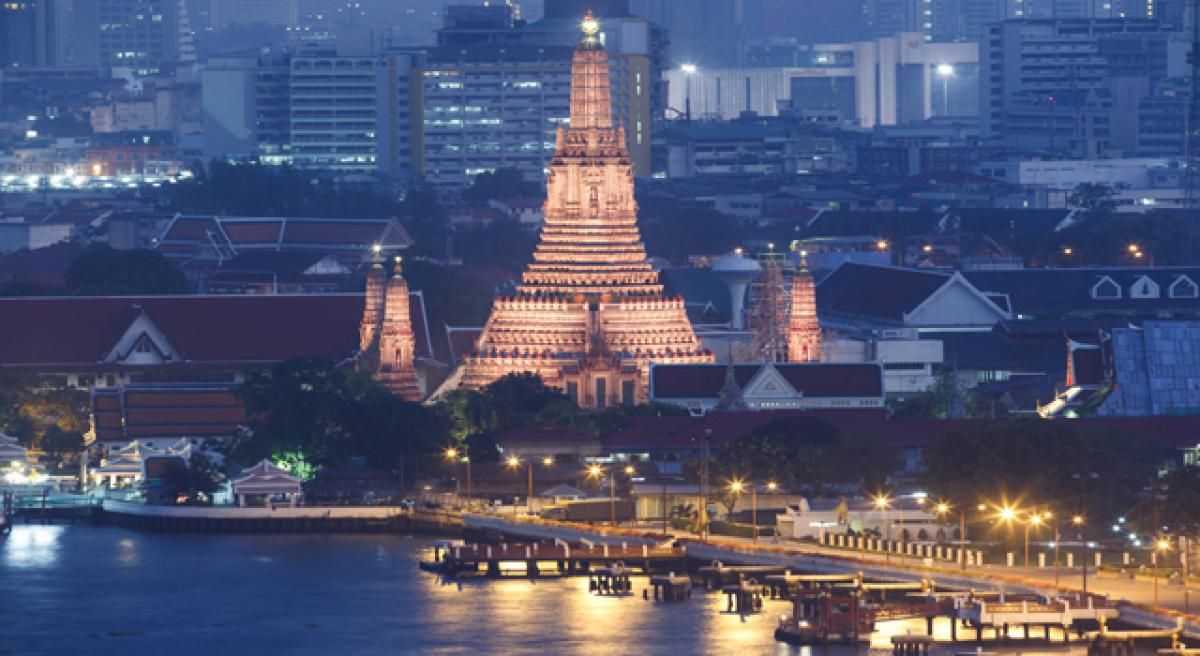 Highlights
On my first visit to Bangkok, several years ago, with a day in my hand to see city all by myself, I decided to do the touristy thing and begin with its most well-known sites. So, the famous Emerald Buddha temple and the Wat Pho temple complex aka Temple of the Reclining Buddha were my first choice. On subsequent visits to the country with co-travellers, I managed to complete the list of Bangkok\'s
On my first visit to Bangkok, several years ago, with a day in my hand to see city all by myself, I decided to do the touristy thing and begin with its most well-known sites. So, the famous Emerald Buddha temple and the Wat Pho temple complex aka Temple of the Reclining Buddha were my first choice. On subsequent visits to the country with co-travellers, I managed to complete the list of Bangkok's must-sees, well almost!
Taking off early, I visited the Grand Palace alone taking a cab from my hotel. And it was a surprisingly, a reasonable price—just 70 baht which is approximately Rs 140—for a six-km distance. Actually, even while souvenir shopping, I realised that Bangkok is not such an expensive city as it is made out to be. On my latest visit last week, the price for the ride was still reasonable, just about 100 baht.
The Grand Palace was aptly named—it was truly spectacular. The superb architecture; the intricate details especially in the murals depicting scenes from the Ramayana; exquisite statues, especially of the Yakshi, Nagas, Kinnaras and Garuda; and objects of art, took my breath away.
A complex of buildings in eclectic styles, its biggest draw is the Wat Phra Kaew or Temple of Emerald Buddha, often described as Thailand's most sacred Buddhist temple. The Emerald Buddha enshrined here is made of green jade (not emerald, actually) and is highly venerated by Buddhists around the world. The Golden Chedi held up by many statues is a highly impressive structure in this complex.
Nearby, there is a renowned Reclining Buddha in the Wat Pho temple. The Reclining Buddha has always reminded me of our own reclining gods in south India – Sri Ranganathaswamy and Sri Padmanabhaswamy, two deities; forms of Lord Vishnu, who are found in a reclining position in several temples in south India.
The Wat Pho aka Wat Phra Chetupho—has a giant Buddha. He is 46 metres (150 feet) in length--in a reclining position and all covered in gold leaf. The feet itself are about 5 metres and the soles covered with beautiful mother-of-pearl illustrations. The feet are also a popular tourist op and I too got my pic clicked here by a friendly local.
The Wat Pho is also considered to house the largest number of Buddha images of any temple complex in Thailand. This place has another claim to fame – it was the birthplace of the traditional Thai massage and a major training facility exists here.
I wandered around checking out the various chapels containing hundreds of gilded Buddha images. Besides the long lines of golden statues in Padmasanam or lotus position; exquisite and intricate murals; and stupas; the courtyards also contain comical looking Chinese statues which are another popular photo-op and we found lots of tourists were making funny faces while being photographed beside them.
We made a rather brief visit to the awe-inspiring Golden Buddha, said to be the country's biggest solid-gold statue of Buddha – weighing 5.5 tonnes (that is 5,500 kg) – located in the temple of Wat Traimit. The Wat Arun temple to the rising sun is a well-known landmark with its towering spire, and though we did not go inside we had a good look as our boat gently glided past it on the night cruise. We, however, missed out on Wat Benchamabophit Dusitvanaram, a famous, marble temple, for want of time.
If you are the museum type you could check out the Vimanmek Mansion, Bangkok National Museum, Folk Museum and National Museum of Royal Barges for an insight into Thailand's heritage. Even if you are not the museum type you should visit the Ananta Samakhom Throne Hall simply because it houses stunningly beautiful masterpieces of art and craft.
A new addition to the arts and crafts scene in Bangkok is the recently opened Queen's Gallery, named after the country's much-respected Queen Sirikit, which showcases the talent of rural artisans and that our group of journalists was fortunate enough to be the first in the world to see. It was inaugurated in the presence of an international group of journalists.
Lord Brahma is venerated in Thailand too! Just visit the Erawan temple to find his shrine. And yes, like Hyderabad, Bangkok too has a Lumbhini Park, though this one is a bigger green oasis in a busy metro and has several exclusive playgrounds for kids.
As a hardcore vegetarian, who is always choosy about dishes even inside fine-dining restaurants— I was not about to sample the street food which is popular fare in Thailand. However, I did chat with vendors who knew English and got lots of photos. There were lots of fruits too on sale as were candies and sweets made of vegetarian ingredients, which I, however, did venture to taste and buy.
How can anyone make a trip to a South-East Asian country and not visit the night markets? Packed with small shops and pushcarts, all selling a multitude of merchandise – and there are fortune tellers too, these markets are big draws for shoppers and must-dos even for the non-shopping type just to understand the local culture. On all three visits, every evening, I checked them out with friends and fellow journalists.
Of course, we also followed this up with daytime visits to malls, which are less chaotic but also offer loads of treasures in air-conditioned surroundings! There are many options but if you have time only for one, then head to MBK Mall in Bangkok – it is very big and its stores are spilling over with almost every variety of goods you would want to take back from the city. It's a big favourite with locals too. Also check out the bustling Yaowarat Road, which is the city's Chinatown for its food and interesting artefacts.
If you have time, head out to the famous floating markets, where boats stock all kinds of wares from fruits and vegetables to herbal drinks and coconut water. These boats are also floating kitchens so you can try a vast variety of local cuisine besides several Malay, Vietnamese and Indonesian specialities.
Subscribed Failed...
Subscribed Successfully...