GHMC stops footpath encroachment drive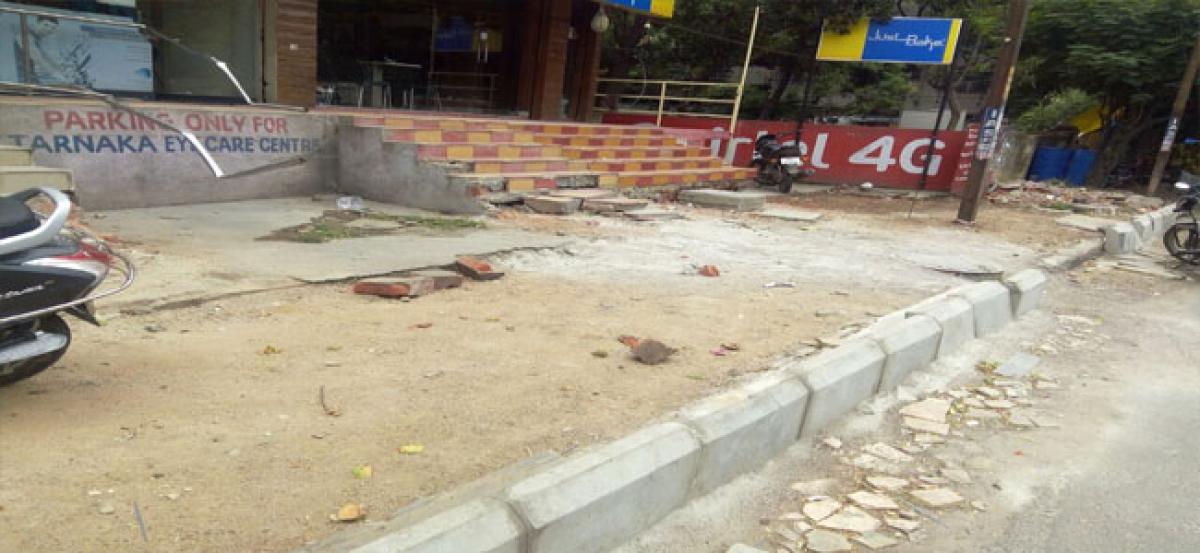 Highlights
The next time you plan to enter a mall in A S Rao Nagar, Tarnaka and other areas in East Zone, there are chances that you may not find steps that lead up to the mall as the Greater Hyderabad Municipal Corporation GHMC has started removing the steps
ADVERTISEMENT
Tarnaka/ A S Rao Nagar: The next time you plan to enter a mall in A S Rao Nagar, Tarnaka and other areas in East Zone, there are chances that you may not find steps that lead up to the mall as the Greater Hyderabad Municipal Corporation (GHMC) has started removing the steps. The work started in earnest but has now been put on hold for the time being. Many areas in Tarnaka and A S Rao Nagar have been completed but there are other areas such as Nacharam, Moula Ali, Kapra and ECIL that need to be covered.
Speaking to The Hans India, Surender, Deputy executive engineer, Hyderabad Road Development Corporation Limited (HRDCL) says, "We have removed the footpaths in city and the work has stopped temporarily as the officials have to decide the tiles and the tenders are in the process by the GHMC officers."
The construction of footpaths works will be delayed for more than two months. Total of 4,667 encroachments have been removed from 48 footpath stretches totaling to 127.5 kilometers. Of these, 4,117 were removed by the staff from Enforcement wing, while 550 were removed voluntarily by the encroachers.
N Yadagiri Rao, GHMC Deputy Commissioner, LB Nagar says, "According to street vendor act 2014, the permission for footpath limit was 100 feet but it has been changed now to 150 feet on that basics the encroachments have been removed and the reconstruction work was delayed and we are waiting for the tenders."
We are planning for good quality of tiles to be provided for the footpaths. Mostly by October the work will be completed and will be open to the public, he added. Locals say, "The work was stopped a month ago, we are unable to enter in to shops and if it rains heavily the water gets stagnated near the shop. We have complained to the GHMC to complete the work but there is no response by them."