Kothagudem Revenue staff told to maintain permanent records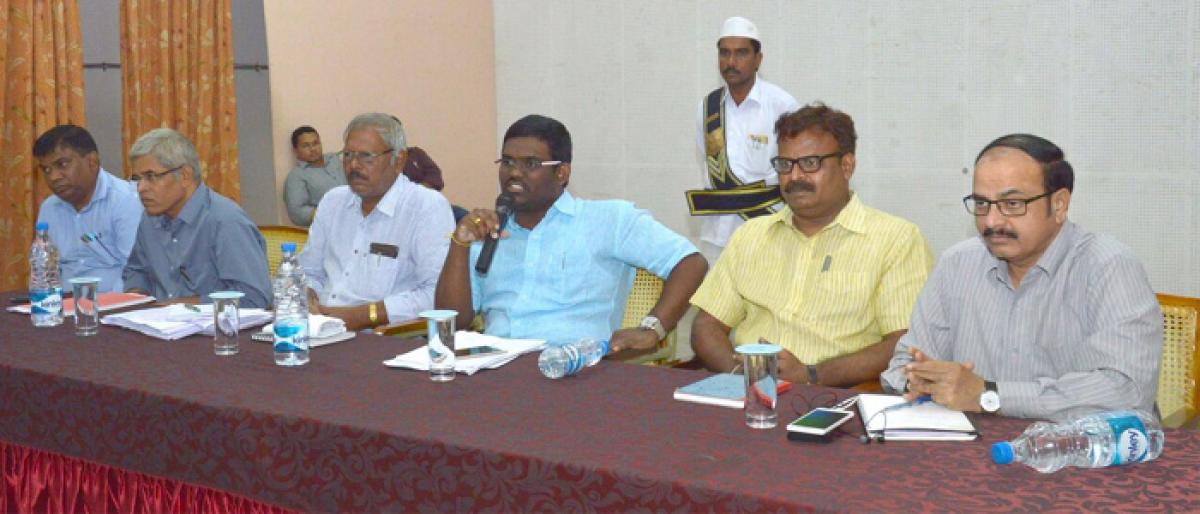 Highlights
Collector Rajiv Gandhi Hanumanthu on Monday advised the Revenue officials concerned to improve their working style so to maintain the Revenue records permanently. Addressing an awareness programme on inspection of land records for the Revenue staff at the Singareni Women's College, attended by CCLA Assistant Secretary B Kishan Rao, the Collector stated that rectification of land records, a respons
Kothagudem: Collector Rajiv Gandhi Hanumanthu on Monday advised the Revenue officials concerned to improve their working style so to maintain the Revenue records permanently. Addressing an awareness programme on inspection of land records for the Revenue staff at the Singareni Women's College, attended by CCLA Assistant Secretary B Kishan Rao, the Collector stated that rectification of land records, a responsible task, would not only benefit the State, but also the employees themselves.
He suggested that the work of rectification of records should be taken up at three places in villages, compulsorily in every habitation, so as to enable the people to become aware of the exercise. 'If the staff had any doubts they should get them clarified by bringing to the notice of higher-ups. This would make them gain experience in tackling tricky issues'.
Hanumanthu described Revenue records as the most crucial which would enable officials to get total information about them. CCLA Assistant Secretary B Kishan Rao told the meeting that there was a need to preserve the Revenue records on a permanent basis, like the Bible, Quran and Bhagavad Gita.
He said as there were more habitations in Bhadrachalam the Revenue staff should work with dedication to make the Girijans become more aware of the Revenue records. Among those present were Joint Collector Ramkishan, RDOs M V Ravindranath, Sivanarayana Reddy, Tahsildars, UROs and Revenue staff.