Standoff between Lambadas, other tribal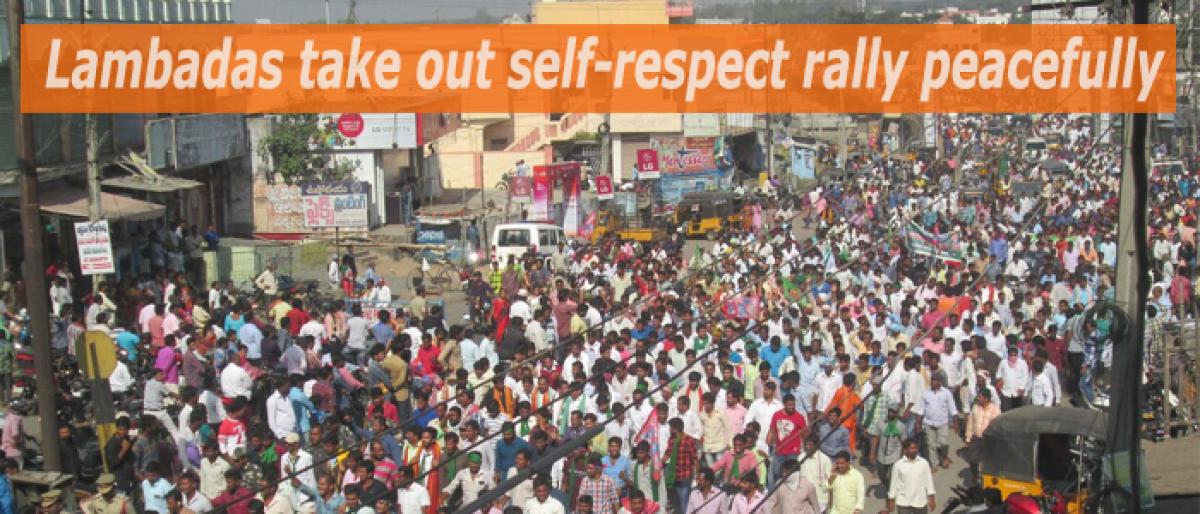 Highlights
As the reservation crisis of the Lambadas and Adivasis intensified, the Lambadas held Atmagourava Sabha (meeting of self-respect) here on Thursday amidst their preventive detention as initially the Bhadradri-Kothagudem district administration gave no permission to it. The police arrested the Lambadas reaching Kothagudem from all parts of the district since Wednesday night to take part in the meeti
Kothagudem: As the reservation crisis of the Lambadas and Adivasis intensified, the Lambadas held Atmagourava Sabha (meeting of self-respect) here on Thursday amidst their preventive detention as initially the Bhadradri-Kothagudem district administration gave no permission to it. The police arrested the Lambadas reaching Kothagudem from all parts of the district since Wednesday night to take part in the meeting.
At last, the administration permitted the organisers to take out a rally peacefully. The rally which started at the Ramachandra Degree College went through the thoroughfares of the town and culminated at the Collectorate complex. The rallyists raised slogans against Adivasis. The police, meanwhile, were successful in containing the Lambadas barging into the Collectorate. Soon the agitators staged a sit-in in front of the Collectorate and resorted to slogan-shouting.
The Lambadas demanded District Collector Rajiv Gandhi Hanumanthu to come out of the Collectorate and meet them and protect their constitutional rights. Later, Lambada leaders were allowed to meet the Collector, SP Amber Kishore Jha and Joint Collector M Ramkishan for highlighting their demands.
They alleged that some vested interests fomented trouble between the Lambadas and Adivasis, who are like brothers. Lambada teachers and medical officers are being prevented from discharging their duties, they alleged. They called upon the Koyas and Gonds to come forward to take part in the agitation seeking hike in quota for the STs. Lambada Association leaders Rajesh, Ramesh, Prem Chand, Chandra Naik, Sevalal Sena district president Hussain Naik and representatives of Lambada Teachers' Association took part in the rally.
Meanwhile, the police made elaborate security arrangements for the Thursday's rally deploying special battalion police force, Vajra vehicles and fire service vehicles near the Collectorate. Bhadrachalam ASP Sunil Dutt and Palvoncha DSP Srinivasulu beefed up security and diverted traffic in the town. The officials heaved a sigh of relief as the rally passed off peacefully.