Chandrababu Naidu protest gains national attention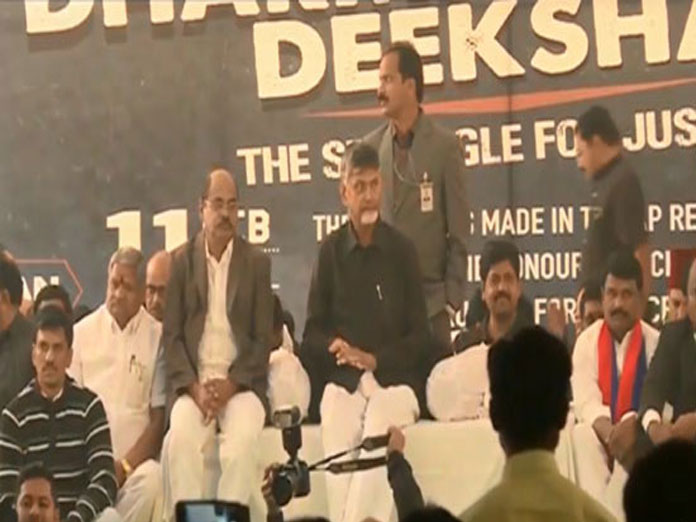 Highlights
Though the Chief Minister N Chandrababu Naidu has been protesting against Prime Minister Narendra Modi for the cause of AP alone, it gained attraction of national and various regional parties across the country on Monday, at AP Bhavan in New Delhi
Amaravati: Though the Chief Minister N Chandrababu Naidu has been protesting against Prime Minister Narendra Modi for the cause of AP alone, it gained attraction of national and various regional parties across the country on Monday, at AP Bhavan in New Delhi.
When seeing the attendance of national leaders at the venue, it appears as a national protest instead mere related to one state out of 29.
Following Leaders are attended and addressed:
1) Farooq Abdullah (National Conference)
2) Rahul Gandhi (INC)
3) Gegong Apang, Arunachal Prasad
4) Arvind Kejriwal (AAP)
5) Ghulam Nabi Azad(INC)
6) Manmohan Singh INC
7) Anand Kishore, NCP
8) Sharad Pawar (NCP)
9) Ahmad Patel, NCP
10) Mulayam Singh Yadav (SP)
11) Derek O'Brien, (Trinamool Congress)
12) Sarah Yadav, (Janata Dal)
13) Siva (DMK)
14) Jayaram Ramesh, (INC)
15) Kata Bhavana Veera Varaprasad, Convenor, AAP, AP
16) Anand Sharma (INC)
17) Majeed Memon (NCP)
18) NK Prema Chandran (RSP)
19) Basheer Ahmad, President, AP Muslim League Party
20) Rao Bal Subrahmanyam, Pdt. Navataram Party
21) Danish Ali (JDS)
22) Chalasani Srinivas (Prathyeka Hodaa Sadana Samithi)
23) S K Pande (DUJ)

Subscribed Failed...
Subscribed Successfully...