Congress will have an edge in Rahul Gandhi Vs Modi fight: Uttam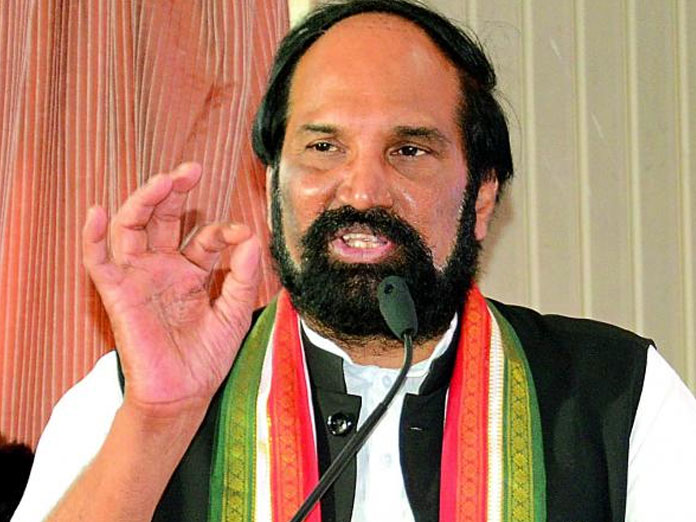 Highlights
Telangana Pradesh Congress Committee TPCC President Capt N Uttam Kumar Reddy said that the Congress party would have a clear edge over all others in forthcoming Lok Sabha elections as the polls would be fought primarily between Congress President Rahul Gandhi and Prime Minister Narender Modi
Hyderabad: Telangana Pradesh Congress Committee (TPCC) President Capt. N. Uttam Kumar Reddy said that the Congress party would have a clear edge over all others in forthcoming Lok Sabha elections as the polls would be fought primarily between Congress President Rahul Gandhi and Prime Minister Narender Modi.
Addressing party leaders from Nagarkurnool, Mahabubnagar, Khammam, Mahabubabad, Nalgonda and Bhongir Lok Sabha constituencies in seperate meetings on the second day of brainstorming on Saturday, Uttam Kumar Reddy said that the party cadre must convey to the people and convince them that the next Lok Sabha elections are between Congress and BJP and they should vote to make Rahul Gandhi the next Prime Minister of India. He said there would be a huge difference between the issues that dominated last Assembly elections and those which would be raised in forthcoming Lok Sabha polls. Stating that there were multiple reasons including EVM tampering and deficiencies in poll processes for Congress party's defeat in Assembly elections, he asked them to be extra vigilant and smart to win Lok Sabha elections.
Uttam Kumar Reddy alleged that the TRS has contaminated the entire election process in Telangana. He said the flow of money and liquor among voters by TRS was so high during Assembly elections that it corrupted young minds and many people mistook elections for a season when liquor and money is served for free. As a responsible political party, he said that the Congress party and its cadre has a responsibility to stop this trend. He said voters should be sensitised on the issues concerning their welfare and development. He said people should be enlightened on how they were cheated by BJP-led NDA Government at the Centre and also TRS Government in the State. "The list of failed and unkept promises made by Modi is too long and this should be explained to each and every citizen of Telangana," he said.
"Modi Government is apparently the first regime in the history of independent India which is creating a divide among people on religious lines. Targeting innocent people on the basis of their eating or dressing habits was unheard in previous government. BJP Government has turned the atmosphere across the country too volatile and sensitive. This can be changed only if Rahul Gandhi becomes the next Prime Minister of India. Therefore, all Congress workers must play an active role to protect secularism and democracy in the country by ensuring that the Congress candidates in their respective Lok Sabha constituencies get elected with a huge majority," said Uttam Kumar Reddy.
The TPCC chief directed that DCC and City Presidents and also contested candidates to take the issue of voters' enrolment very seriously. He said the electoral rolls used in last Assembly elections were defective and incomplete. He pointed out that CEO Rajath Kumar himself had admitted and apologised for over 22 lakh missing voters. This time, he said all Congress leaders and workers must ensure that electoral rolls at their polling booth levels are updated through effective coordination with election authorities. Further, he said a strict vigil should be kept on violation of Model Code of Conduct and other irregularities by the ruling party.
AICC Telangana Incharge R.C. Khuntia, in his speech, asked the Congress workers to take party's manifesto to people in an aggressive manner. "The Minimum Income Guarantee scheme proposed by Rahul Gandhi is revolutionary. It will help all poor families in the country irrespective of their caste, religion or region. It is our duty to explain this scheme to all poor people in Telangana State and convince them to vote for the Congress candidates," he said.
Khuntia said TRS and Chief Minister K. Chandrashekhar Rao would have no relevance in the Lok Sabha polls. "KCR is a spent force in Telangana as far as Lok Sabha polls are concerned. TRS and BJP are one and the same. Even if KCR wins all 16 Lok Sabha seats as he is claiming now, he will not be able to form the government at the Centre. He will certainly join or support the BJP-led front. Therefore, people should be properly briefed that voting for TRS was like voting for BJP," he said.
CLP leader Mallu Bhatti Vikramarka, Saleem Ahmed, Srinivasan Krishnan, Madhu Yashki Goud, A. Sampath Kumar, A. Vamshichand Reddy, G. Chinna Reddy, Nandi Yellaiah, Ponnam Prabhakar, J. Kusum Kumar, Mallu Ravi and other top leaders attended the meetings which covered six Lok Sabha constituencies on Saturday.
During the last two days, the TPCC leaders discussed strategy for 12 Lok Sabha constituencies. Leaders from each constituency came up with various suggestions to contest the Lok Sabha elections effectively. They also pointed out various lapses that occurred in the last Assembly election which consequently resulted in party's defeat. Responding to suggestions, Uttam Kumar Reddy said that the main idea behind holding brainstorming sessions was to involve the local Congress leaders in finalising the poll strategy. He said all good and practical suggestions would be implemented at the State level.
The brainstorming session would continue on Sunday wherein strategy and action plan for Chevella, Malkajgiri, Hyderabad, Secunderabad and Medak constituencies would be discussed. The TPCC Election Committee will also meet on Sunday to shortlist the candidates for Lok Sabha elections.