KSRTC sacks driver for letting monkey take the wheel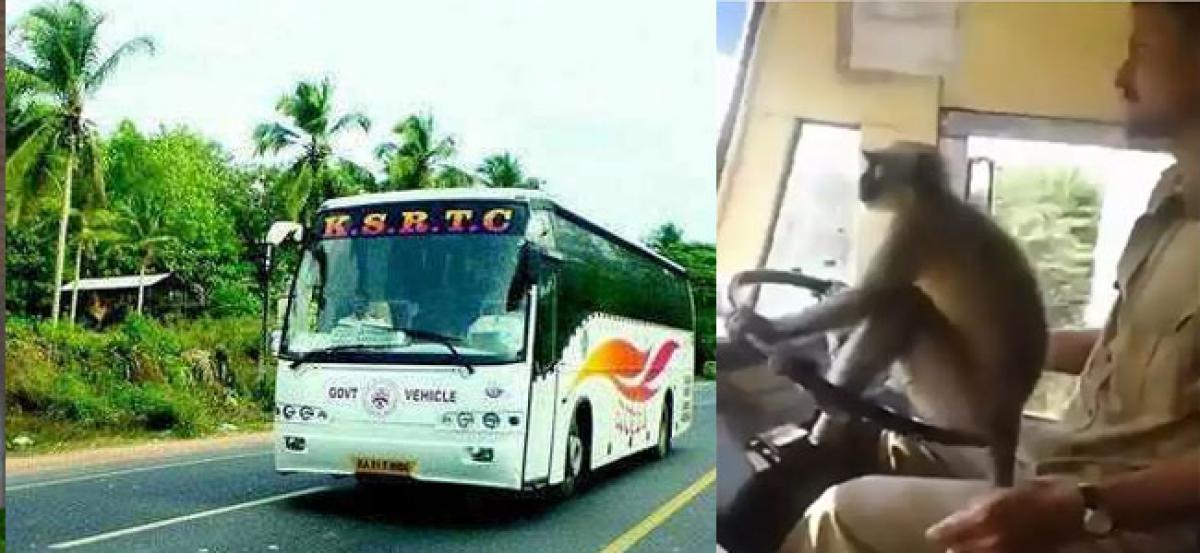 Highlights
In the video that has been spreading on social media for the past few days, Prakash, from KSRTCs Davanagere division, is seen driving with a langur sitting easefully on the steering wheel
BENGALURU: In the video that has been spreading on social media for the past few days, Prakash, from KSRTC's Davanagere division, is seen driving with a langur sitting easefully on the steering wheel. The Karnataka State Road Transport Corporation (KSRTC) bus driver's name has been struck off the roster because of the video allowing a Gray langur (Hanuman langur) get behind the wheel. He even cheerfully permits the langur to take control of the wheel, while he clutches gears.
The incident took place on October 1 in a KSRTC bus plying from Davanagere to Bharamasagara. "We have removed the driver from duty and have asked the divisional security inspector to conduct an inquiry. He won't be assigned any further duty till probe is completed; he could even be suspended," a KSRTC official said.
Another KSRTC official in Davanagere division said: "The langur came with a teacher, who travels regularly in the bus. But it went and plonked itself on the driver's seat and refused to leave despite efforts by passengers to remove it from there. He (Prakash) is an animal lover, but he should not have allowed this while driving a bus.""The animal left the wheel after two-three minutes and alighted at the next stop. There have been no complaints from passengers so far," he added.
Authority say Hanuman langurs are found everywhere, including urban areas.Netizens, however, are divided in their opinion about the incident. Alka Maria Jacob, tweeted: "...This means drivers are animal friendly and animals are finding safe friendships with them. Excellent (sic)."