Rebels make it tough for grand alliance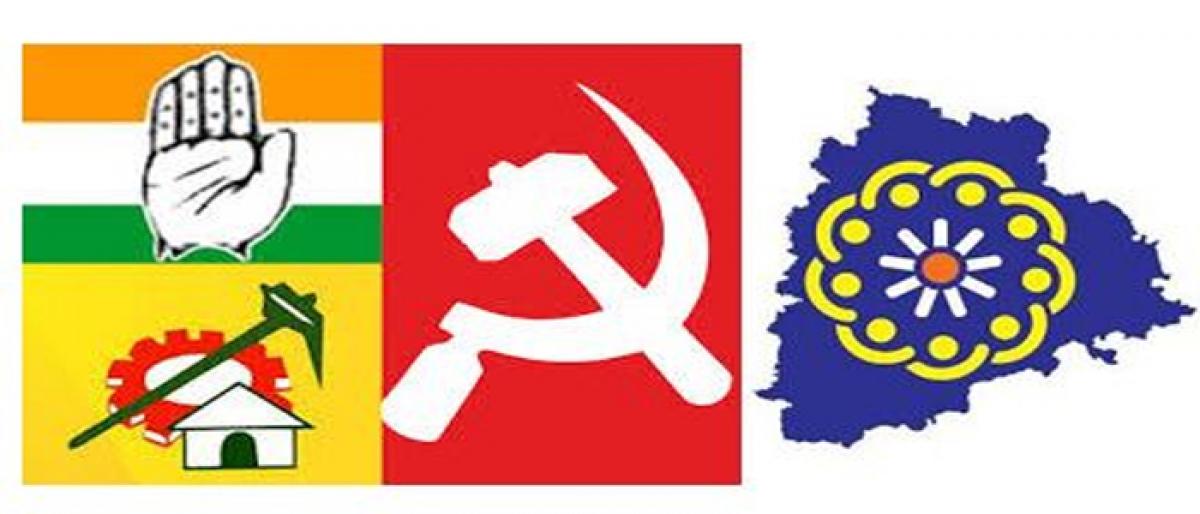 Highlights
Though the Congress, Telugu Desam, Telangana Jana Samithi and Communist Party of India are working hard to form a grand alliance against the Telangana Rashtra Samithi, possible rebel trouble is haunting them
​Hyderabad: Though the Congress, Telugu Desam, Telangana Jana Samithi and Communist Party of India are working hard to form a grand alliance against the Telangana Rashtra Samithi, possible rebel trouble is haunting them.
The alliance partners who are conscious about the rebel trouble have decided to address the issue in the early stages itself and take remedial measures before the completion of filing of nominations.
The fact that as many as 130 candidates of the Congress, TRS and Telugu Desam have filed as rebels in 2014 Assembly constituencies has been giving jitters to the grand alliance partners.
State secretary of CPI Chada Venkat Reddy, one of the partners of the alliance, said the talks on tie-ups would address the rebel trouble and would try to minimize the damage. The alliance partners knew very well about the damage done by the rebels in the previous elections. It was the Congress which was hard hit by the rebel trouble.
It has lost about 15 seats due to the rebels. The TRS faced least problems and TDP too faced the rebel issue.
In the previous elections, the Congress suffered badly due to the rebels. About 25 to 30 have filed nominations as rebels in the previous election and out of them 17 were in the field till the date of polling. Though the party has suspended them for filing nominations as rebels they have not gone back.
According to Congress leaders even in the ensuing elections, the party would face the rebel trouble. Already, several leaders have been announcing their candidature to their respective constituencies and are watchful whether they would get ticket or not.
Several leaders who have been working in their constituencies are worried about the tickets due to the alliance proposals. The Congress is likely to concede as many as 29 seats to the partners. They include a few constituencies where Congress aspirants have been active for the past two years. With the reports that several senior leaders have been aspiring to field their family members is also making them to be on the toes about the tickets.
In several constituencies, there are more than three to four contestants for the ticket. A senior leader said that though the leaders of the party have been stating that candidatures would be decided on the basis of winnability and poll surveys, the aspirants are not ready to buy their words. Several aspirants are presuming that the recommendations of seniors, high command, and other pressures would take away their chances of getting the tickets.