Mallu Ravi calls Laxma Reddy weakest Minister in country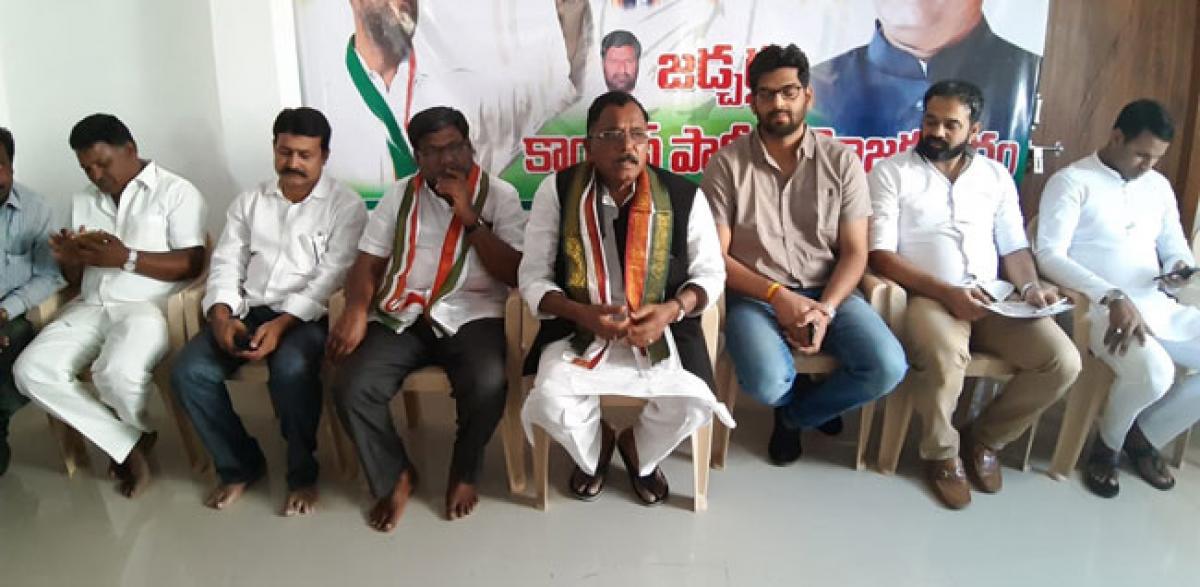 Highlights
Dr Mallu Ravi, TPCC vice president and probable MLA contestant from from Jadcherla constituency, while addressing a press meet in Jadcherla came on heavily on Health Minister Dr C Laxma Reddy and termed him as the weakest minister he had ever seen in his life
Mahabubnagar: Dr Mallu Ravi, TPCC vice president and probable MLA contestant from from Jadcherla constituency, while addressing a press meet in Jadcherla came on heavily on Health Minister Dr C Laxma Reddy and termed him as the weakest minister he had ever seen in his life.
While taking part in a programme to observing the death anniversary of former Prime Minister Indira Gandhi in Jadcherla, Mallu Ravi termed the TRS government lead by Chief Minister KCR in the state, and BJP government lead by Prime Minister Narendra Modi at the Centre as the most dictatorial governments in the history of India. "KCR has made all his Ministers dummy except his family members and given them plump posts.
Laxma Reddy, being a Minister has done nothing for the welfare of Jadcherla people during the past 4 years of TRS rule. In my view Laxma Reddy is the weakest minister I have ever seen in my life," said Mallu Ravi.
While claiming that it was during his regime as an MLA that the people of Jadcherla got Ramapad water for drinking, he said the Congress government had then spent Rs 55 crore for laying the pipelines and provided water to quench the thirst of Jadcherla people. He also recalled that it was during his tenure wherein almost all the 220 tandas surrounding Jadcherla got CC roads.
He lamented that Dr. Laxma Reddy being a Minister could not even construct a single road in the tandas during the past 4 years of the TRS government. "Except attaching Mission Bhagiratha pipelines to the already existing water lines, Dr. Laxma Reddy has done nothing for solving the long pending water problems of the Jadcherla people. And today he is falsely claiming he has give tap water to each household through Mission Bhagiratha," lamented Mallu Ravi.
Giving example's of Laxma Reddy's weakness, Mallu Ravi said that the Health Minister could not even get the dry port for Jadcherla, which was proposed long back and because of his weakness it was shifted to some other place to northern Telangana, only because of the negligence of the Health Minister. Not only dry port, the other important projects like construction of a TTD Kalyanamandapam at Jadcherla which was sanctioned long ago during Congress tenure has also not been persuade by the weak Minister.
He also countered against the recent health minister comments that Congress party was blindly offering to waive of Rs. 2 lakh for farmers and said, "we did not blindly propose to waive off Rs. 2 lakh for farmers, but just look at the loan amounts accumulated by each farmer in the banks. The loans along with compounded interests have crossed more than one lakh for them we have proposed to clear all their dues by offering Rs. 2 lakh loan waiver," countered Mallu.
Mallu Ravi also said that as already Congress party has bagged Jadcherla Sarpanch seat, fearing defeat, Laxma Reddy has not even initiated to conduct the Badepally municipality elections. He also said that as the TRS government had given no representative to the Women in the cabinet, the women folks are ready to teach a lession to the TRS party in the next elections.
Subscribed Failed...
Subscribed Successfully...