Opposition resolves to fight against uranium mining in Nallamala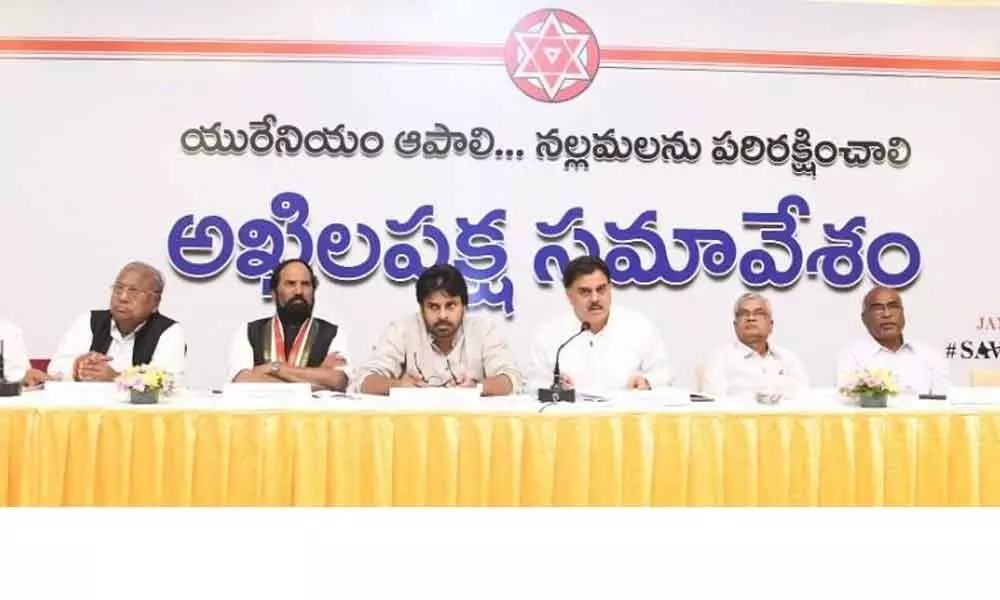 Highlights
Opposition parties allege that the government adopted a resolution against mining in a bid to placate the opposition parties which already intensified stir in the affected areas in the forest zone
Hyderabad: All the opposition parties in Telangana on Monday resolved to fight concertedly against uranium mining in Nallamala forest region in the State.
Participating in the all-party meeting conducted by Jana Sena Leader Pawan Kalyan here, TPCC working president A Revanth Reddy pointed out that the State government already granted some permissions to explore uranium reserves in the forest area and the works were also in the progress.
The government adopted resolution against mining in a bid to placate the opposition parties which already intensified stir in the affected areas in the forest zone. He demanded that the State government come out with a detailed note on the mining.
TPCC president N Uttam Kumar Reddy alleged that the State government colluded with the Union government to award the mining contracts to some influential companies in the country at the cost of the local people lives.
The Congress party already constituted a committee headed by party senior leader V Hanumantha Rao to prepare an action plant to fight against the government on mining issue, Uttam said.
Telangana Jana Samithi (TJS) president M Kodandaram lambasted the State government for neglecting the plights of tribals dwelling in the forest zone.
He held the State government responsible for the present unrest in the forest zone which has witnessed continuous agitations by different social and political organisations.
Jana Sena chief Pawan Kalyan said the fight against mining under a single roof by all parties was part of mounting pressure on the government to give up its proposal to set up nuclear processing units in the sensitive forest area.
He also said the party will take up the issue of exploitation of natural resources in Andhra Pradesh in the name of exploration of nuclear reserves at national level and bring the government to its knees.