Guntur: Red chilli arrivals picks up in Guntur Mirchi Yard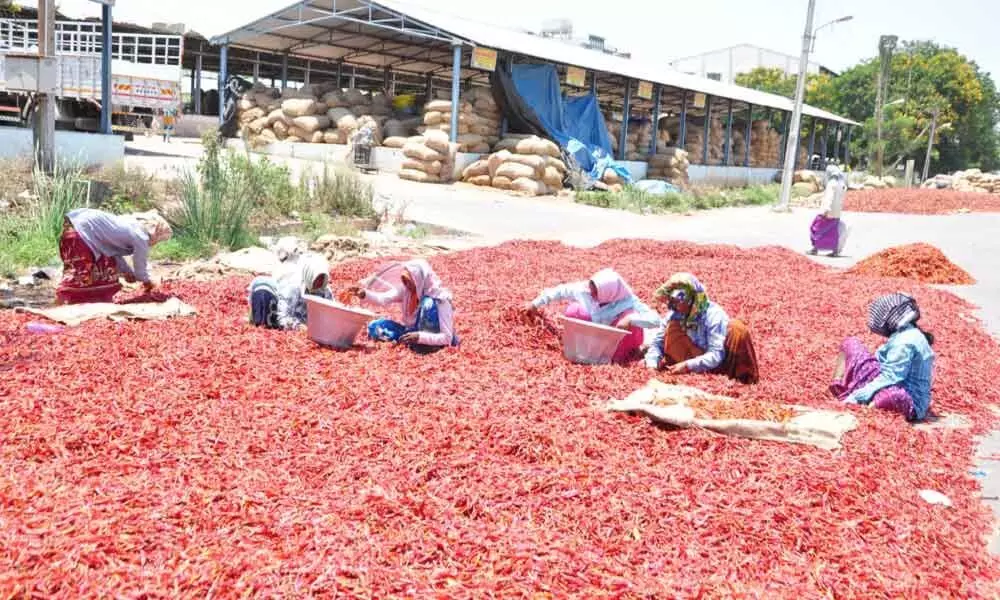 Highlights
Farmers so far brought 1,57,250 bags of red chilli stocks to mirchi yard for sale on Thursday and the traders purchased 1,55,260 bags of chilli
Guntur: Arrivals of red chilli at the Guntur Mirchi Yard, the biggest market in Asia, are increasing day-by-day and the season will continue till June first week. Farmers so far brought 1,57,250 bags of red chilli stocks to Mirchi yard for sale on Thursday and the traders purchased 1,55,260 bags of chilli.

At present, the 334 No:5 variety and the 273 varieties are selling at Rs 15,000 per quintal. The 341 variety is selling at Rs 15, 200, Teja variety is selling at Rs 16,100 per quintal, Devanauri Deluxe variety is selling at Rs 16, 200 and White colour chilli is selling at Rs 10,000 per quintal. Comparing to last week, prices of chilli are slowly picking up.
Depending upon the quality of red chilli, the traders are fixing the price. As the exporters are not getting orders from China due to coronavirus threat, the chilli price has been falling for the last one month. If red chilli exports are revived to China, the price is likely to touch Rs 18,000 per quintal.
The farmers who are expecting better price for red chilli are keeping their stocks in cold storage units in the city.
Though the government has proposed to implement the Electronic–National Agriculture Market system to get a better price to farmers, the Agriculture Market Department has failed to implement the system. Once this E-NAM is implemented, the farmers may sell red chilli stocks where they will get a better price for their produce across the country. Zero business will be checked in the mirchi yard. Though red chilli price had fallen from Rs 20,000 per quintal, retail traders are selling it at Rs 200-a-kg.
T Bhasara Rao, an official in Agriculture Marketing Department, said, "If red chilli exports were picked up, the traders will offer a better price to traders. But it will take some more time."
Subscribed Failed...
Subscribed Successfully...