Kakinada CM keen to establish remote learning centres in 15,000 villages, says APSCHE Chairman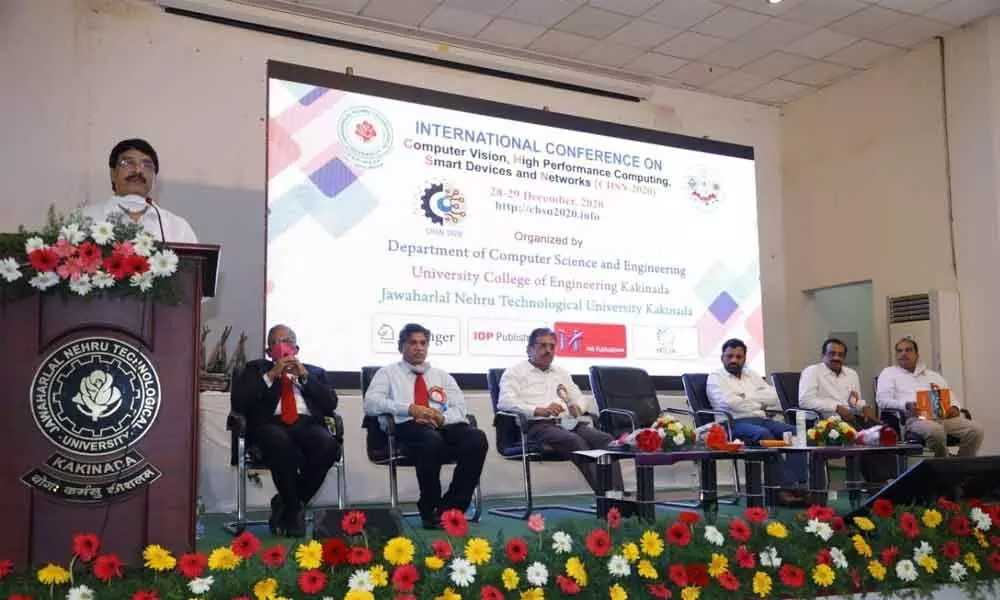 Highlights
Andhra Pradesh State Council of Higher Education (APSCHE) Chairman K Hemachandra Reddy stated that Chief Minister YS Jagan Mohan Reddy expressed his profound dissatisfaction in view of lack of quality in higher education and students are lagging for want of qualitative standards in higher education
Kakinada: Andhra Pradesh State Council of Higher Education (APSCHE) Chairman K Hemachandra Reddy stated that Chief Minister YS Jagan Mohan Reddy expressed his profound dissatisfaction in view of lack of quality in higher education and students are lagging for want of qualitative standards in higher education.
The Department of Computer Science and Engineering of the University College of Engineering Kakinada (UCEK) and JNTU-K organised a two-day international conference on 'Computer vision and high-performance computing, smart devices and networks' (CHSN -2020) at JNTU-K Campus here. JNTU-K Vice-Chancellor Prof M Ramalinga Raju, Registrar Ch Satyanarayana, former JNTU-K V-C Allam Apparao, Rector GVR Prasada Raju and others were present on the occasion.
Hemchandra Reddy participated as a chief guest on the inaugural day of the conference. He said that the CM wants modern methods of technology to equip the students with knowledge in order to match with advanced standards in the institutions. He said that the CM exhorted the teaching faculties to improve for helping the students.
He wanted quality graduates to emerge through the modern methods of teaching. He said that the CM remarked that an estimated amount of Rs 10,000 crore is invested on quality education and hence the responsibility lies on every faculty member including educational authorities.
Hemachandra Reddy said that the CM made it clear that this investment of amount is meant for the benefit of the next generation. He further observed that students are getting degrees sans skills and hence they are going around the politicians in order to get jobs with no skills. Hence, the students should be given not only knowledge, but also provide employability skills to secure jobs without anyone's help or recommendations.
He said that the CM is also planning for the establishment of remote learning centres in 15,000 villages in State. He said that through village secretariats in remote centres, the village students would be imparted and exposed to the modern techniques of learning. "We want to offer online degrees through this remote learning centres in AP," he said.
He also stated that lakhs of students are benefited through online classes.
He regretted that 90 percent of the teaching faculty are not inclined to improve with the latest techniques of imparting pedagogical instruction.
Vice-Chancellor Prof M Ramalinga Raju explained about the computer vision and elucidated about the network system on computers. He also made it clear that this knowledge would be immensely helpful to engineering students. He said that by participating in these sessions' students would be able to expand their knowledge and hone their skills.