Postal ballots now on high demand in Prakasam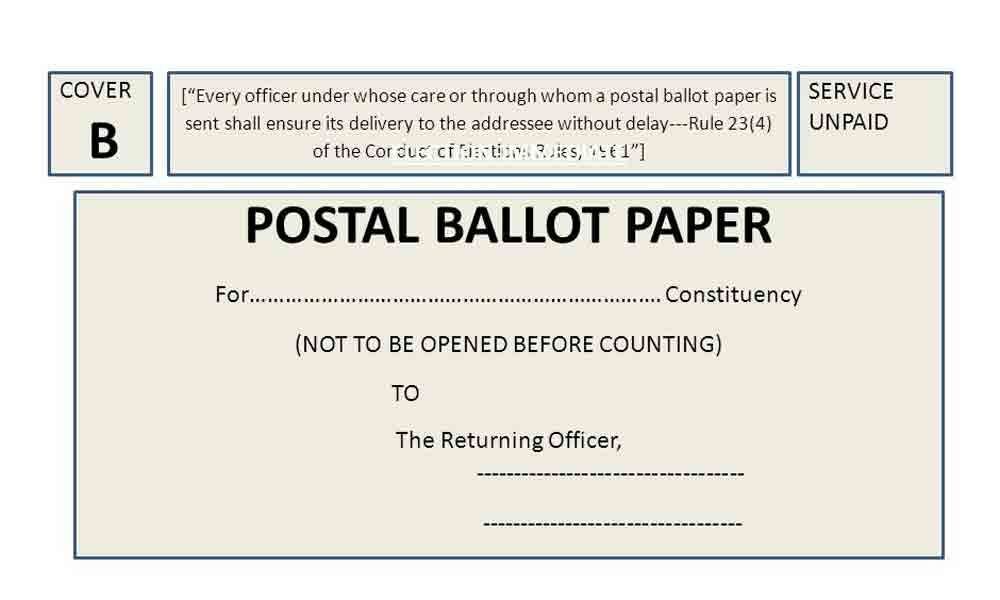 Highlights
As the deadline to submit postal ballots is 06.00 am on May 23, the candidates started pressurising local leaders to buy postal ballots from teachers, revenue staff and others who are now holding them
Ongole: Some of the contestants from major parties for the Assembly and Parliamentary constituencies are ready to purchase postal ballots in Prakasam district.

In Ongole Lok Sabha constituency, the Election Commission issued a total of 27,188 postal ballots. The EC issued 1,615 postal ballots, Assembly and Lok Sabha voting to employees from Yerragondapalem constituency, 1,857 postal ballots to Darsi, 3,547 to Ongole, 1,872 to Kondapi, 2,335 to Markapur, 3,339 to Giddalur and 2,403 postal ballots to Kanigiri. In Bapatla Lok Sabha constituency, 1,875 postal ballots were given to 1,875 employees from Parchur, 2,319 to Addanki, 2,181 to Chirala, 1,682 to Santhanuthalapadu Assembly constituency. They distributed 2,163 postal ballots to the employees at Kandukur Assembly constituency of Nellore parliament segment.
In 2014 in Prakasam district, the majority for few MLAs is less than 2,000 votes. Now, based on that experience, the candidates are started pressurising the local leaders to buy the postal ballots from teachers, revenue staff and others who are now holding them. As the deadline to submit the postal ballots is 06.00 am on May 23, the voters are now taking their own time to bargain for better price.
A leader of teachers' association said that a candidate from the Western area of the district offered Rs 10,000 per vote to them, but the members are not yet decided to give the postal ballot covers to him. Justifying the price, he said that the ordinary voters in his town collected a total of Rs 3,000-4,000 per vote from both parties, but there is no guarantee to the candidates that they vote for him. But in postal ballots, their representative can collect the ballot covers, verify the vote and drop them at the box in the returning officer's office if wanted.
A candidate from one of the major party shared that he cannot bear the burden of defeat again. He said that last time, they neglected the postal ballots and votes of service voters and get defeated with nominal margin. He said that one extra vote for him is also one less vote for his opponent and that is why they are trying to buy each postal ballot.
By April 26, the returning officials received only 7,198 postal ballots from employees.
The submission of only 72 postal ballots from Giddalur, 111 from Yerragindapalem, 385 from Santhanuthalapadu, 458 from Parchuru and similar numbers from other constituencies indicate that the employees are taking time to decide whom they should support.