Poorvi Bhave's ode to Lord Ganesha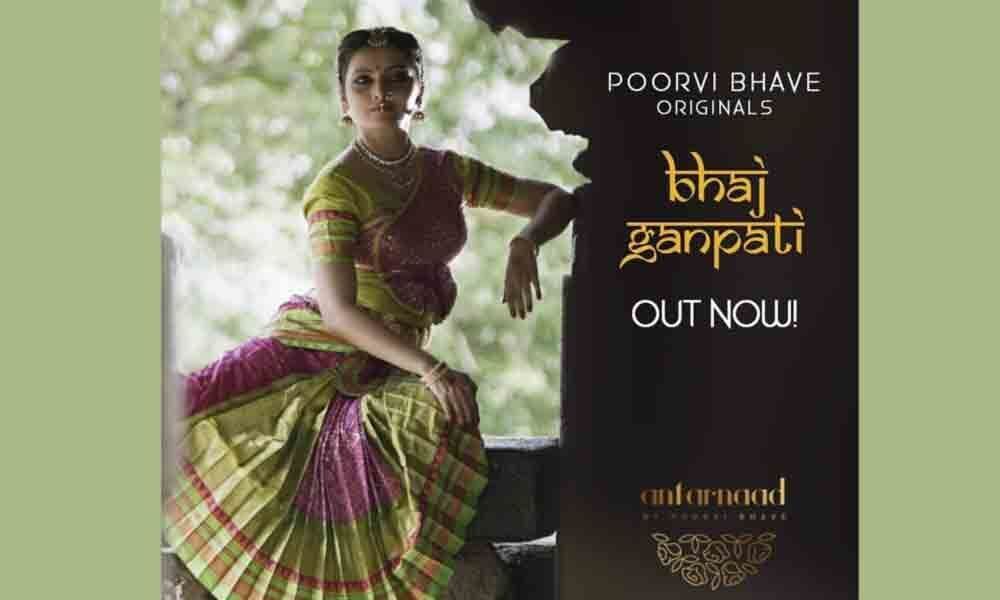 Highlights
Poorvi's recent cover 'Bhaja Ganapati' is an ode to Lord Ganesha in Hindi. composed by her mother Varsha Bhave and has been sung by Jaydeep Vaidya
Upcoming Bharatanatyam exponent Poorvi Bhave recently released her second cover titled Antarnaad by Poorvi: the sporadic colors of dance. Apart from featuring in the production, Poorvi has also choreographed and conceptualized it herself. The song Bhaja Ganapati is an ode to Lord Ganesha in Hindi composed by her mother Varsha Bhave and has been sung by Jaydeep Vaidya. The video is directed by Shelly Sharma and Nazim Khan and is yet another outstanding masterpiece by the young danseuse.
While the choreography, costume, and makeup lean towards the traditional style of Bharatanatyam, it is sure to resonate with the global audience. The video was shot at the beautiful Gondeshwar temple at Sinnar. The traditional and grand architecture of the temple has lent an amazing grandeur to the video and gel perfectly with the composition.
Speaking about this, Poorvi Bhave, said, "This song composed by my mother praises Lord Ganesha as the abode of intelligence and describes his grand and flamboyant being beautifully. It also speaks of his four hands and legacy. The song is sung and composed in a manner that combines the essence of Carnatic, Hindustani, and Western styles of music. It definitely serves as the perfect opening to my new age classical contemporary dance series Antarnaad. I wholeheartedly thank everyone who is with me in this journey particularly my guru Dr Sandhya Purecha for her immense support."
Poorvi is a dancer who is not afraid to experiment with her dance form. Her biggest USP has been her boundless enthusiasm, eagerness to learn new things and experiment. It is her unique experiential amalgamation of text, music, costumes and visual impact that sets her apart. She focuses on creating a heady mix of traditional classical items and modern compositions. Her YouTube release was a great amalgamation of Game of Thrones theme music with her Bharatanatyam dance moves.
Poorvi has been inspired by a lot of people, first and foremost of which are her parents and her Guru. Apart from that she is also inspired by a number of independent artists such as Mahesh Raghavan, Indian Raaga, and various new as well as well-established singers, dancers and musicians. Going forward, Poorvi plans to create original and attractive content for YouTube, collaborate with similar artists on an international level, and also gain spotlight in various festivals. She is exploring the option of tying up with event organizers to perform live in India as well as abroad.
Subscribed Failed...
Subscribed Successfully...