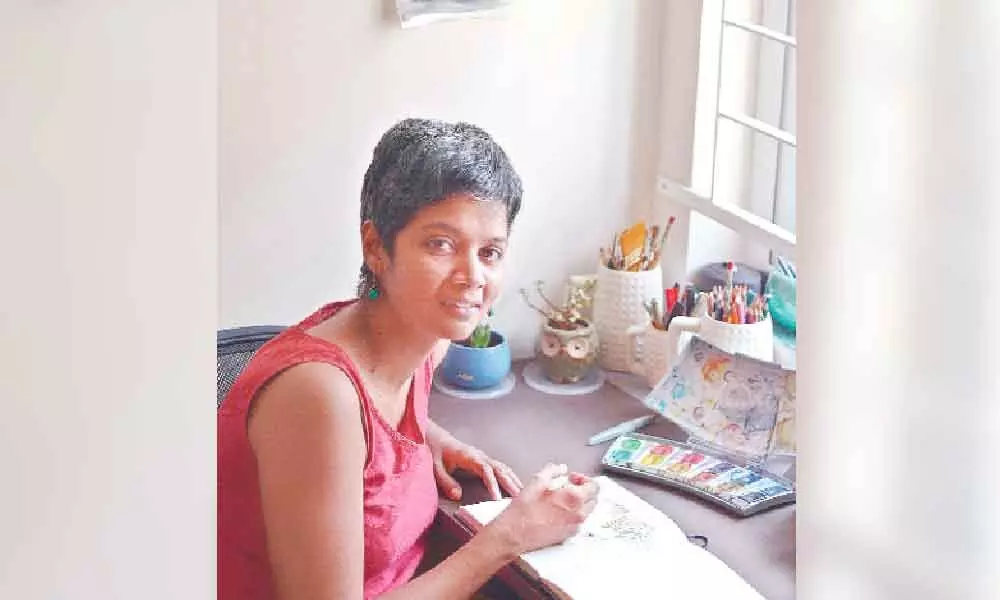 Highlights
The book 'Let's Talk Trash' by Shubhashree is a bid to get conversations about consumption, our throwaway culture and the impact our lives are having on planet.
The book 'Let's Talk Trash' by Shubhashree is a bid to get conversations about consumption, our throwaway culture and the impact our lives are having on planet.
The little illustrated handbook, 'Let's Talk Trash' has ideas for reducing our trash footprint in various aspects of our daily lives, while 'Let's Talk Trash: The Kids' Activity Book', is filled with games that introduce concepts like waste segregation, recycling and composting. Both books make ideal gifts if you are already passionate about sustainability and are living a conscious life.
She says, "Hyderabad has been very special to me because here's where I have started my journey as an illustrator. I am very lucky to have found a wonderful community of like-minded people here and I'm loving it so far!"
Sharing her journey to Hans India, she says, "I am from Bangalore, and have an engineering background.
I have a five-year-old daughter. We moved to Hyderabad in 2016 when my husband sought to pursue a work opportunity. Then I quit my full-time job, and because my daughter was still 1.5 years old, I decided to take some time off before looking for another job.
In the months that followed I ended up pursuing art more seriously and did a couple of projects for friends, and at some point, figured this is something I could pursue as a career."
She adds, "My path has sort of evolved slowly by itself. A friend and I once attended a watercolour workshop over a weekend, about 7-8 years ago, and then decided to do a 100-day project where the idea was to draw/paint every day for 100 days.
For me, that's where the magic happened, I guess - I realised how much I enjoyed it and my skills also slowly improved, so that was my education. Apart from that, I have tried to learn from Youtube videos and Skillshare as well. "
In her book, 'Let's Talk Trash', she pieces together text and simple illustrations and takes one through the trajectory of highlighting zero-waste lifestyles of the olden days to the extensive amount of trashing resulting from our disposable way of living to finally how one can consciously participate in cutting their wastage down through simple steps.
Sharing her experience and how she started her book, she says, "I came across the 'Zero waste lifestyle' that began making the waves in the West about 5-6 years ago.
My first thought was wow, and then I thought this is something we were doing in India very naturally, thanks to our parents and grandparents. This is how we used to live. So, I decided to make a short, illustrated project on it. When I posted it on my Instagram, a lot of people began to ask for copies, and so I decided to publish it.
I had been seeing how my daughter was reacting to my small 'Let's Talk Trash' book and how conscious it had made her about things like using single-use plastic. So, I realised that I could have a deeper impact if I made something targeted at kids, and the kids, in turn, will have a bigger say in our tomorrow, so I decided to do it."
"I really love the work of Rohan Chakravarty (Green Humour), Bakula Nayak, Ohn Mar Win to name just a few," she shares about her favourite artist.
Having been on the journey of minimising wastage, Shubhashree says that a zero plastic lifestyle isn't easy. She says, "I continue to do zero-waste themed illustrations which I share on my Instagram. These could be about alternatives or just simple reminders to carry a bag when we step out. I also do talks and workshops on the same theme to spread awareness.
I have recently started doing custom travel maps, and this is something I really enjoy. I feel that travel has become affordable and almost everyone likes to travel these days. We come back with 100s of pics, but then all but forget about it.
So, my idea is to offer a very visual way to summarise the entire trip in one frame. I have started selling these through my Etsy store to reach a global audience, and the response has been great so far."
Her message for upcoming women artists- "I have been very lucky to be a part of the community of artists in Hyderabad thanks to Etsy for the great support and help in reaching out to the global audience and also Urban Sketchers. When we all support each other, and we can grow more and do wonderful things!"