Why not Priyanka Vs Modi in Varanasi?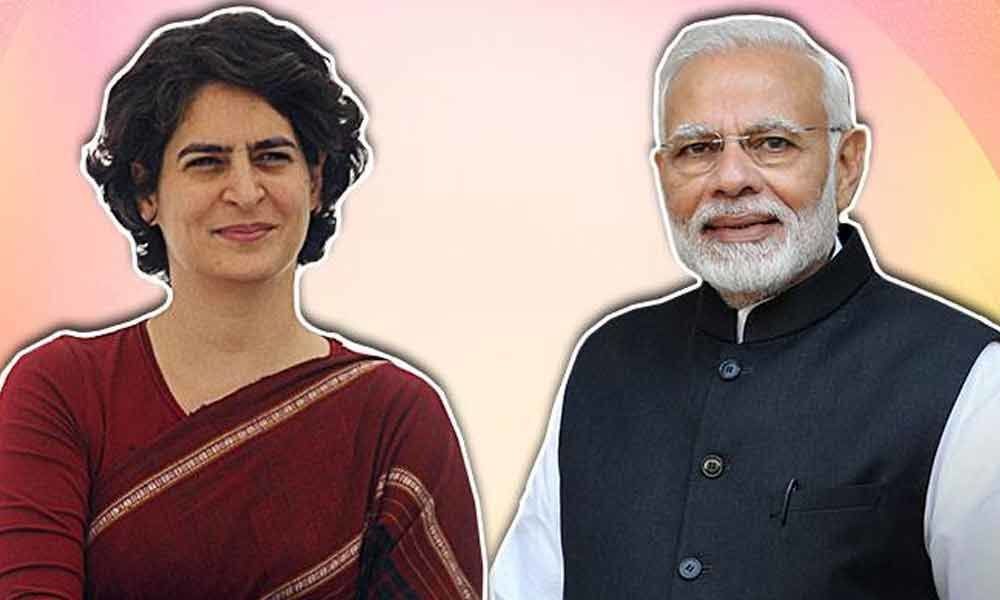 Highlights
Speculation is primary to politics. Whether such an exercise leads to a positive result is again a matter of speculation.
Speculation is primary to politics. Whether such an exercise leads to a positive result is again a matter of speculation.
Having said that, I must admit that I am not sure whether AP Chief Minister N Chandrababu Naidu has suggested to the AICC president Rahul Gandhi (at the time of filing this report) that his sister Priyanka Vadra must be fielded from Varanasi. This speculation also got tagged to NCP's Sharad Pawar.
Naidu himself did not say so during his interaction with the media, both vernacular and national, after his meeting with the Election Commission of India, which he visited to complain against the alleged shabby manner in which the elections were held in AP, to both to the Lok Sabha and the State Assembly.
If he had suggested so, Naidu may sooner or later confirm the same.
But, the idea of Priyanka taking on Narendra Modi at Varanasi does not sound preposterous. In fact, it is quite interesting. Yes. Why not Priyanka? And this could also make her a common candidate of the entire anti-Modi Opposition. That is, if it is interested in really giving Modi a fight is the million-dollar question.
Modi secured 56 per cent vote in Varanasi the last time. Since then, he has relentlessly worked to do wonders to Varanasi. The holiest of the Indian towns which attracts international attention too with its spiritual status has improved a lot. But it is not glitz and glam yet. It is work in progress in large parts.
Babatpur-Varanasi Highway is a symbol of transformation nowadays for the believers. This road is touted as the gateway to Varanasi, as it connects Varanasi to the Lal Bahadur Shastri International Airport, Babatpur.
It showcases the fast-emerging Brand Banaras to all those, including foreigners, who travel this road to reach Varanasi, locals in favour of Modi argue.
Several other projects have also been started including two road projects with a total length of 34 kilometres at a cost of Rs 1,571.95 crore. This is apart from Rs 2,413 crore worth infrastructure projects taking shape now.
These include roads to sewage treatment plants to next generation infrastructure to transport facilities, from the under-construction City Convention Centre gifted by the Japanese premier to Kashi to the city command and control centre for smooth traffic management, from underground cabling work to the perishable cargo centre and trade facilitation centre, all in the last four-and-a-half years. Modi's plan is to develop a Varanasi model over and above the Gujarat model which has lost its sheen now, perhaps.
Priyanka could, of course, always question the developmental claims to say that the improvement is only in bits and pieces. Potholes on roads have only been covered up. Ghats have been improved but not the hygiene. Should a Prime Minister belong to only his constituency while the whole country is rotting, she might say.
And of course, she could also ask Modi whether he could not get the black money hoarded in Swiss banks as promised to transform the entire nation in the last five years.
Varanasi tops the developmental list of Modi as heritage and spiritual city and Ganga Ma too needing attention. Hence, there is a grand vision to make all those sites and places attractive to the tourists. But Varanasi is also a heritage city in the sense that it has an age-old tradition of open drains which regularly overflow in some areas of the city, she could top up her argument.
People would also agree with her when she asks them whether Modi could convert the city into Kyoto of India with Japanese assistance. Primary to that promise would be cleansing of Ganga which is well-nigh impossible because keep dirtying the rivers and every water sources in the process of cleaning themselves.
Improvement also comes from jobs to the unemployed. Youth in Varanasi do not have jobs just as their counterparts elsewhere in the country. River navigation systems being developed are long term plans and it takes time for the youth to get employment.
One can always see people trying to cleanse the Ganges by making some water into it along the ghats despite community toilets being provided near them.
Additionally, she could poke Modi with Rafale-Ambani connection to the latter's discomfort too.
But there would also be a sharper attack from Modi on Vadra front. After all, Priyanka's full name is Priyanka Vadra and she keeps dropping him at the ED office in Delhi and also pick him up now and then.
She also needs to disclose her assets as well as that of Robert Vadra, her husband and also that of her children. Will she be comfortable with it as all the figures would be talked about and the debate becomes more personal.
Politically, will Sonia Gandhi be comfortable with Priyanka hogging all the limelight as her taking on Modi in Varanasi means national and international media attention (to some extent).
Secondly, if she outshines her brother - as usual and effortlessly - as she always does, will her mother be okay with her raised stature in the party?
Sonia has all along been playing this balancing act very effectively preventing Priyanka from hogging more than necessary limelight than her brother. The BJP will also question whether it was an attempt to garner Hindu votes as Rahul Gandhi has filed his nomination from Wayanad too for an easy passage to the LS with the help of the IUML in Kerala.
What will the Opposition (the rest of it) do in the event? Will they help Priyanka gain traction through Varanasi fight? In the event of Priyanka becoming a giant slayer, will not the Congress get supremely strengthened to the detriment of the regional satraps? This too is all speculation. This is a long summer for all of us.
A real long wait for the outcome of the bitter fight for power amongst the political parties!
Speculation is good. After all, it keeps us busy. If it turns out to be true, it is sweeter.
Subscribed Failed...
Subscribed Successfully...