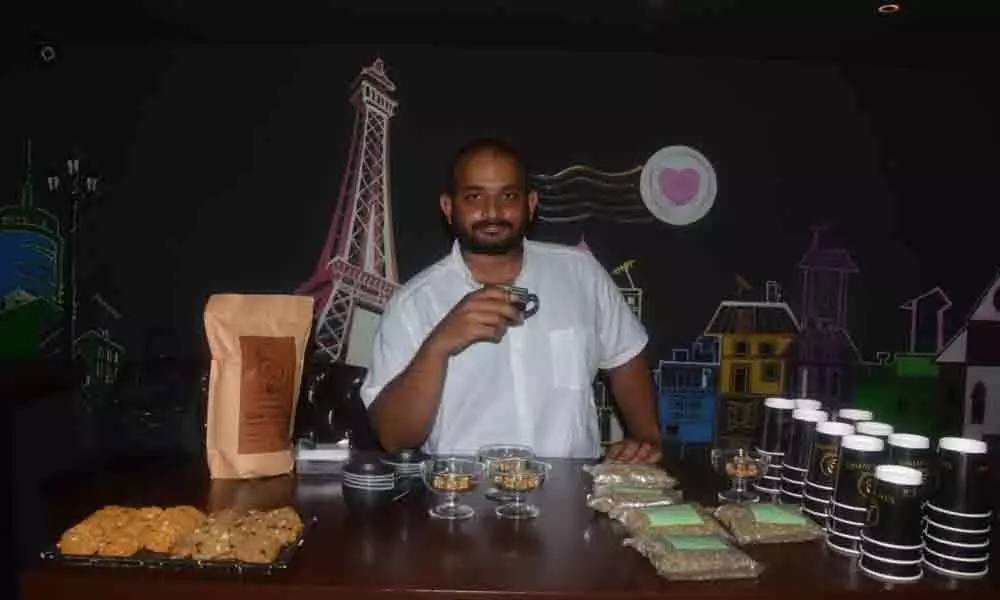 Highlights
On the occasion of International Coffee Day, coffee expert Karan Kurra spills the beans on the different types of coffee and their preparation.
Karan Kurra, the coffee connoisseur, presented his selection of Robusta and Arabic that enticed the Hyderabad city coffee lovers. Karan explained about the two varieties of coffee beans on International Coffee Day, which was on October 1.

Karan finished Masters in International Business in Spain and he used to run a café in Spain called The Farm. He says that is when he started experimenting with coffee and then started his brand called GOAT and now, he is into exports of coffee beans from India to all over the world.
"My brand is called GOAT, which stands for 'Greatest of all time'. Today is showcased Arabic and Robusta. I also mixed both varieties of coffee. Arabica is mild compared to Robusta. It has less caffeine, which gives smooth flavour to the coffee. Robusta, when mixed with Arabic, is smooth and adds strong punch to the coffee. Everywhere in the world, you get these two varieties and it is differentiated by the way it is grown and roasted. In India Robusta has a nutty flavour and is grown under shades of trees, so you incorporate it in the flavours of coffee."
About difference between the coffees that we get in the café, he said: "Any filtered coffee comes from Arabica and Robusta, it is the proportion of how you mix, roasted and how fresh it is. For example, in espresso, the beans are ground into a fine powder and it is extracted to pressure. It is basically about how fresh the beans are and how it is prepared."
"It is all about how you roast your beans. It is roasted as light, medium and medium to dark. So, if you roast a bean into a light version you get a certain flavour. Lighter is more for black coffee and espresso. From medium to dark it is for a cappuccino. The dark beans are only for espresso. The way we process the coffee also matters… for example, 'Monsoon Malabar' we take the coffee beans and lay them on the port of Mangalore near the sea and as sea's saltiness gets into the coffee and gives a salty nutty taste. You put the coffee beans in a whiskey barrel you will get the whiskey taste in your coffee."
Sharing his tips for people who make coffee at home, he said: "Do not use chicory! It is just a scam because it is one third the price of coffee. People say that it gives a coffee colour and makes it stronger. It makes it bitter and destroys that whole flavour of the coffee. Anyone at home does not need an espresso machine; you will have a mocha pot where you can put water and coffee powder where you get instant coffee. I think that can make your coffee simple and easy. Make sure that your coffee is fresh, most of the coffee that you get in the market reach you after three to four months. I suggest you buy the coffee that is two to three weeks old and finish it in a month."
Interested in blogging for thehansindia.com? We will be happy to have you on board as a blogger.