Hyderabad: Uttam demands action against MIM, BJP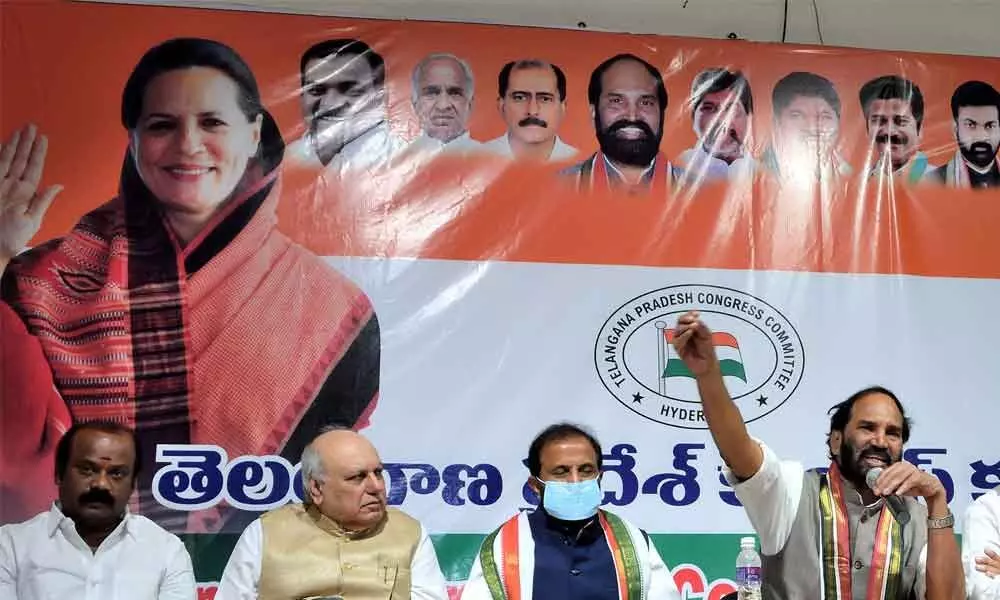 Highlights
Telangana Pradesh Congress Committee (TPCC) President N Uttam Kumar Reddy demanded that the State Election Commission (SEC) disqualify BJP and MIM parties from contesting the GHMC elections for inciting communal hatred among the people
Hyderabad: Telangana Pradesh Congress Committee (TPCC) President N Uttam Kumar Reddy demanded that the State Election Commission (SEC) disqualify BJP and MIM parties from contesting the GHMC elections for inciting communal hatred among the people. He along with former minister Mohammed Ali Shabbir, AICC Secretary Madhu Yashki Goud and other leaders, was addressing a press conference at Gandhi Bhavan on Thursday after releasing two brochures and a pamphlet on the contribution of Congress in developing Hyderabad.
The TPCC Chief expressed serious concern over Election Commission and the state police not taking a serious note on the provocative statements of BJP and MIM leaders during GHMC campaign. "I'm surprised as to how the Election Commission and state government is not interfering to stop this provocative campaign. SEC appears to have become defunct. It did not even respond to our complaint of TRS misusing public places for its publicity.
Both BJP and MIM are helping each other to polarise the voters. MIM's West Bengal unit president Anwar Pasha has resigned from the party and gave a clear statement that MIM president Aasduddin Owaisi was helping the BJP win WB polls in the same way as it helped the saffron party come to power in Bihar. Delhi's Chief Minister Arvind Kejriwal has also made a statement exposing that Owaisi brothers had a secret meeting with Union Home Minister Amit Shah. There are several instances to prove that both BJP and MIM are secret allies and partners," he said.
The TPCC Chief strongly condemned Telangana BJP President Bandi Sanjay for his 'surgical strike' remarks. "I was born in the Old City of Hyderabad. Later, I joined the Air Force and fought for the country at borders. I belong to this city. In what way Bandi Sanjay is connected to Hyderabad or Old City. Even Union Minister Kishan Reddy is not making such remarks as he is a Hyderabadi.
While no Hyderabadi was talking in that tone, other BJP leaders were making provocative statements. It's a shame that BJP leaders were making senseless statements to spread hatred just to win a few seats in GHMC elections," he added.
Uttam also slammed MIM leader Akbaruddin Owaisi for his remarks on the memorials of former Prime Minister P V Narasimha Rao and ex-Chief Minister N T Rama Rao. He appealed to people to understand the match fixing between MIM and BJP in the GHMC elections. He said Hyderabad has been a cosmopolitan city since several centuries.
Therefore, people should not allow any political parties to create a communal divide among them. Replying to a question regarding Land Regularisation Scheme, Uttam Kumar Reddy said, "No LRS, no TRS," adding that the Congress party was all set to come to power and it would make LRS totally free.