'Rape in India' comment by Rahul Gandhi triggers Parliament sine die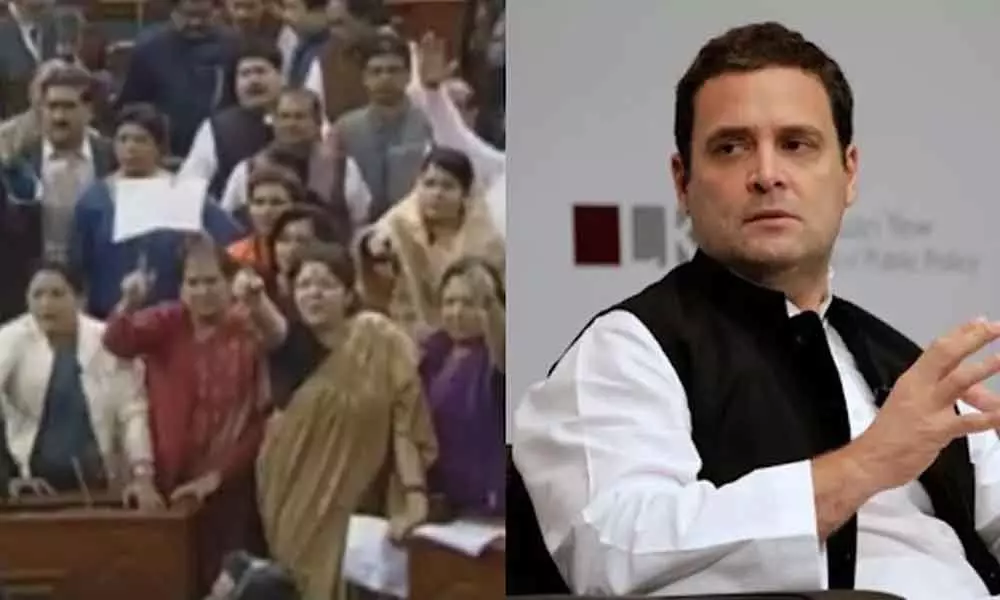 Highlights
BJP leaders in both upper and lower houses resorted to protest against Rahul Gandhi's statements, adjourning Parliament with no further notice.
New Delhi: BJP lawmakers lashed out at Rahul Gandhi's mockery of the central government initiative's - Make in India to decry sexual violence. The BJP leaders protested violently, and the proceedings in the Lok Sabha had to be adjourned due to the protests. The Rajya Sabha was also adjourned after similar protests.
Rahul Gandhi used the term "Rape in India" to criticize sexual crimes that are happening in India at an election rally in Godda district, Jharkhand, on Thursday. BJP's Arjun Ram Meghwal who is currently serving as the junior minister for parliamentary affairs said the Congressman should apologise.
DMK MP Kanimozhi defended Rahul Gandhi's comments, and Smriti Irani said she was "disgusted" and "extremely disheartened" that she couldn't transcend party divsions even on an issue such as crimes against women.
Rahul Gandhi, the MP from Wayanad, was not present in the House during the uproar from the BJP leaders. He arrived by the time proceedings resumed shortly after noon, but they were soon adjourned again.
A few MPs in the Rajya Sabha raised the slogan -- "Rahul Gandhi maafi maango [ask for forgiveness]" -- but Vice-President and Rajya Sabha Chairman Venkaiah Naidu said lawmakers could not take the name of a non-member.
Both Houses of Parliament were adjourned after government MPs protested Rahul Gandhi's comments, made yesterday at a rally in Jharkhand.
What Triggered The Row:
Targetting Prime Minister Narendra Modi government over rising crimes and sexual assualts against women, Congress leader Rahul Gandhi had said that the from 'Make in India' the country been reduced to 'Rape in India'.
"Narendra Modi had said 'Make in India' but nowadays wherever you look, it is 'Rape in India'. In Uttar Pradesh Narendra Modi's MLA raped a woman, then she met with an accident but Narendra Modi did not utter a word. Narendra Modi says 'Beti Bachao, Beti Padhao' but he never told from whom should the daughters be saved? They should be saved from BJP's MLA," he added.
Subscribed Failed...
Subscribed Successfully...