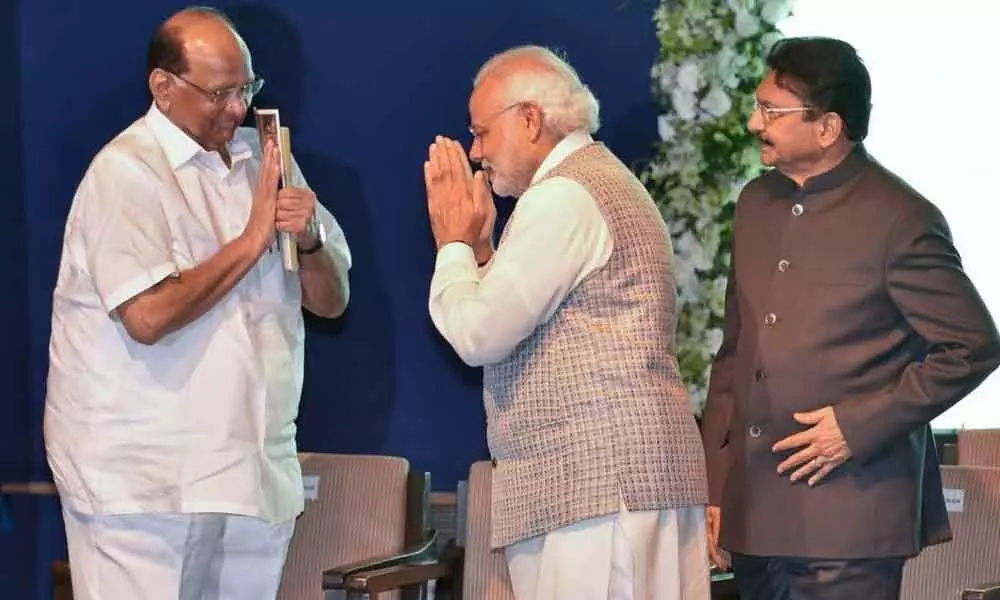 Highlights
It is unfortunate that a discussion between two leaders has been made public, says BJP leader Sudhir Mungantiwar
New Delhi: Responding to her father Sharad Pawar's claim that PM Narendra Modi had offered that they work together, NCP leader Supriya Sule said that it was generous of the PM, but her father had humbly said no.
"I was not in that meeting. That was between two seniors. It was the PM's magnanimity if he made the offer. In Maharashtra personal relationships are very important, even if there are ideological differences," Supriya Sule said, according to NDTV report.
Pawar told a Marathi channel that PM Modi had proposed working together but he had turned down the offer. "PM Modi offered that we work together.
I told him that our personal relations are very good and they will remain that way but it is not possible for me to work together," Pawar told the channel.
On November 20, Pawar met Modi in his chamber in Parliament House when talks between the NCP, Congress and Shiv Sena on forming an alliance had gained momentum. Reacting to Pawar's remarks in the interview, BJP leader Sudhir Mungantiwar said: "It is unfortunate that a discussion between two leaders has been made public… I don't want to deny or confirm it, but such conventions are out of place."
Sharad Pawar said he was aware that his nephew Ajit Pawar was in conversation with the BJP's Devendra Fadnavis, but didn't realise he would go to the extent that he did.
Pawar also said that an alliance with the Shiv Sena was "not difficult", compared to a tie-up with the BJP.
Earliler, to support the BJP in forming the government in Maharashtra, NCP chief Sharad Pawar had placed two conditions before the saffron party.
First, he wanted the Agriculture Ministry for his daughter Supriya Sule, who is active at the Central level, and second, he wanted someone other than Devendra Fadnavis to become the Chief Minister of Maharashtra.
However, Modi turned down both the demands. Sources in the BJP had told IANS that the party thought that if it decided to offer the agriculture ministry to the NCP, the JD(U), its ally from Bihar, will demand for the railway ministry.
In this situation, despite having the mandate, the BJP would loose two big ministries.
As far as the second demand of Pawar is concerned, the sources said the party was never ready to replace Fadnavis as the Chief Minister, mainly because he successfully completed the five-year tenure without any controversies and allegations.
Subscribed Failed...
Subscribed Successfully...