Over 50 crack Civils from Telangana, AP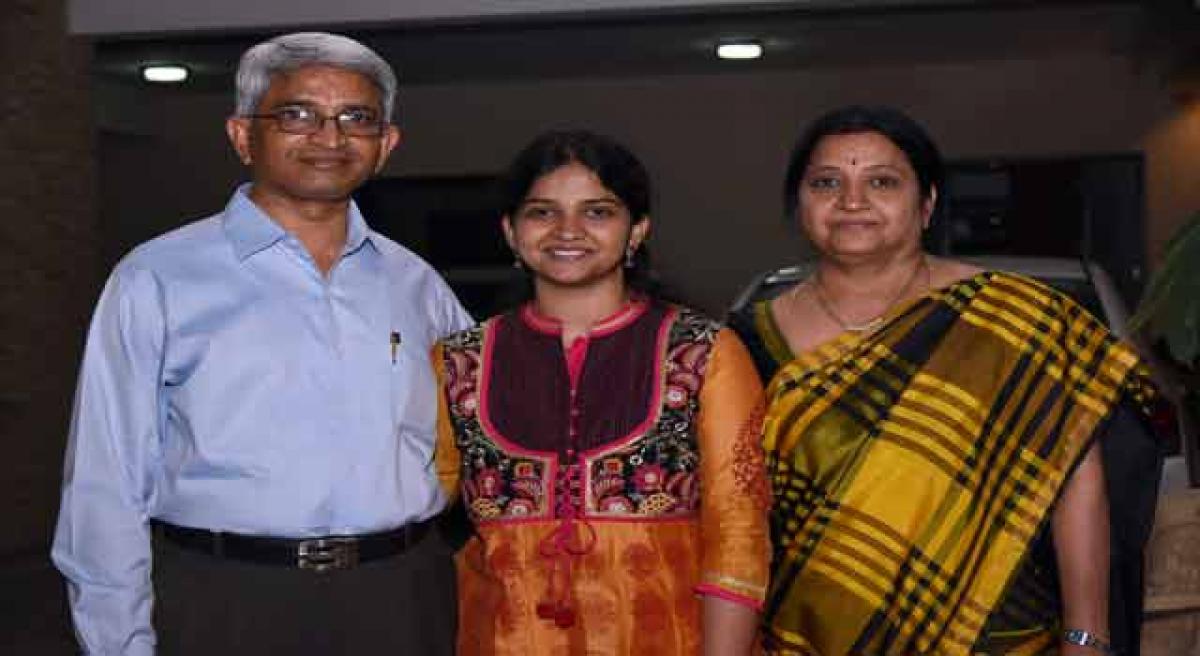 Highlights
Over 50 students from the Telugu states of Andhra Pradesh and Telangana were selected in the 2015 civil services examination, announced by the UPSC on Tuesday.
​Hyderabad: Over 50 students from the Telugu states of Andhra Pradesh and Telangana were selected in the 2015 civil services examination, announced by the UPSC on Tuesday.
Among the toppers from the Telugu states is Chekuri Kirti, who secured 14th rank. Other toppers include Valluri Kranthi (65), CH Ramakrishna (84), Vidyanagar Naidu (101), Jonnalagadda Snehaja (103), VL Ambareesh (150), Potharaju Sai Chaitanya (158), Nivedita Naidu (159), Pawan Kumar Reddy (179), Rishanth Reddy (180), Guntupalli Varun (183) and PVG Satish (191).
Jonnalagadda Snehaja of Hyderabad bagged 103rd rank. She attributed her success to hard work and encouragement of the parents.
She said that with proper guidance it would not be difficult to get success. Her parents expressed happiness with her performance.
Snehaja wants to opt for IAS or IFS. Speaking to The Hans India elated Snehaja who cracked the Civils in fourth attempt said her parents and uncle who is a retired IAS officer are her inspiration. "I am very excited and happy about my rank," she added.
Snehaja who hails from Telangana said she had studied five to six hours in a day for preparing for civil services. Giving a piece of advice to the aspirants, she said "Civil Services need hard work with smart work and you should never lose hope and have to learn from your mistakes."
Valluri Kranti of Kurnool district got 65th rank in her third attempt. Her parents say that the success was thanks to her determination and persistent efforts. She has been aiming for the top rank since childhood.
Sai Chaitanya of Nellore, who bagged 158 rank, received praise from residents and leaders of the revenue, police, political and social organisations. He said success in Civils is possible if one pursues with a clear goal and plan.
He said his success was due to the encouragement of parents and suggestions from his guides. He aims to join the IAS.
Salijanala Venkateswar, a medical graduate from Andhra Medical College, obtained 216 rank in the UPSC examination. This is his third attempt. In the first attempt, he was selected for Indian Railway Accounts Service and presently undergoing training in New Delhi.
Venkateswar studied in Loyola College in Guntur district from first to tenth standard and later joined Intermediate at Sri Chaitanya College in Visakhapatnam.
After successfully completing his Intermediate and getting a good rank in Eamcet, he joined Andhra Medical College and passed out in 2012. His father S Venkayya is a farmer and mother is a housewife.
The lone child of this couple, Venkateswar became the first doctor in the family and first civil servant.``I joined medicine to render good service to the people and now I got a better chance to serve the society from the grassroots,'' Venkateswar said.
Visakhapatnam based doctor G Sudhir obtained 318 rank in the UPPSC examination. Sudhir did his schooling in Machilipatnam and shifted to Kakinada for pursuing Intermediate. After getting top rank in Eamcet, Sudhir joined Andhra Medical College and completed his graduation in 2013.
This was his third attempt. Sudhir was born in Purushottampuram in Srikakulam district and spent most of his life outside the district. His father GV Prasad works as an ophthalmologist in Arif Opticas and his mother is a housewife. His younger brother Sekhar is in the final year of MBA.
Uday Prakash of Madanapalle in Chittoor district bagged 593 rank. His father P Venkata Subbaiha is an AE in housing department and mother Sailaja is a house wife.
Uday, completed MBBS in 2011 and worked in Dachepalli PHC for six months. Talking to The Hans India, Uday said that he was inspired by his senior Bharat Gupta, who cracked Civils and is now posted as Joint Collector in Chittor district. This is his fourth attempt.