Sizzling temperatures prove fatal for poultry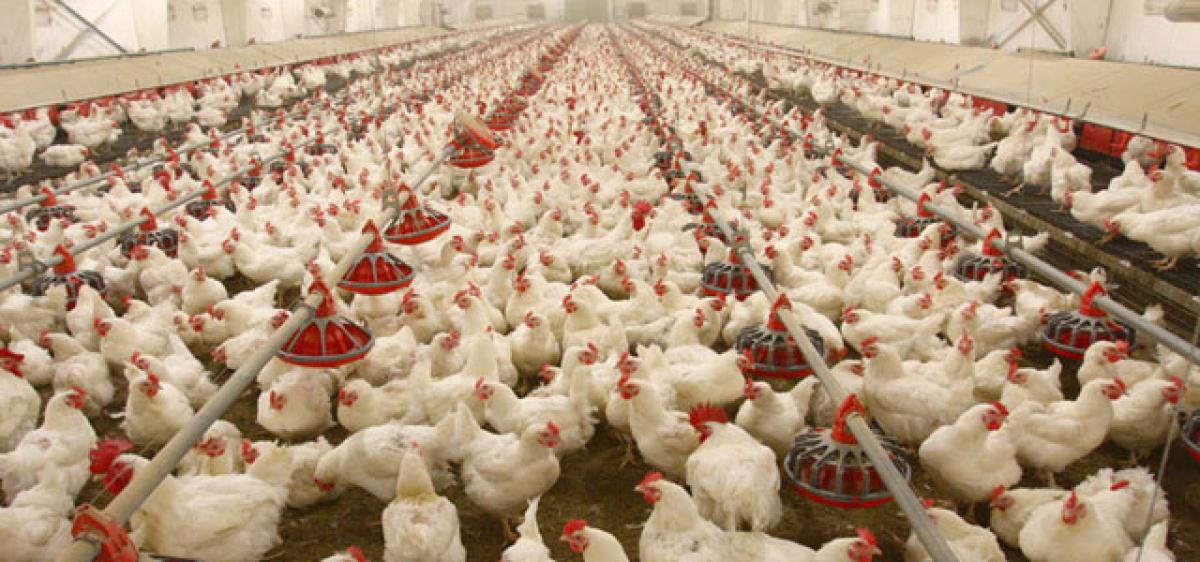 Highlights
The rising temperatures in the current summer played havoc with poultry in the State. As the temperatures crossed 47 degree Celsius in the central coastal districts of Krishna and Guntur, mortality rate in birds is shooting up day by day. Life turns miserable for the chicks if temperature crosses 35 degree Celsius. According to estimates, the sizzling temperatures take the life of 5,000-7,000 bird
Mortality reaches 15 per cent from 5% in current summer
Vijayawada: The rising temperatures in the current summer played havoc with poultry in the State. As the temperatures crossed 47 degree Celsius in the central coastal districts of Krishna and Guntur, mortality rate in birds is shooting up day by day. Life turns miserable for the chicks if temperature crosses 35 degree Celsius. According to estimates, the sizzling temperatures take the life of 5,000-7,000 birds every day.
The growers are struggling hard to save the hapless birds. In water-starved areas, the poultry owners are constrained to buy water for a high premium for keeping the temperatures under control through sprinklers.
A grower, Bandla Punna Rao told The Hans India that he has been purchasing water by paying Rs 1100 per tanker every day to save a flock of 20,000 birds in his farm near Lam Farm in Guntur district. In Krishna district, the poultry owners are engaging air coolers to reduce temperatures in the farms.
According to information, poultry farmers stopped rearing broilers from March last in view of their inability to survive in heat conditions when compared to layers in Krishna district.
Ramesh, a veterinary doctor, said chicks will not attain weigh due to poor consumption of feed during the summer. The low-weight obviously means a loss to growers.
Inquiries revealed that mortality rate in poultry went up to 15 per cent from 3-5 per cent in north coastal Andhra region due to heat waves.
"Birds stopped eating feed since last five days and only consuming water due to heat conditions resulting in stunting growth. The birds which should have attained a weight of 3 kgs ended up with just two kg,'' said president of Broiler Industry Welfare Association president Thatraj Adinarayana.
In Guntur district 100-200 birds are perishing in each poultry every day on an average. Punna Rao, president of the poultry farmers association urged the government for financial assistance to bail out growers from the current crisis.
Joint director of animal husbandry Dr K Venkata Rao said the department has launched a save poultry campaign by educating farmers to follow certain tips to insulate birds from heat.
Dr Srinivasa Rao, Joint Director of Animal Husbandry of Chittoor said egg production has come down by 15 per cent due to excessive heat in the current summer.
K Balakrshna Reddy of Suveera Hatcheries highlighted the need for government's help to build heat-proof sheds to save poultry

Interested in blogging for thehansindia.com? We will be happy to have you on board as a blogger.