CPM, CPI to organise Rythu Sadassu in Kadapa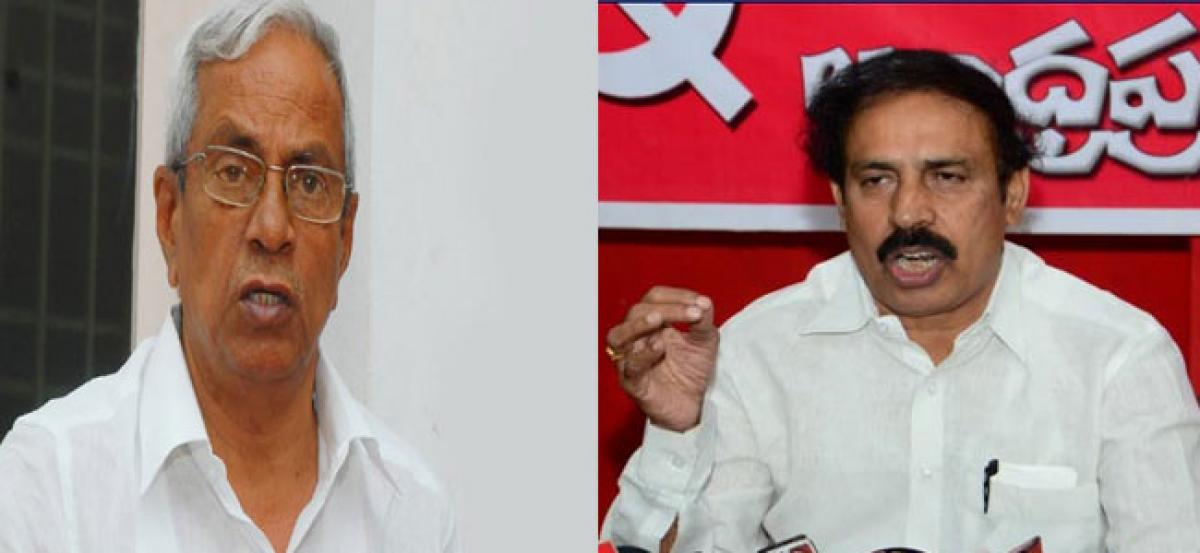 Highlights
CPI and CPM will organise Rythu Sadassu with a demand to resolve farmers\' problems like input subsidy, release of crop insurance to farmers of drought-hit mandals, drinking and irrigation water problems in Kadapa on June 9. CPI state secretary K Rama Krishna and CPM state secretary P Madhu said that farmers from Kadapa, Chittoor, Anantapur, Kurnool, Nellore, Prakasam and Srikakulam would attend t
Vijayawada: CPI and CPM will organise Rythu Sadassu with a demand to resolve farmers' problems like input subsidy, release of crop insurance to farmers of drought-hit mandals, drinking and irrigation water problems in Kadapa on June 9.
CPI state secretary K Rama Krishna and CPM state secretary P Madhu said that farmers from Kadapa, Chittoor, Anantapur, Kurnool, Nellore, Prakasam and Srikakulam would attend the Sadassu.
The Left leaders spoke to reporters at a press conference arranged at CPM state office here on Sunday.Madhu said that about Rs 5,000 crore crop insurance had not been paid to the claimants so far in the state. Interestingly, the insurance office was still working at Hyderabad, though all the departments had shifted to Vijayawada and Guntur, he pointed out. Kharif season would start in next two weeks and farmers were eagerly waiting for quality seeds and fertilisers, he added.
Madhu demanded that the government supply seeds and fertilisers to the farmers of drought-hit mandals in the state. The state government was pursuing anti-farmer activities and neglecting them and agriculture workers, he alleged. Several villages of Rayalaseema districts, Nellore, Prakasam and Srikakulam were facing severe drinking and irrigation water problems, he said.
He alleged that the government was not reacting even though 307 mandals in the state were reeling under drought. Several farmers had committed suicide as banks deny loans to them, he said. The Left parties had been continuing agitations on all these problems, especially in Rayalaseema. But the state government was not bothered, he lamented.
The CPM leader further said that about five to 10 farmers from each drought-hit mandal would come to the Rythu Sadassu at Kadapa. With this Sadassu, the Left parties would continue agitations and taking support of all other Left parties, he explained. He expressed surprise at the ruling party not discussing these grave issues at its Mahanadu being underway at Visakhaptanam.
CPI leader Rama Krishna demanded that the state government release a White Paper on the Union government's aid of Rs 1.75 crore. He also sought details of funds release and expenditure. As per the AP Reorganisation Act, Rs 24,350 crore would be released to four Rayalaseema and three north coastal-Andhra district as a special package. But the Union government released Rs 50 crore to each district, he said.
Ramakrishna also expressed his displeasure over TDP Mahanadu not discussing farmer's issues, drought conditions in the state.He further demanded that the state government release Rs 5,000 crore input subsidy to farmers immediately. CPI state secretariat member G Obulesu and others also participated.