Children have no place to play in Vizianagaram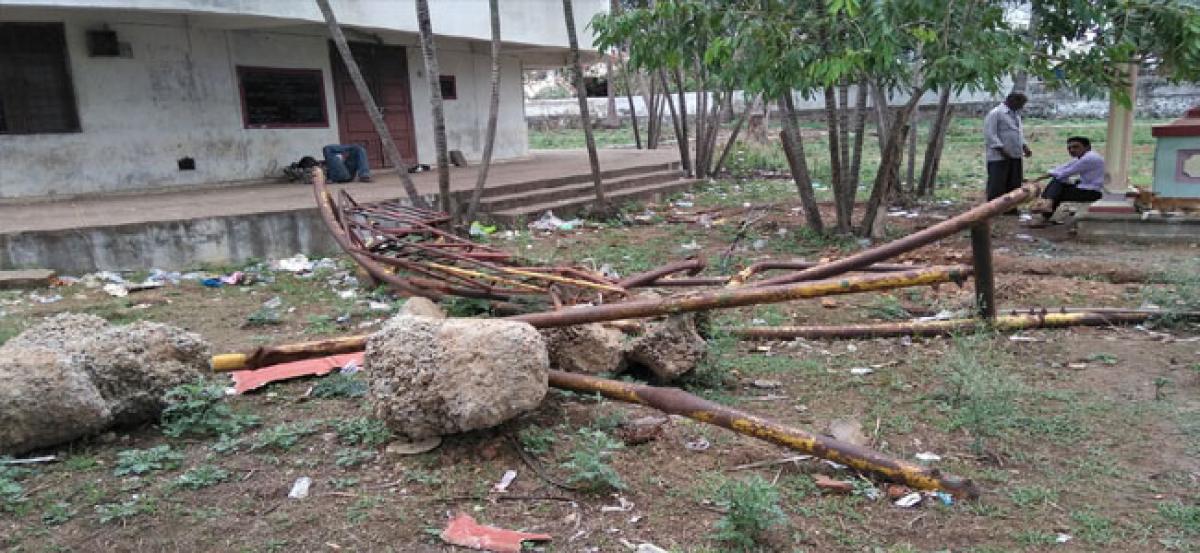 Highlights
Vizianagaram town has no pleasant place to sit and relax as every park is in dire state. The municipal administration has totally neglected them. The town was announced by the state government as a smart city and would be provided all basic amenities but the facts here are completely different. The parks in this town are totally neglected by the municipal administration and those existing are in
Vizianagaram : Vizianagaram town has no pleasant place to sit and relax as every park is in dire state. The municipal administration has totally neglected them. The town was announced by the state government as a smart city and would be provided all basic amenities but the facts here are completely different. The parks in this town are totally neglected by the municipal administration and those existing are in pathetic condition.
Highlights:
The town has been announced as a smart city but the ground reality is something else

Parks in the town are a haven for anti-social elements and play grounds for pigs and stray dogs
None of the parks has a gate, compound wall and are havens for boozers. Hence the children don't have even a single park here to spend time with their friends and as expected, spent their time during summer holidays by sitting in front of television sets or playing games in computers.
Interestingly Prakasam park which is exactly opposite Municipal office has lost its significance as all benches, fountains are totally damaged. Indira Park near by the Clock tower has no swings, sliders and ladders for the children. All were demolished and just piled in a corner of the park.
The parks here become a playground for pigs and stray dogs. The play equipment made of iron were stolen by the locals and the fountains also were dumped with garbage, especially the skating rink at Indira Park and no child dares to enter into the compound.
K. Harshini, a class eight student of Vida colony told "These parks are looking like forests as the municipal staff has totally neglected them. The summer holidays have gone waste as we had no place to play and hang out with our friends." she said.
P. Ramakrishna, Municipal Chairman of Vizianagaram agreed that parks in this town are totally in pathetic condition.
"We have plans to develop them with the support of Visakhapatnam Urban Development Authority. We will install all sport equipment and improve greenery with grass and croutons. We will give a facelift to all the parks within few days" he added.

Interested in blogging for thehansindia.com? We will be happy to have you on board as a blogger.