Chandrababu Naidu spits fire on Modi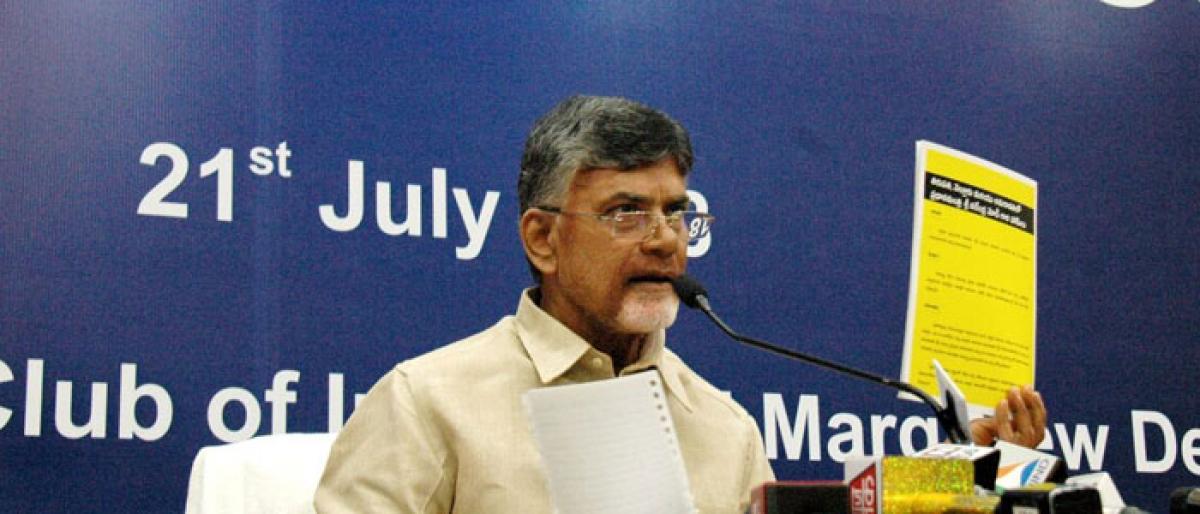 Highlights
With the Centre making it clear that it was in no mood to extend a helping hand to Andhra Pradesh, AP Chief Minister N Chandrababu Naidu seems to be working out strategies to unite all political parties which are against the BJP at national level
New Delhi: With the Centre making it clear that it was in no mood to extend a helping hand to Andhra Pradesh, AP Chief Minister N Chandrababu Naidu seems to be working out strategies to unite all political parties which are against the BJP at national level.
Naidu who flew in to New Delhi on Saturday to address a media conference ruled out any national role for him and said: "I am only interested in bringing together all these parties against the BJP. I want all parties to come together and stand with us in our fight." He said his fight was not only for the AP welfare and justice, but also against the BJP misrule in the country.
"Every section is suffering in the country. Dalits, Muslims, minorities, women and youth. No section is happy. I want to fight against all these. We will also work for national agenda. "I am creating a model state and a livable state in AP. This will be the model for entire country. Understand this and help us fight the BJP," he said. "Our MPs are fighting for people's cause. We were in Parliament yesterday. YSRCP was in court (referring to Jagan's Friday appearance in court). How can the Prime Minister compare the TDP with YSRCP?" he asked.
Referring to PM's remark on KCR showing maturity, Naidu said PM tried to create a wedge between the two Telugu CMs. He said KCR was his good friend and they worked together for long. He accused the Centre of not taking any interest in the bifurcation process of the Telugu states.
"They have not done anything. Not a single time, they called for the CMs' meet too. We ourselves began interacting and started sorting out issues. Is it not their responsibility," he said.