Former Member of Parliament Chennupati Vidya passes away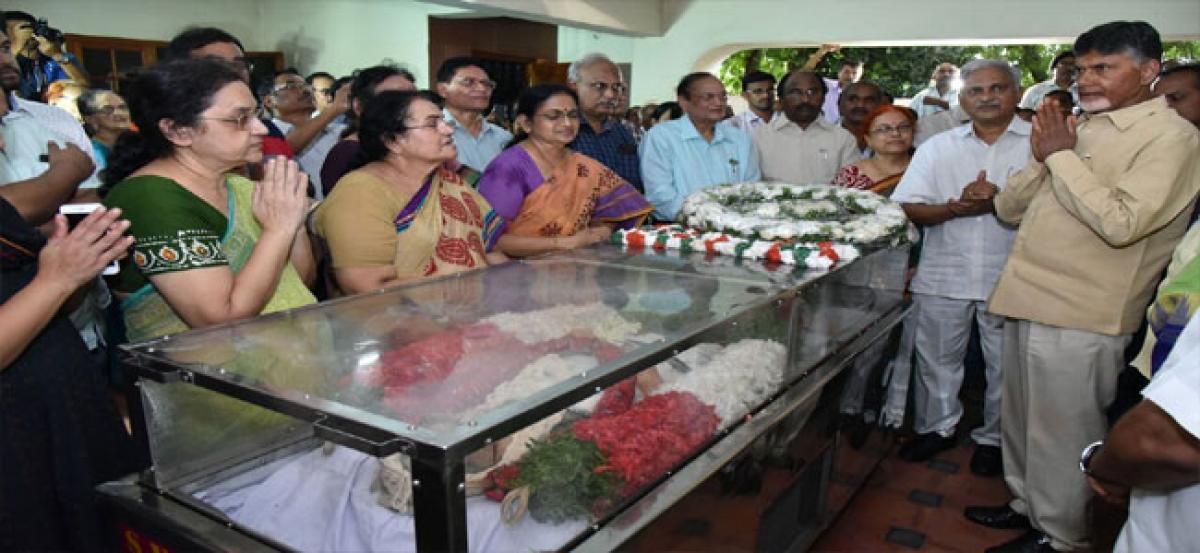 Highlights
Chennupati Vidya, twotime Member of Parliament, social reformer and daughter of atheist leader late Gora died of a heart attack here in the early hours of Saturday
Vijayawada: Chennupati Vidya, two-time Member of Parliament, social reformer and daughter of atheist leader late Gora died of a heart attack here in the early hours of Saturday. She was 85. She is survived by a son and three daughters. Her husband Chennupati Seshagiri Rao, also a freedom fighter, died a few years back.
Born on July 5, 1934, in Vizianagaram to the freedom fighter couple, Goparaju Ramachandra Rao popularly known as Gora and Saraswati Gora, Vidya was inspired by the work of her parents. She stayed at Gandhiji's Sevagram in 1940s and imbibed the national spirit. She was educated under the guidance of prominent Sarvodaya leader Prabhakarji. Till her last breath she has been planning to organise felicitation programme for freedom fighters on September 2 and the 150th birth anniversary of Mahatma Gandhi on October 2.
In fact, her dream project was the grand celebration of 150th birth anniversary of Gandhiji by conducting essay writing competitions in colleges and schools on the principles of Gandhiji. She wanted to involve students of colleges and schools to create awareness on Gandhiji among the new generation.
Her marriage to Chennupati Seshagiri Rao broke the barriers of caste and she started casteless marriages in her family setting an example to others. She started her political career at the village-level and eventually became Parliament member twice from 1980-84 and again 1989-91. When she won the Vijayawada Lok Sabha seat with a majority of more than three lakh votes defeating the nearest rival the engineering giant Dr KL Rao, Indira Gandhi personally congratulated Vidya for her achievement.
As part of the service to women, she founded Vasavya Mahila Mandali, popularly known as VMM, in 1969 to facilitate social change and economic development of women. Vasavya literally means Vastavikata (Reality), Sanghadrishti (Social outlook) and Vyaktitvam (Personality development) which are principles she inherited from her father Gora. The activities of Vasavya Mahila Mandali are spread in three States Andhra Pradesh, Telangana and Odisha. The activities include prevention of tuberculosis, HIV/AIDS and maternal and infant deaths.
With the help of the Vijayawada Police Commissionerate, Vidya introduced Mahila Mitra, Vriddha Mitra and Balamitra to help women, the aged and children. The programme was a big hit in the limits of Vijayawada and soon spread to other areas in the State. The counseling sessions organised by the VMM to the eve-teasers set a new trend and teasing has come down considerably. Former police commissioner of Vijayawada and DG of Vigilance and Enforcement Gautam Sawang paid rich tributes to Chennupati Vidya for her impeccable service to people in general and women in particular.
He said that he felt it was a privilege to have worked with her in a number of social service activities. He expressed heartfelt condolences to the family members and the vast number of women who treat her as their own mother calling her Amma. Chief Minister N Chandrababu Naidu paid floral tributes to the former Member of Parliament Chennupati Vidya who died in the early hours of Saturday. He inquired with the family members Rashmi, Keerthi and Dr Deeksha, Dr Meher, Dr G Samaram and others about the sudden demise of the women's activist. The Chief Minister asked the family members to continue the social service activities of Chennupati Vidya.