Fishermen oppose Coastal Zone Management norms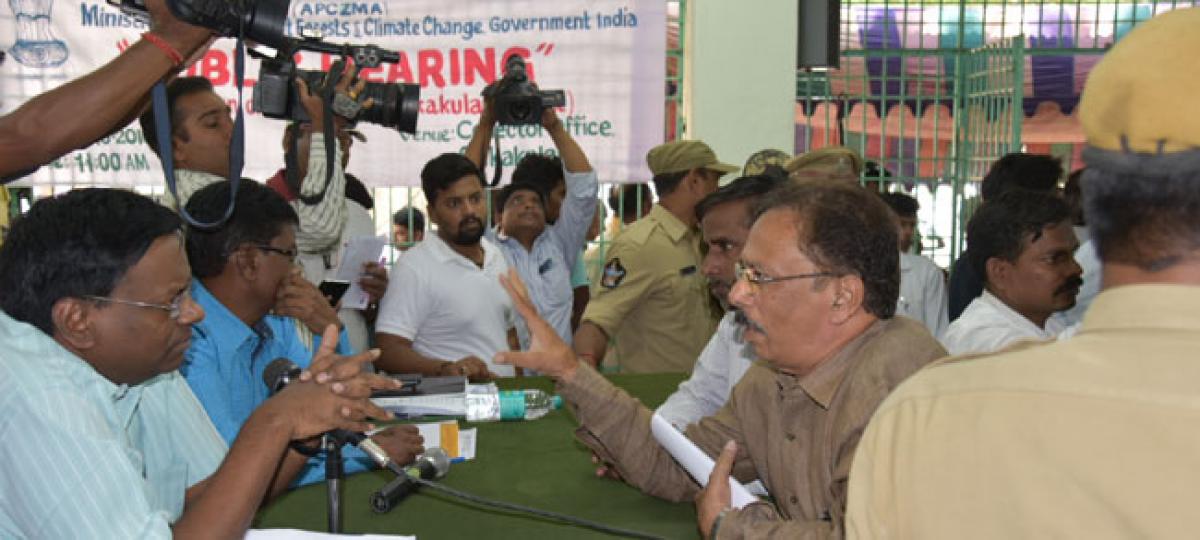 Highlights
Fishermen from various villages and representatives from Human Rights Forum HRF strongly opposed the public hearing on Coastal Zone Management CZM held at the Collectorate here on Friday With an aim to revise the previous policy of 2011 regarding Coastal Regulatory Zone CRZ, the government recently announced the new CZM policy
Srikakulam: Fishermen from various villages and representatives from Human Rights Forum (HRF) strongly opposed the public hearing on Coastal Zone Management (CZM) held at the Collectorate here on Friday. With an aim to revise the previous policy of 2011 regarding Coastal Regulatory Zone (CRZ), the government recently announced the new CZM policy.
The government is planning to establish various gas-based industries and petro-chemical units all along the coast. To receive objections and suggestions from coastal area residents in this regard, a public hearing was held at Srikakulam by Pollution Control Board (PCB) and district officials. On the occasion fishermen elders M Phalguna Rao, M Govinda Rao and S Suryanarayana strongly opposed the public hearing conducted at Srikakulam without informing properly to fishermen.
They also found fault with the officials for deciding the date in a hasty manner to complete the public hearing as an 'eyewash' when all the fishermen community are suffering from loss caused due to Titli cyclone.
HRF state president V S Krishna, vice-president K V Jagannadha Rao, member B Dhilli Rao questioned the rationale behind the officials in conducting public hearing at Srikakulam without informing properly to fishermen and other coastal area people.
As per norms, officials should inform about public hearing in Telugu language to local people by affixing details in all affected villages and tom tom should also be essential in all villages on CZM public hearing, which is also violated.
The villagers and HRF representatives said the public hearing has no legal sanctity and they demanded for its cancellation and suggested to announce another date for public hearing.
With an aim to handover coastal zone to private firms, the government has decided to conduct public hearing as an eyewash, the HRF representatives alleged. They lamented that the government is yet to learn lessons even after witnessing damages caused due to cyclones like Phailin, Hudhud and Titli.
"We have conducted the public hearing as per the government guidelines and reported the matter to government," said district revenue officer K Narendra Prasad and executive engineer of PCB T Sudarsanam to The Hans India.