The India-Africa Forum Summit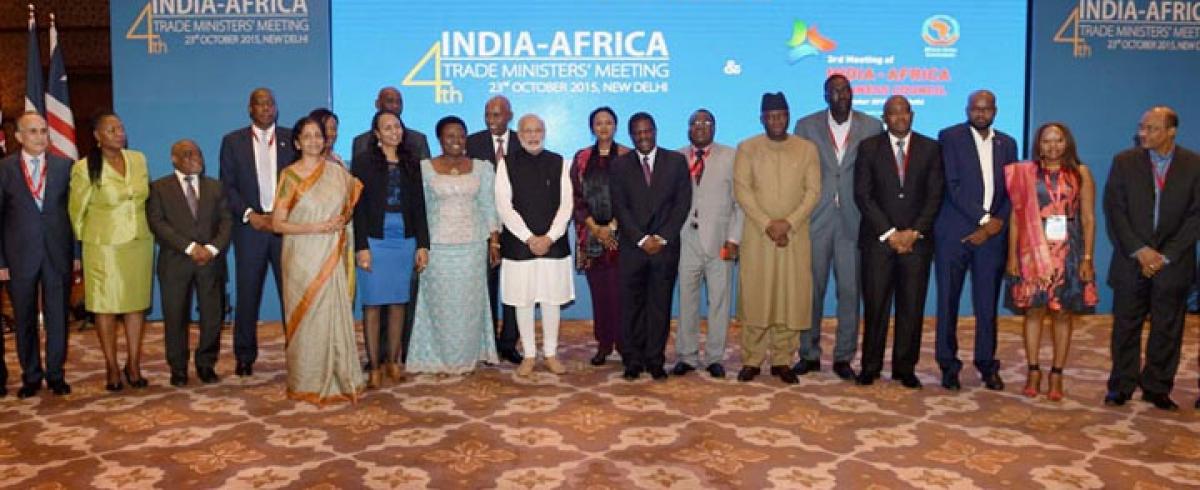 Highlights
The Third India – Africa Forum Summit met in New-Delhi last October. The First was held in New Delhi in 2008 and the Second in the Ethiopian capital of Addis Ababa in 2011.
The Third India – Africa Forum Summit met in New-Delhi last October. The First was held in New Delhi in 2008 and the Second in the Ethiopian capital of Addis Ababa in 2011. These Summit meetings strengthen significantly the multi faceted Indo – African cooperation, a development partnership based on equality, mutual benefit and solidarity, a South-South cooperation in all its dimensions.
Relations between India and Africa span over thousands of years. At the dawn of history, there was migration of people from Africa to the Mediterranean region and to Asia. This interaction led to what is known as the "cradle of civilization".
Indians have been migrating to Africa and Africans to India over several centuries. At present, Africa has a population of about 2.5 million people of Indian origin. They form the connection between the two regions and shape the economic, political and cultural foundation of an Afro-Indian alliance. Some of the descendants of African emigrants in India are known as Siddis.
They came from Africa in the tenth century and their progeny still lives in different parts of India, particularly in the West Coast. Gandhiji began his struggle for freedom in Africa and India has always been in the forefront of the movement for independence and sovereignty of the African countries.
It was a Seminar on Portuguese Colonialism held in New Delhi in October 1961 that triggered the decision of the Government of India to liberate Goa. The Seminar was addressed by Prime Minister Nehru and by several leaders of foreign countries including those from the Portuguese colonies in Africa. Pandit Nehru was reluctant to take any military action to liberate Goa in view of his policy of non-violence. However, the Seminar created intense public opinion and led to Operation Vijay on December 19, 1961 which liberated Goa within two days without any real struggle. The Liberation of Goa provided the impetus for the anti-colonial movements in the Portuguese territories of Africa. Independence for these colonies came about in 1975.
In the Eighties Prime Minister Rajiv Gandhi supported the struggle of the African countries against "apartheid" in South Africa and asked me to visit all the border countries then known as the "Frontline States", to assess the situation there.
I then visited the Frontline States and met the leaders of those countries including President Samora Machel of Mozambique, President Julius Nyerere of Tanzania, President Kenneth Kaunda of Zambia, President Robert Mugabe of Zimbabwe, President Eduardo dos Santos of Angola, Mr. Sam Nujoma who was not yet the President of Namibia, and other leaders.
Thereafter, Shri Rajiv Gandhi constituted the Africa Fund with contributions from several countries but mainly from India to provide technical assistance to the Frontline States to counter the depredations unleashed against them by the South African regime of the time.
Countries of Africa have achieved enormous progress on the economic and social fronts. They are growing faster than almost any other region in the world. African rate of growth has surpassed that of East Asia. The African Lions have now taken over from the Asian Tigers.
The rate of return on investment in Africa is currently the highest in the developing world. Africa, in particular, and the developing countries in general, are indeed the major engines of global economic growth at this point of time.
Four hundred thousand new businesses were registered in Africa in 2013 and mobile telephones reach 95 percent of the population in many places. Primary school enrolment in Africa now exceeds 90 percent. India is a major source of business in Africa. 34 African countries enjoy duty free access to the Indian markets. In less than a decade our trade has more than doubled to around 80 billion dollars.
One of the most significant aspects of the India -Africa partnership has been the offer of concessional credit under the Indian Development and Economic Assistance Scheme (IDEAS) for implementing a range of projects as per the economic and social priorities of African countries in areas where Indian companies have relevant expertise. In the last decade, a total of almost US$ 9 billion in concessional credit has been approved for nearly 140 projects in more than 40 African countries. Nearly 60 projects have been completed across a range of sectors.
The Summit meetings have facilitated air and maritime connectivity, more liberal visa procedures and visa concessions to enhance tourism, trade and people to people contacts. India has committed 7.4 billion dollars in concessional credit and 1.2 billion dollars in grants since the first India-Africa Summit of 2008. It is creating 100 capacity building institutions and developing infrastructure, public transport, clean energy, irrigation, agriculture and manufacturing capacity across Africa.
During the last three years alone nearly 25,000 young Africans have been trained and educated in India in areas such as IT, renewable energy, agriculture, marine and aeronautical engineering, marine hydrography, SME entrepreneurship, rural development, parliamentary affairs, logistics and management, climate change adaptation, disaster management, cyber security, forensic sciences, and defense and security, among others. They are the 25,000 new links between the two regions.
Government of India will continue to facilitate the access and enrolment of African students and academicians to India's premier institutions of higher learning including in areas such as engineering, medical technology and agriculture. It will provide 50,000 scholarships over the next five years to African students.
The India-Africa Forum Summit held last October adopted a Framework for Strategic Cooperation and decided to establish a regular formal monitoring mechanism to review its implementation within an agreed timeframe. The next India-Africa Forum Summit is scheduled for the year 2020.