Nitin Gadkari, Devendra Fadnavis inaugurate HCL Campus at MIHAN in Nagpur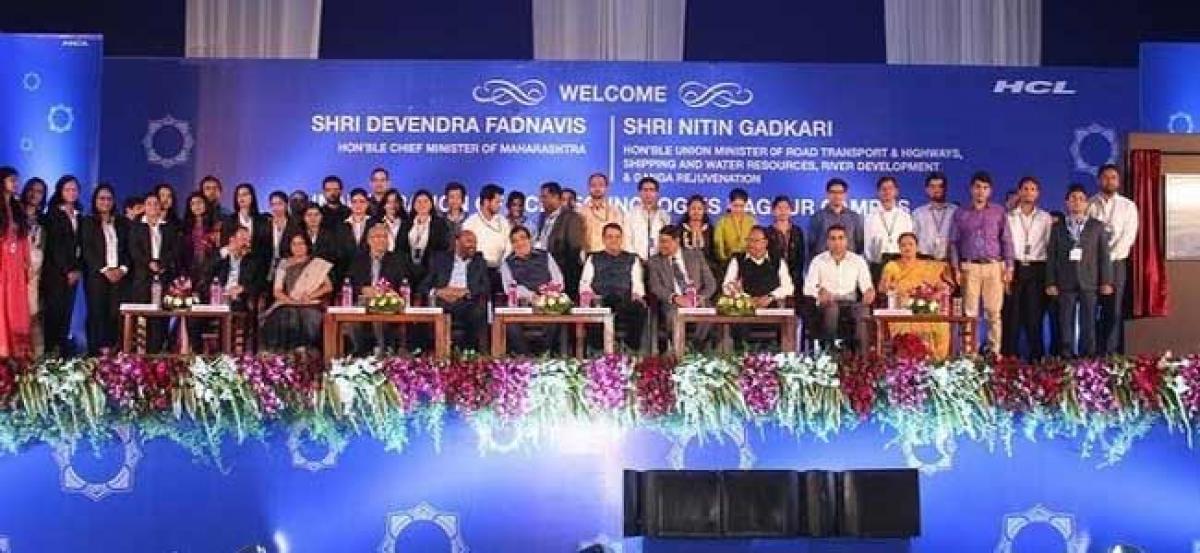 Highlights
HCL Technologies, a global leading IT company, today announced the launch of their campus at MIHAN in Nagpur, which was inaugurated by Nitin Gadkari, Minister for Road Transport and Highways, Shipping and Water Resources, River Development and Ganga Rejuvenation and Devendra Fadnavis, Chief Minister of Maharashtra in the esteemed presence of Chandrashekhar Bawankule, Guardian Minister, Nagpur and
Nagpur : HCL Technologies, a global leading IT company, today announced the launch of their campus at MIHAN in Nagpur, which was inaugurated by Nitin Gadkari, Minister for Road Transport and Highways, Shipping and Water Resources, River Development and Ganga Rejuvenation and Devendra Fadnavis, Chief Minister of Maharashtra in the esteemed presence of Chandrashekhar Bawankule, Guardian Minister, Nagpur and Minister for Ministry of Energy, New and Renewable Energy Maharashtra.
The inauguration was attended by senior Government officials and the leadership team of HCL. First batch of scholars along with their families were also present at the launch.
The state of the art 50-acre HCL campus in Nagpur aims to create more than 2000 jobs after starting operations at the centre. HCL's foray in Nagpur is driven by quality local talent pool in the city and scalable infrastructure.
HCL had launched its 'Stay Rooted' campaign for engineering and non-engineering students to be equipped with global IT skills in June last year (FY 2017). HCL has already rolled out 300 offer letters to candidates and the first batch of nearly 100 scholars is currently undergoing training.
Speaking at the launch, Nitin Gadkari, Minister for Road Transport and Highways, Shipping and Water Resources, River Development and Ganga Rejuvenation said "Nagpur has emerged as a significant talent hub over the few years and we are pleased to be a part of the launch celebrations of the HCL campus in Mihan. The state of the art HCL campus would offer locals an opportunity to develop global careers right in their own city, without having a need to migrate from their hometown. We wish HCL the very best in their endeavour to bring about change and positively impact quality of life in the city of Nagpur."
The creation of the centre in Nagpur is in line with HCL's strategic vision to expand and create opportunities in smaller cities across India. Nagpur has developed as a pivotal talent hub over the last few years, thereby promising a sustainable pipeline of high quality talent.
Gracing the occasion, Devendra Fadnavis, Hon'ble Chief Minister of Maharashtra said "The Maharashtra Government is committed to economic development and providing more opportunities to the young workforce of the State. The HCL campus in Mihan will offer a great platform to local talent in the city providing them growth opportunities. I would like to congratulate HCL on being a part of this important journey and investing in the upskilling and employment of the local youth."
Once the MIHAN centre becomes operational, it will deliver a spectrum of services including Infrastructure Management, Application Development, Product Engineering, BPO, IT Services Management and HCL's internal enabling functions.
At the launch, Mr. Sanjay Gupta, Executive Vice President, HCL Technologies said, "HCL has always been at the forefront of bringing new avenues across strata and geographies. With the launch of the HCL Campus in MIHAN, we hope to reach out to the local talent, unlock immense potential, enhance their skills and prepare them for Global IT careers. By optimization of the skilled talent resource available in the city through the HCL Nagpur Campus, we aim to put Nagpur on the global IT map. I thank the Government of Maharashtra for their continued support in realizing our goals."
Apart from giving opportunities to both engineering and non-engineering graduates, this centre also aims to have a gender-equal workforce, and giving women returning to work after a break an opportunity to utilize their skills set and contribute meaningfully towards a bright future by working with a global IT company.