Timezone re-launched and revamped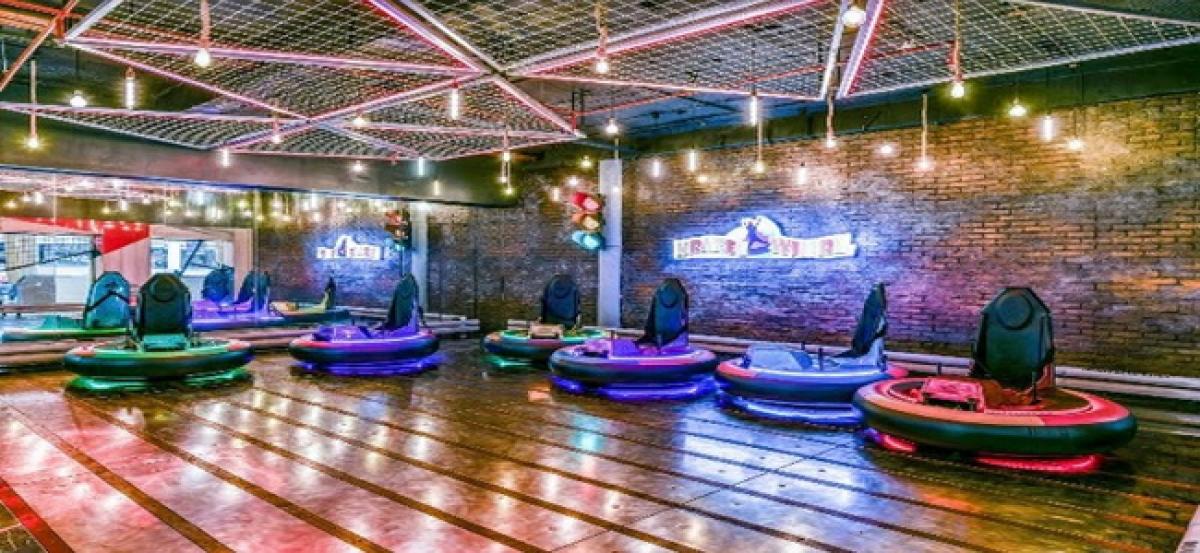 Highlights
The leading family entertainment centre known for its high octane interactive arcade games for families and kids has revamped and relaunched itself as #NextGenTimezone at Inorbit Mall, Malad. The new destination lets you re-live your childhood and make new memories. Their mantra \'Play more Win more\' justifies the unparalleled fun and excitement that one can experience with its never-seen-before r
Mumbai : The leading family entertainment centre known for its high octane interactive arcade games for families and kids has revamped and relaunched itself as #NextGenTimezone at Inorbit Mall, Malad. The new destination lets you re-live your childhood and make new memories. Their mantra 'Play more Win more' justifies the unparalleled fun and excitement that one can experience with its never-seen-before rides, irresistible offers and abundant prize-winning opportunities that is sure to entice you and your family.
Next Gen Timezone has elements which focuses on young adults along with kids and family. It's reflected in the store layout and designs, from a playful and colorful store background, Timezone has moved to more urbane and futuristic design and color palette. Lit signage's for major concept zones and unique sky grid lighting in the store, enhances the entire layout and elevates the whole experience of an indoor entertainment and concept play zone.
This family entertainment centre is loaded with varied concepts and games. Timezone has lot of games and rides that kids and families will experience for the first time in India. Few of the new games / rides include the following:
Krazee Whirl: Timezone has added a Krazee element to the normal bumper car which is getting launched for the first time in Mumbai. Unlike other bumper cars, Krazee whirl has attractive LED illumination at the base of the car and dual joystick that makes you spin making it a completely joyous ride.
Virtual Rabbids: Launched for the first time in India, this virtual game takes you to another dream world. With special oculus and attractive cabinet, player gets to experience all the moods and motions as depicted in the movie making it extremely delightful.
Willy Wonka Chocolate factory: It's the latest in redemption games, again a first timer in India. This is a character licensed game for adults which is extremely addictive and has a great recall value. In many stores internationally, customers queue up ahead of store opening to play the game first every day.
Family Bowling: Bowling has adapted itself in a complete new look for kids and parents to compete together which is why it's been termed as 'Family Bowling'. Light weight balls, kid friendly bowling lanes, innovative score chart and latest graphics and animations make knocking off the pins more fun. Family bowling area is equipped with great music and lounging space.
Talking about the new Timezone, Naveen H, CEO, Timezone, India said, "We are truly excited about our new Timezone that has been designed with extreme precision, following International standards of quality and safety norms. There are lot of new games that makes its debut in India with Timezone and promises thrill and adventure. Each game has been devised making arcade gaming a fun-filled experience. We are elated with the humongous response we have received so far ever since the #NextGenTimezone opened. The madness has just begun, and we hope to keep the momentum alive always."
Other Key Ticket games include Gum drop, Jersey wheel and Derby champions. 'Sweetland 5' where one can win gems and crystals is worth luring and is already a favorite with customers.
Players get a chance to win tickets and prizes keeping the mood upbeat and competitive. Various other play along games like Traditional basketball game, camel racer and carnival games are now presented in new avatar making them more enticing and fun. A new bigger and exclusive prize shop with variety of merchandise varying from plush toys, home decor, utility products, sports and games merchandise has been added to the Timezone arena.
That's not all. Timezone presents 'Time to party'- a distinct and dedicated party area to celebrate birthdays, family occasions and even corporate parties.
Drop in today @Timezone at Inorbit Mall, Malad as its all set to enthral the audience in its new avatar.
Interested in blogging for thehansindia.com? We will be happy to have you on board as a blogger.