Why Chalk n Duster is inspirational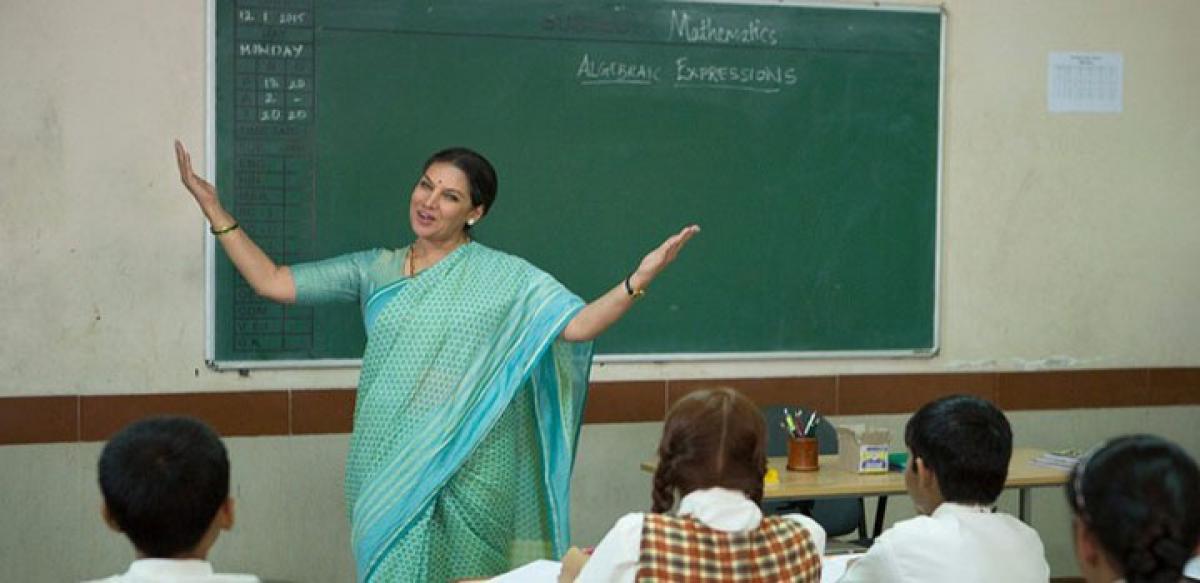 Highlights
Jayant Gilatkar\'s \"Chalk n Duster\" honestly and compassionately reflects our deteriorating education system, albeit in a straight, on-the-face and old fashioned manner.
Jayant Gilatkar's "Chalk n Duster" honestly and compassionately reflects our deteriorating education system, albeit in a straight, on-the-face and old fashioned manner.
Despite being mawkishly executed, it is inspirational. It is the story of the incredible teachers of Incredible India.
With the premise, "keep education as education and not as business", the plot delves into the trials and tribulations of the teachers at Kantaben High School, who are being subjected to the unwarranted harassment by their overtly insensitive management, in their bid to make their school numero uno.
While the treatment is overdramatic and exaggerated, comparing tradition with modernity, the messages hit the right nerve. It especially hits you, when you hear Science teacher Jyoti (Juhi Chawla) speak directly to the audience, "Can you imagine what the world would be like without teachers?"
The screenplay is taut and engaging despite the cliches. It blends the teachers' professional lives with their domestic one, in ample measure, especially that of the senior mathematics teacher, Vidhya Sawant essayed by Shabana Azmi and that of her younger colleague Jyoti.
The performance by the ace star cast is what keeps you hooked. With her powerful screen presence and brilliant histrionics Shabana Azmi as the mature and lovable Vidhya Ma'am, is adorable.
Juhi Chawla, in a well-etched character packed with light comic, as well as serious moments, supports Shabana, literally and figuratively. She is sincere and natural but does not offer any new shade to her character or performance.
The surprise package is Divya Dutta, who holds her own and excels as the antagonist Kamini Gupta, the school's principal. Her horrendous wig adds to her thick-headed persona.
Of the male cast, Arya Babbar as Anmol Parekh the pea-brained foreign returned MBA whose family controls the school, supporting Kamini in her endeavour, is passive and stereotypical.
Girish Karnad as Vidhya's wheel bound husband who is fond of playing chess and Sameer Soni playing Jyoti's husband, are perfunctory. These flat, one-dimensional characters who let their spouses flourish are underdeveloped.
Of the rest of the supporting cast, Upasana Singh as the Arts teacher Manjeet and Richa Chadha as Bhairavi Thakkar, the India News Reporter, are wasted.
And Rishi Kapoor and Jackie Shroff in guest appearances are reduced to caricatures.
This modest subject is well mounted. The film boasts of a decent production set-up. The annual day function with the well choreographed dances and brilliant lighting is worth a mention.
The background score at times is so overpowering that it drowns the dialogues, but nevertheless the message is loud and clear.
Cinematically this may not be a brilliant film, but it has its heart in the right place as there is never an instance when a teacher may not have tugged your emotional chord.
By Troy Ribeiro