RGV triggers a storm, but Balayya plays it cool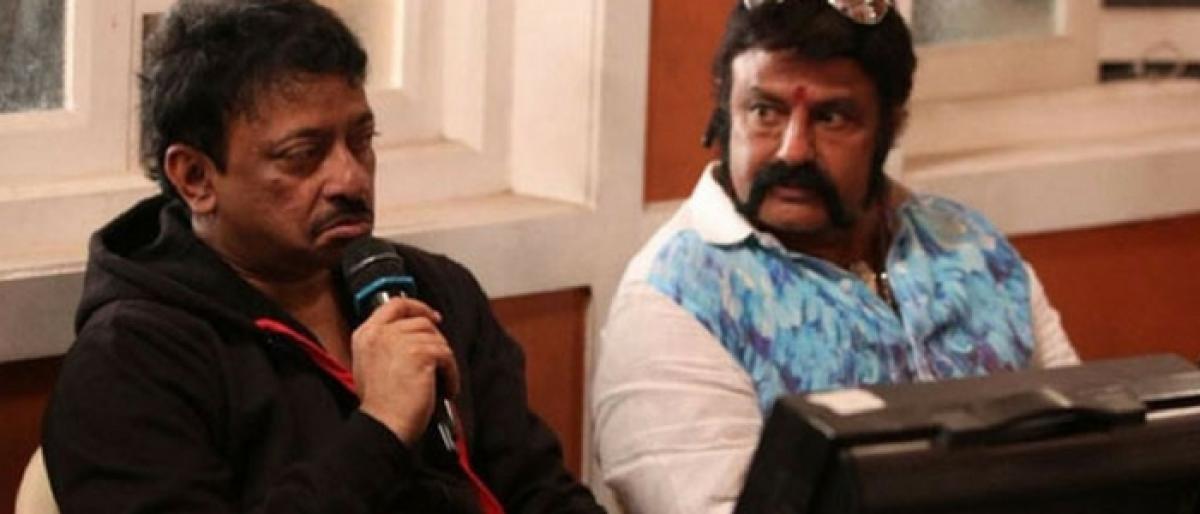 Highlights
Ace director Ram Gopal Varma who made films inspired by dark characters like Dawood Ibrahim, Chhota Rajan and most powerful politician Bal Thackeray in 'Sarkar franchise' and closer home on controversial politicians like Paritala Ravi and Vangaveeti Ranga, for a change will be making a positive biopic on legendary NTR, provided he is given a chance, to revive his sagging career since his last rele
Ace director Ram Gopal Varma who made films inspired by dark characters like Dawood Ibrahim, Chhota Rajan and most powerful politician Bal Thackeray in 'Sarkar franchise' and closer home on controversial politicians like Paritala Ravi and Vangaveeti Ranga, for a change will be making a positive biopic on legendary NTR, provided he is given a chance, to revive his sagging career since his last release 'Sarkar 3' which was a damp squib.
However, seasoned star Balakrishna who is supposed to confirm reports have remained silent all through the day and taking rest in Vijayawada, say sources. Nevertheless, in an emotional voice note shared with media sent in the morning, Varma was thrilled to announce he will be helming the project.
The director claims to have watched actor-turned-politician 'Aadavi Ramudu' for 20-odd times walking all the way to theatre and back and also being a one of the members in the NTR's massive first Mahanadu gathering. "NTR is a name to reckon with every Telugu-speaking individual.
He was not just a great actor but a leader with unprecedented following. I'm very proud to direct a film on his life," Varma said. However, a source close to Nandamuri family rules out any controversial portions in the proposed biopic since Balakrishna has readied a script for the same with his team of writers.
"There is no mention of AP Chief Minister N Chandrababu Naidu or NTR's widow Laxmi Parvathi since the script has no political overtones at all," he says and adds 'rather it's an inspirational film about the rise of a farmer's son who becomes a renowned actor and takes oath as a CM and film ends," he adds.
Actually, the idea of the biopic was mooted by Vishnu Induri who organises CCL matches and SIIMA awards with Balakrishna donning NTR's role but nothing else was confirmed, concludes source.