VIT organises Conclave for Principals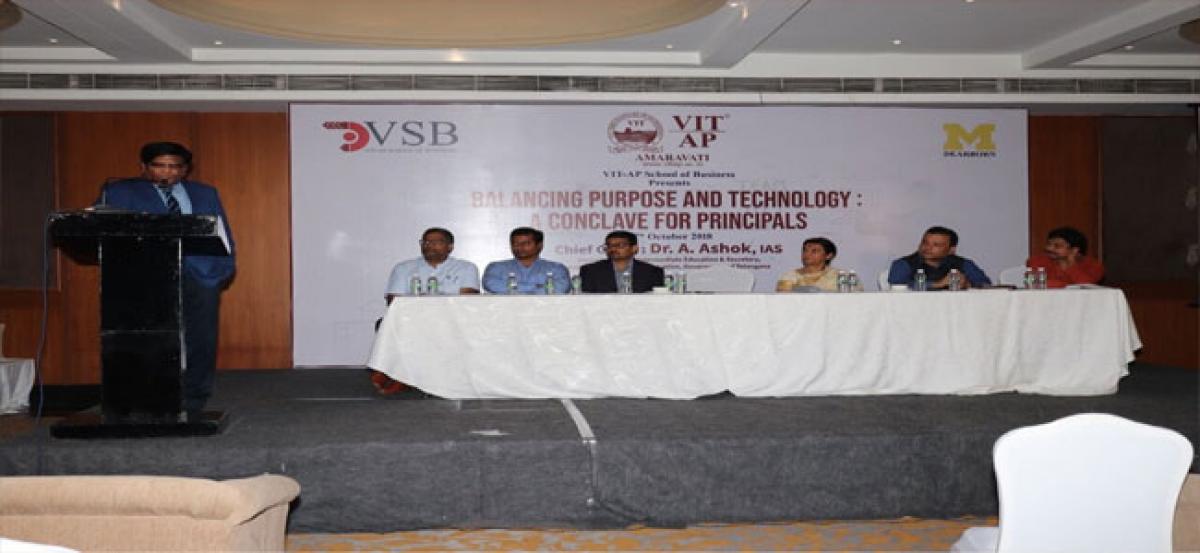 Highlights
VITAP University organised a oneday conclave for principals of Intermediate Schools and junior colleges in Hyderabad on Saturday
Hyderabad: VIT-AP University organised a one-day conclave for principals of Intermediate Schools and junior colleges in Hyderabad on Saturday. Jeyavelu, Dean VIT-AP School of Business, stated that VITAP is committed to be on the forefront of technical education in India through launching new programmes that are relevant and the conclave is part of the awareness creation initiative from VITAP to create space for dialogue and dissemination of ideas and best practices in education and futuristic trends amongst schools and parents.
A Ashok, IAS Commissioner of Intermediate Education inaugurated and shared his views on the need for school principals to be prepared to leverage technology to enable students have fulfilling careers in those areas where there is an increasing demand in India and across the globe. Indira Parikh, Advisor to VIT-AP School of Business and former Dean of IIM-Ahmedabad shared two stories – one on a young person facing dilemmas of choosing the well-trodden path or take the direction where there is no path and another on a King who wants to teach his son Wisdom. The moral of the stories is that one accepts the consequences of one's actions with pride and without regret only if she/he makes the choice and wisdom can't be taught but learnt by an open mind willing to see that which is invisible and listen to voices that are not heard.
The following points emerged from the discussions. A. AI, Robotics, Genomics and many other new technologies are changing the way we live as well as industries and careers, b. Technology will not replace human beings but take over routine, standardised work and human beings will become more and more relevant in complex problem solving, high touch tasks and contextual decision making, c. Teaching is one of the professions where the demand is increasing, d. There are nine competencies that are required for the youth to face the challenges of Industry 4.0, e. There are many crises converging – technological, socio-cultural and ecological and creating unprecedented challenges to the next generation, f.Youth are much more aware of the challenges of the future awaiting them and they need to be supported to find meaning when they don't want to just fit in to the expectations of parents and society, g. Schools, teachers and principals will play a critical role preparing the youth of the country to face these challenges. Other speakers who shared their expertise and views are VishwasAnand, Rajiv Noronha, M P Ganesh and Naveen Vasudevan.