Cbse regional science exhibition valedictory ceremony report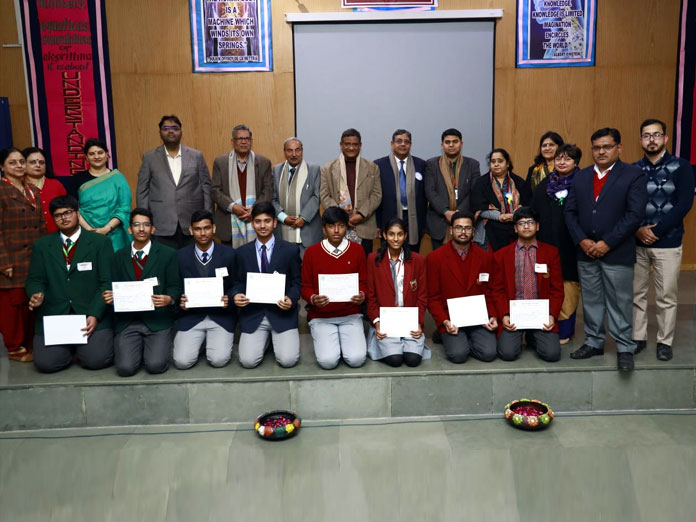 Highlights
The second day of CBSE Regional Science Exhibition on 31 January 2019 at DAV Public School, Sector49, Gurugram initiated with the continuance of multifarious schools to witness the Exhibition
The second day of CBSE Regional Science Exhibition on 31 January 2019 at DAV Public School, Sector-49, Gurugram initiated with the continuance of multifarious schools to witness the Exhibition. Numerous students guided by their mentors stepped into the galore of projects that not only showcased the Science and Technology but also solved many of the inhibitions and doubts about science.
The Valedictory ceremony was graced by the Chief Guest, Mr Munish Sharma, IAS, Additional Commissioner , MCG, and Dr Sweta Singh, Joint Secretary, Academics, CBSE as the Guest of Honour. Certificates were given to the participating schools for their zealous participation and innovative ideas followed by the announcement of the results. There were 26 schools that have made to the next level, i.e the National Level.
The students were immensely glad to have witnessed such an aura of creativity and innovation in these two days. The school Principal Ms Charu Maini congratulated all the achievers and motivated them to keep rising and shining. The ceremony finally concluded with an inspirational speech by the Chief Guest Mr. Munish Sharma. Indeed, it was a spectacular event and a learned experience.
Principal of DAV Public School, Sector 49 Charu Maini said during two day science exhibition, we witnessed great excitement among students. This exhibition offered great opportunity to students to display their talent and widen their horizon on the subject. It was extremely successful event and good exposure for teachers, parents and students.