Chicago Hyderabadi Community Remembers Dr. Khayam Khan, President MBT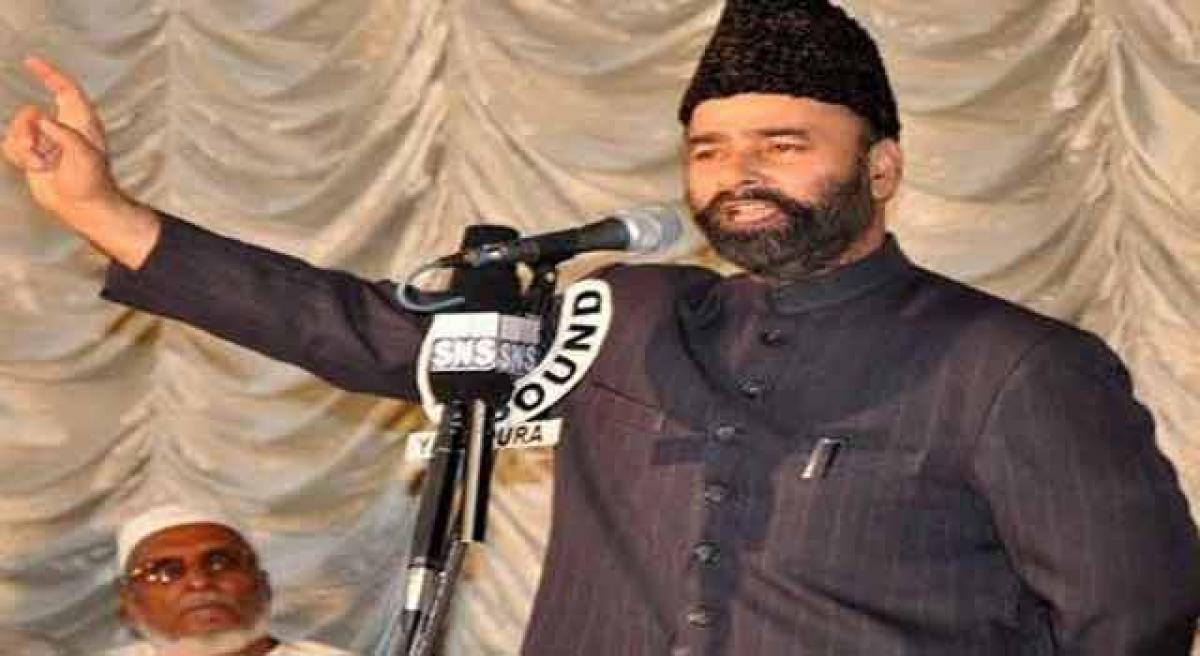 Highlights
Under the banner of American Hyderabadi Association, convener Syed Mukkaram and friends organized a Condolence Meeting at Bombay Hall in Chicago USA...
​Chicago: Under the banner of American Hyderabadi Association, convener Syed Mukkaram and friends organized a Condolence Meeting at Bombay Hall in Chicago USA in remembrance of Dr. Khayam Khan, former President Majlis Bachao Tehreek who passed away in Hyderabad earlier this month due to natural causes. Dr. Khayam Khan was only in his mid-fifties.

Organized under the supervision of Liaquat Ali Khan, owner of Par Birdie Foods, numerous Hyderabadis across political party lines attended to show solidarity and express grief. Each speaker shared personal memories and highlighted the strong character and vast knowledge Dr. Khayam Khan possessed.

Dr. Khayam Khan, a MBBS graduate from Kashmir University, was the eldest son of Mohammed Amanullah Khan who founded Majlis Bacho Tehreek (Save Majlis Movement) in 1992 after breaking from the Majlis-e-Itehadul Muslimeen (MIM) protesting against the weak stance that the MIM took during the demolition of the Babri Masjid.
Other crucial issues that he raised to save the MIM were lack of internal democracy in the party, nepotism, political patronage, and corruption in the MIM's civic dealings. Mohammed Amanullah Khan was MLA from Chandrayangutta constituency between 1978 and 1999 retaining the seat for five terms.
Dr. Khayam Khan's youngest brother Amjed Ullah Khan served as a Corporator in the Greater Hyderabad Municipal Corporation between 2002 and 2016. Dr. Khayam Khan served as President of Majlis Bachao Tehreek for nearly 3 years after the demise of prior President Advocate Adam Malik in 2013.

Among those who gave speeches at the gathering were M.A. Basith (Ex-Chairman Standing Committee MCH), Rahmat Ali Khan (President MICC), Iftekhar Shareef (past President FIA), Manzoor Shah Khan, Masood Shah Khan, Syed Saleem, and Ahmed Hussain Khan.

The speakers lauded Dr. Khayam Khan on his exceptional oratory skills and strong Islamic knowledge. While he was not a hafiz-e-Quran, he had a majority of the Quran memorized. Not only did he know much of the Quran by heart, but he would be able to reference verses with translation and explanation.
In every public gathering or personal interaction, he would quote Quran or Hadith in his discussion to encourage betterment of society. Dr. Khayam Khan often emphasized the necessity to be punctual in offering Namaz and urged youth to regularly read Seerat-un-Nabi.

Senior speakers noted his physical similarities to Qaid-e-Millat Nawab Bahadur Yar Jung, who led the Majlis-e-Itehadul Muslimeen in the early 1900's and was a close confidante of Qaid-e-Azam Muhammad Ali Jinnah, but further added how he also passionately followed Nawab Bahadur Yar Jung's mission of serving the poor and downtrodden masses.
He had a constant anxiousness in always working to improve the community. The speakers also noted that despite facing hurdles in past assembly elections, Dr. Khayam Khan was never disheartened or deterred. He never sacrificed his moral values and continued his social efforts supporting the needy at any opportunity, especially through offering free medical services to the poor through a hospital he ran by the name of Aman Hospital in Hyderabad.
Subscribed Failed...
Subscribed Successfully...